Why Goddess Kali is the quintessential feminist icon we need today
To hell with patriarchy
The Rolling Stones logo and my 20k selfies with tongue out are all deeply inspired by images of Goddess Kali.
Right now, a bunch of my relatives are sighing, "Iisshhh, that's all you learnt?". And another sea of strangers are taking offence on behalf of the rage-against-the-machine Hindu goddess. But hold on, my mythological BFF called, and she wants your knee-jerk, judgmental thoughts back before she gets enraged.
I grew up on Dadi's bed-time tales that often ended with the punchline – "Kali saw the injustice, got angry and went on a destructive rampage." The other popular ending was "She was not going to be controlled by arrogant men."
For the pint-sized me, the striking images of Kali was a lot to process. A far cry from the rest, she was dark-skinned, bare-breasted, blood-stained with disheveled lustrous hair. A closer look revealed a bloody sickle in hand, a necklace made out of men's decapitated heads and a skirt made out of severed arms.
The three-year-old me picked up lessons in girl power, and every time I was annoyed with Baba for not listening to me, I'd declare, "I am getting as angry as Kali." *Tongue out*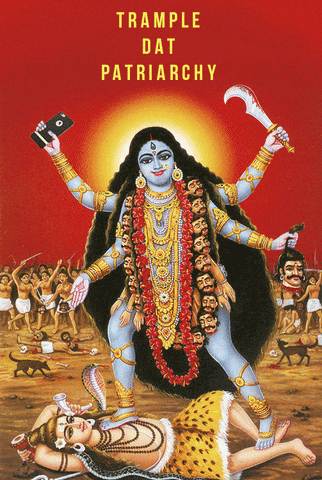 Almost three decades later, the narrative hasn't changed much.
Yet every festive season, I wonder if Goddess Kali could perhaps be the feminist icon we need. Sure, there are other contenders — Sita, arguably the first single mother we knew and Draupadi, the forerunner of the #MeToo movement.
Anand Neelakantan, mythological expert, creator of popular TV shows like Siya Ke Ram, Mahabali Hanuman and author of several mythological books, including Asura, The Tale of the Vanquished, came to my rescue with answers. But not without disclaimers.
"All mythology is intermingled. Folk traditions change as they cross regions. Kali is the true embodiment of rebellion in our deeply patriarchal country. But we need to first define the core of the concept: a fearless and independent woman who is liberated in her thoughts and will stand up against injustice," he says.
To prepare us further, Neelakantan touched upon on the four devotional traditions in Hinduism – Shaivism (Shiva is at the centre), Shaktism (Durga and the feminine power is celebrated), Vaishnavism (Vishnu is the epicentre of power) and Smartism (where more than one God is worshipped).
In Shakteya tradition or Shaktism, Kali rules the charts with her mercurial temper and firebrand ways.
What you see is what you get
And well, what do we see here?
Her naked appearance is often described as "sky-clad", symbolising the whole cosmos, with no filters or curtains. Kali has no inhibitions, no illusions. Free-flowing dishevelled hair symbolises her free spirit. She couldn't be bothered with tying the loose ends or braiding them up. It symbolises her energy that refuses to be domesticated.
Her dark skin, which sets her apart from all her colleagues in the mythological world, is the culmination of all known energies in the world. She may not comfort you, and detractors may call her names like "kali kaluti", "kali kubja", but she is not here to please you with her coy eyes and dimples either. Kali can't care less for your flawed standards of beauty and is not hoarding beauty creams by the dozen. She is comfortable in her own skin and is in no mood to listen to some aunty's homemade skin-whitening remedy.
She is both the creator and the destroyer, and her four hands symbolise the same. The two hands with a severed head and a bloody sickle warns you of the destruction they can cause. The other two hands are making mudras of "blessing" and "blocking fears". That's the Kali that creates and nurtures. And the third eye is the sign of intuition.
Trust your gut, not the neighbourhood Casanova's mass-forwarded promises. Follow your instinct, don't sink into the sugarcoated trap of your boss.
For all the violence and destruction associated with her, her maternal instincts take precedence. "In south India, Shiva takes the form of a baby and when she steps on the child on her road to rampage, her maternal instincts kick in, the tongue lolls out and she is tamed. She is a protector of all her children, and they are her top priority," Neelakantan says.
The rebel with a cause
With her track record of picking the right battles, the goddess has cemented her position in mythology as a fighter. In Kerala, Tamil Nadu and even parts of Sri Lanka, all schools of martial arts (kalari) are dedicated to her.
In the Tamil epic, Silappatikaram, the Madurai king had mistaken Kovalan, the hero of the story for a thief and killed him without a proper trial. His wife, Kannagi, in rage became Kali and burnt down the ancient city of Madurai. "She believed a place where innocents are killed is not worth living in. She is considered to be an avatar of Kali," says Neelakantan.
Caste system, economic disparities, wage gap, gender divide — she never warmed up to these social constructs either. "Hence she is worshipped largely in the states where matriarchy or some form of matriarchy is observed and women enjoy a more liberated position," says Neelakantan.
Kali, through all her legends — the killing of Shumba Nishumbha or vanquishing Chanda and Munda or victory over Daruka — reminds us that there's no point in wallowing in misery.
Use your power, fight the good fight (even if you stand alone), and rage against the oppressive system.
Zero tolerance for gas-lighters
First things first, she isn't a man-hater "feminazi". But the goddess doesn't want to ruin her brain space fanning narcissistic men and their colossal egos. Kali's zero tolerance for arrogant, controlling men is catching up.
"It stems from the mythical legends of Kerala, where Brahma granted immortality to asuras — Darika and Danavendra — with conditions applied, of course: "Only a woman could kill you." The two arrogant men laughed at it undermining the 'Nari Shakti'. As they went on their plundering ways, Goddess Kali took over and finished them off," says Neelakantan.
There are similar retellings of this tale across West Bengal, Odisha, Assam and other Eastern states.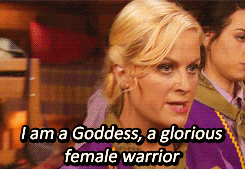 In Adbhuta Ramayana (popular in southern and eastern states of India), a retelling of the epic, after Rama defeats Ravana, a thousand-headed Ravana emerges called Sahasra Mukha Ravana. When Rama isn't able to vanquish him, Sita assumes the avatar of Goddess Kali and defeats the thousand-headed beast. Dear men, take note. Dear women, know your worth.
"Mythology is intertwined in complex ways, but the core idea remains unchanged until Bhakti era poets in the medieval times decided to make their versions," says Neelakantan.
The popular, acceptable trope in our country has always been the 'Ghar Ki Lakshmi' stereotype — the beautiful, demure, all-agreeing wife slogging to keep the household running.
The second most acceptable version is Saraswati (the virgin goddess of learning), worshipped widely across the country yet in reality, the state of girl's education (especially in rural India) is a matter of national concern.
Neelakantan explains, "In the face of rejection and restrictions, Goddess Kali emerges in full view — the angry Indian goddess —who won't bow down to your irrational expectations. Generally speaking, not many in India likes an opinionated woman. They want the silent sufferer. They'll sympathise with a bechari, but never want her to stand up and speak her mind. The moment she does, she becomes a 'difficult woman'. More women need to look up to Kali and unleash their power. Our society needs Kali energy now more than ever."
At home, at workplaces and in life, channeling Goddess Kali's spirit is the answer.
*Takes another Kali-inspired selfie*