12 horror movies that will leave you breathless, literally
Get that nightlight ready
Horror stories come in all forms. In school, it's staring at blank sheets during a maths exam. In college, it's getting caught while stealing your father's lighter. On Tinder, it's finding your neighbour with 20 filters on. At work, it's those three not-so-golden words: Leave Not Approved. And for most of humanity, it's that long-pending visit to the dentist.
But then there's another other kind of scary that induces insomnia, makes you leave the lights on for weeks, and makes you courageous enough to force a mere acquaintance to accompany you to the washroom because you can't answer nature's call on your own anymore. The culprit is generally a well-mounted masterpiece on 70mm. Cinema. It makes you cry, smile, run for your life… even reach for that rosary. In rare cases, they can also help you lose weight.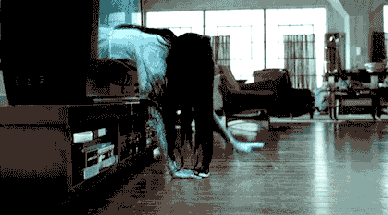 Weight loss, the ability to wake up early (owing to sleepless nights), bravery — never underestimate what a good horror movie can bless you with. And as our favourite Bollywood directors Zoya Akhtar, Anurag Kashyap, Dibakar Banerjee and Karan Johar present their anthology of scary stories next month on Netflix, we recommend our favourite goosebump-inducing films to get you in the mood.
A Quiet Place, 2018
Who would have guessed that Jim Halpert from The Office had such a twisted imagination? Freezing a stapler is one thing, but helming one of the scariest dystopian horror movies is a different ball game altogether. Last year, John Krasinki left us speechless, much like the characters in his movie, A Quiet Place.
The dystopian film follows a family of four as they try to escape sightless alien creatures You say a word or make any sort of noise, and the extraterrestrial creatures will hunt you down until you're dead. For how long can you go about your life in silence? 
The movie actually makes you wonder how we are constantly surrounded by sounds that we don't even realise: typing, opening the door, chopping vegetables. Scarier than the movie? Trying to eat your popcorn in the theatre, without making noise and disturbing already disturbed movie goers.
Misery, 1990
Kathy Bates's Annie Wilkes will haunt you forever, trust us. Based on Stephen King's novel of the same name, the story begins as a Christmas movie gone wrong. A writer finishes his novel away from his family. He is ready to return to the city, but the weather gods have a different plan for him. An avalanche creates a sudden roadblock, he meets with an accident and his "number one fan" rescues him and takes him to her house. Sweet? 
Things take a crazy turn when she makes sure that he never recovers and leaves her. Wilkes will go to any extent to keep him tied to his wheelchair. By the end, the author wishes he has no fans ever. 
Fun fact: Bates defeated Julia Roberts and Meryl Streep that year to win the Oscar for Best Actress for her bone-chilling performance.
Darna Mana Hai, 2003
Why get scared of one story when you can survive six stories in the same time frame? This anthology is exactly what a night out with friends looks like. Well, almost. Sitting around a bonfire, sharing horror stories. And making fun of that friend who gets batshit scared every time the door squeaks. 
There's a story about a woman being haunted by apples (of all things), there's one about a maths teacher gone crazy. That's almost believable only because maths is horrifying.
Our favourite snippet is the one in which Boman Irani's character (a hotel manager) first compulsively, and then creepily asks Saif Ali Khan's character, a fashion photographer, not to smoke on the premises. Are you tempted to know what happens when he is caught smoking? Muster the courage to watch the film. This is the only anti-smoking commercial we ever need to make the country smoke-free. 
Kaun?, 1999
A serial killer is on the loose, and you're alone in the house. Would you entertain a creepy stranger when he knocks on your door? 
This Urmila Matondkar-starrer psychological thriller turned 20 this year. And we still think twice before rewatching it. Because we are as scared of the film as we were back in 1999. It doesn't have your usual horror tropes: no deformed bodies or suspicious children. But it has Matondkar in perhaps her role of the decade. 
This is one guessing game we'd never like to be a part of.
The Grudge, 2004
Dear faint-hearted people, you'd better hold onto a grudge forever than watch this.
The idea of this movie is rather simple: A curse is born when someone dies of powerful rage or extreme sorrow. The curse then becomes a spirit in the location of the death. And those who cross paths with this supernatural force, die. Three families encounter this curse in the most horrifying way possible. There's a possessed lady, a haunted house and a whole lot of shrieking. 
Pat yourself if you survive this bizarre mayhem of a movie without a pee break.
The Ring, 2002
If you survive this screamer, we bet you'll never, ever watch an unattended videotape ever again. A videotape begins to make the rounds, and whoever watches it, dies after seven days. So goes the urban legend. Journalist Rachel Keller learns about this crazy prophecy-spinning tape and couldn't care less.
When her own niece loses her life after watching the tape, she takes matters into her own hands, and dares to view it. The film packs in a lot of jump scares and we advise day-time viewings only.
The Blair Witch Project, 1999
Spoiler alert: Three people go into the woods, and never come back. 
Cinephiles are divided in their views when it comes to this scream fest. A lot of millennials have struck out camping in the woods from their to-do list after watching the supremely real The Blair Witch Project. While a lot of unassuming teenagers believed it was an actual documentary for years after it was released.
In the film, three young documentary makers travel to Burkittsville in Maryland, USA. During their stay there, they interview the locals about the legend of The Blair Witch. The footage left behind paints anything but a rosy picture.
It's a disturbing version of the ghost stories that parents tell their toddlers so that they'd gobble down gobi and karela without raising their voice. 
Sorry, we didn't mean to sabotage your forthcoming camping trips. 
The Exorcist, 1973
If your parents and friends warn you not to toy around with suspicious looking objects, it's probably because they have watched The Exorcist. Regan MacNeil ventures into the basement of her new home, sifting through abandoned boxes, and comes back with more than just a curio — through her experiences with the oujja board that she discovers.
An unwelcome guest possesses her. That was the end of peace and calm in our cinematic universe. 
PS: Parts of the story are apparently based on true events. I wish we were kidding about this.
The Texas Chain Saw Massacre, 1974
Some horror movies have vague titles that give some room for your imagination to flourish. For instance, The Shining, The Ring, Midsommar and The Thing. But this 1974 classic doesn't care about beating around the bush. It's set in Texas, there's a chainsaw involved, and of course, it leads to a full-blown, OTT massacre, featuring cannibals and psychopaths. 
A group of friends visit their deceased grandfather's farmhouse in search of gas. Instead they find crazed cannibals. The movie chronicles the raw battle that ensues through some of the most gruesome visuals ever. 
Once you've seen this movie, Leatherface will haunt you forever — and you'll likely rethink your meat consumption. 
Poltergeist, 1982
A story about a family being tortured by ghosts. It's the oldest formula in the horror universe. Filmmaker Steven Spielberg builds on this basic idea with a rather generous serving of gore and terror.
The Freeling family starts encountering strange things in their home. And then some stranger things, including the sudden death of their pet, an apocalyptic storm and a shaking room. The TV they own and the mystery spirits inside it are the culprits in this scare fest. Carol Ann, the child of the house, is mysteriously drawn to the TV set and is eventually sucked into a closet. 
A para-psychologist ultimately saves the day, or does he. Watch it to find out.  
Us, 2019
Adelaide Wilson is haunted by a childhood incident. One that never really left her. The Jordan Peele film follows Wilson, and her family as they head to their idyllic vacation home and just like his first, is riddled with metaphors.
A fun family vacation turns into a mirror-image nightmare, as the family and the rest of the town is hunted down by their twisted doppelgangers. We always knew the man in the mirror was scarier than the real thing.
Or is he?
The Conjuring series
You know there are famous partnerships in the cinematic universe that you often wish to be a part of: Batman and Robin, Amar and Prem and Karan and Arjun. Well, nobody in their right mind ever wants to be Ed and Lorraine Warren, the paranormal investigators who made a living out of tracking spirits.
In fact, the Warrens aren't a figment of a horror writer's imagination. They were a real-life couple whose work as demonologists culminated in the much-feared Conjuring series.
Set in 1971, at a Rhode Island farmhouse, the Perons and their five daughters begin to experience a series of disturbing events. Creepy things like unexplained cold spots, a clock strangely stopping at 3.07 am and a strange odour that swiftly takes you towards the full-blooded act of exorcism.
The second coming of The Conjuring is also the second highest-grossing horror film of all time, second only to The Exorcist. We're currently conjuring up the guts to watch the third film, slated for release in September 2020.