Representative photo: still from Dear Zindagi
We're 9 steps closer to beating procrastination
Aiding your transformation from Late Lisa to Multitasking Mona
If procrastination was an Olympic sport, I would be sitting here clutching my numerous gold medals, basking in patriotic pride. I write this at 7 am because yesterday I talked myself into mindlessly scrolling through Instagram for the better part of the day. Instead of focusing on the maine kuch kaam nahi kiya tirade playing in my head like a broken cassette, I choose to marvel at the irony that I procrastinated writing an article about procrastination.
My toxic love affair with procrastination predates the pandemic. I vividly remember the time I proceeded to devour an entire Sidney Sheldon mystery novel in one day instead of cleaning my room and doing the laundry, as my mother had asked. Even though I promised myself I'd read 10 pages and then quickly finish my chores. That day ended in a screaming match.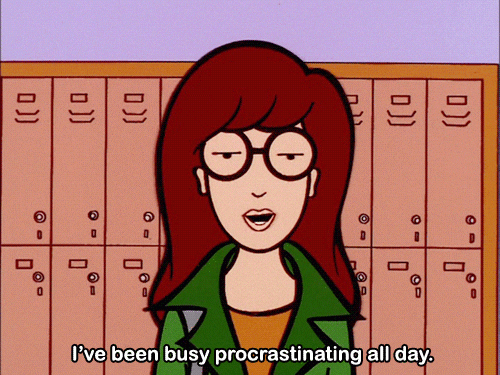 A 2013 study by the University of Sheffield found that procrastination can be understood as "the primacy of short-term mood repair … over the longer-term pursuit of intended actions. We believe that tomorrow will be different. We believe that we will be different tomorrow; but in doing so, we prioritise our current mood over the consequences of our inaction for our future self."
Even scientists are confounded by my tribe, and this fight may seem impossible to win. Over the years, hundreds, maybe thousands of my fellow soldiers have surrendered to procrastination. But I might just have a way, or 9, to level the battlefield.
9 products to beat the procrastinator out of you
For deadline junkies 
Sick of being wracked with guilt for ignoring your presentation deadline because you were re-reading Harry Potter for the 20th time? This ingenious productivity timer is like having a school principal in the palm of your hand. Each side of the cube has a specific number that corresponds to minutes, and the fifth side has a digital alarm option with LED lights. Set the timer by placing the side of the cube with the desired duration facing up. To stop it, flip the plain side on top.
This cube is simpler than 3rd-grade math. You can kiss goodbye to the jhanjhat of setting a thousand alarms and not being able to get anything done on time.
As a bonus, you can list 'time management' under the skills section on your resume and actually mean it.
Backrest Cushion With Memory Foam
If your workstation from home isn't ergonomically suitable, the pain in your back, neck and shoulders will make your attention span flakier than a freshly baked croissant.
This backrest cushion with memory foam is an effective way to relieve lower back pain and improve posture. The memory foam adapts to the shape of your spine and works hard to support your lumbar region. Once you've adjusted yourself and feel that sharp twitch disappear, you will automatically feel more productive.
Magnetic rewritable weekly meal planner
I was never a health-conscious person. Not because I loved junk food too much, but because eating and living healthy requires planning in advance. It's easier to command Swiggy to bring me a Subway.
If you relate to my dilemma, you need to invest in this meal planner as much as I do. 'Take one day at a time' that doesn't apply in this situation. Planning your meals a week in advance will not only give you a chance to get ingredients and prepare the food but when the planner is right under your nose, ruining your multiple trips to the fridge, it will become tougher and tougher to ignore.
Flip Fold Folding Board
Anyone who has watched The Big Bang Theory knows why this T-shirt folding board is such a gem to have. It perfectly folds all T-shirts, shirts, pants and even towels without making it feel like the dull and drab chore it really is. This board will make you want to do laundry instead of just letting it pile up on a chair that's about to turn into an avalanche.
Fidget Cube
No, this isn't just a toy for children.
A fidget cube is an ingenious way to channel all the feelings that make you want to spend hours staring into space. It's better to flick a switch on and off continuously than get lost on Instagram stalking your high school bully.
My father bought me a fidget cube a few months ago to get me to stop fidgeting with things that made noise. Surprisingly, it's worked on my procrastination tendencies and increased my productivity. It's like I reboot my productivity after aimlessly pressing buttons for 20 minutes.
Smartphone Timer Lock Box 
Our phones hijack most of our time, rendering self-control non-existent. That's where this phone prison cell steps in. Place it in the box and set the timer. You can now completely focus on completing your tasks without going back and watching your own Instagram story over and over again. This box has an opening where you can charge your phone and a gap that allows you to answer important calls you might get.
Noise Cancelling Earplugs
Has your domestic help's gossip about your padoswali aunty completely distracted you from making the client presentation your boss asked for on priority? These noise-cancelling earplugs are designed to tune distractions out.
While there is no dearth of noise-cancelling earphones, these waterproof earplugs, made from soft silicone, are more convenient and discreet for when you're trying to focus and not get distracted by anything. Including music.
Waterproof Notepad
This waterproof notepad is for all the people who spend more time in the shower than a water buffalo would. We often do some of our best work in the shower. I have written entire story introductions in my head. But as soon as we step out, feeling fresh and relaxed, everything is wiped clean. Pun intended.
That's when this waterproof notepad comes into play. If you're spending that much time in the shower just procrastinating, might as well make the most of it. Pen down all the great ideas so you don't forget them and when you finally get to work, it's easier.
This waterproof notepad has 40 sheets of paper that are so durable, they even work underwater. Both the notepad and the pencil come with suction cups so you can stick them on your bathroom wall. The paper and ink are recyclable, non-toxic and environmentally friendly.
Decision Dice
This is an easy answer to the dreaded "I good with anything, you pick" procrastination cycle.
You get four dice in every pack, each of them is a different category (exercise, sights, food, and nightlife). You simply pick the die that is relevant to your situation (for instance, you would pick the nightlife die on a Saturday night and hope for the cocktail hour side to turn up) roll it and obediently follow whatever pops up.