Photo: Wikimedia Commons
How to survive pandal-hopping during Durga Puja
For starters, learn to ululate and wake up at 5 am or sooner
If you cannot fathom why your Bengali neighbour or colleague has become shriller than ever, I'll decode it for you in two words: Durga Puja (Durga Pujo). Pujo's here and a Bengali can keep calm no more. He is probably OD-ing on Rabindrasangeet, tussar Panjabi and nostalgia. A wardrobe upgrade is more pressing than that long-pending car servicing at this point.
The otherwise careful bhadralok spends 80 per cent of his savings on Pujo shopping and preparation. Last month, his wife and kids have been gallivanting around Gariahat and Esplanade in search of the season's best handloom. My cousin who is studying in Germany has spent all his student job earnings on a two-way ticket only to be part of the festivities in his hometown.
But no shopping is complete without a comfortable pair of shoes from Sreeleathers or Khadim's. It's necessary because we, the lazy tribe, clock in our annual workout only during the five days of Durga Puja. We call it pandal hopping (pronounce it as Pan-dell). Also, when you have over 2,000 pandals to visit and only 120 hours in hand, you've got to sprint faster than PT Usha, and rest assured, you'll still fail. To put things into perspective: CM Mamata Banerjee started her pandal yatra on September 28.
You also need to have a foolproof pandal-hopping plan to save yourself from a potential heatstroke (the October heat in Kolkata is deadly, no kidding), getting lost and never find your way back home before Dussera, and most importantly, escape argumentative uncles and ululating aunties. The only way to ace your pandal-hopping game is by acing your pandal etiquette. For starters, if you aren't comfortable with meat on the puja premises, stay away.
Early bird gets the best view:
The sun rises in the East, and seasoned pandal-hoppers know it's the best time to zoom through the relatively empty Kolkata roads. Start early. As early as 5am. While night owls catch up on some necessary sleep, make the best of pandal-hopping before 10am. If you plan your route in advance, you'll manage to visit around 10 pandals in 5 hours.
Forget you own a car:
Boycott Uber and Ola, don't rent cars and avoid four-wheelers at all costs. Unless your idea of pandal-hopping is listening to incessant honking instead of Durga aartis. Kolkata metro is your best bet. Although I doubt your big, red bindi will be in place after your finish that journey. Always be armed with extra bindis. Map out the pandals close to metro stations and ready yourself for the 10,000-step journey.
Pro tip: Take a metro to Shovabazar Sutanuti (station), and you'll find two iconic pandals and a bunch of small ones within a kilometre's radius. It's a better deal than the Big Billion Day sale.
Mind the gap between you and the flaming Dhunuchi:
Remember Saif Ali Khan and Sanjay Dutt's dance routine in Parineeta? Yes, the one featuring multiple mud pots with burning coconut husks. That's Bengal's answer to So You Think You Can Dance contestants. No, it is not 'Dola re dola'. The ritualistic dance takes place in the pandals every evening. The burning husks often fall around the dancers and can give you nasty burns if you aren't watchful enough.
And while you're at it, also stay away from ululating aunties to protect your eardrums. Bengali kakimas and thammas can break into a chorus of 'ulululu' without any warning.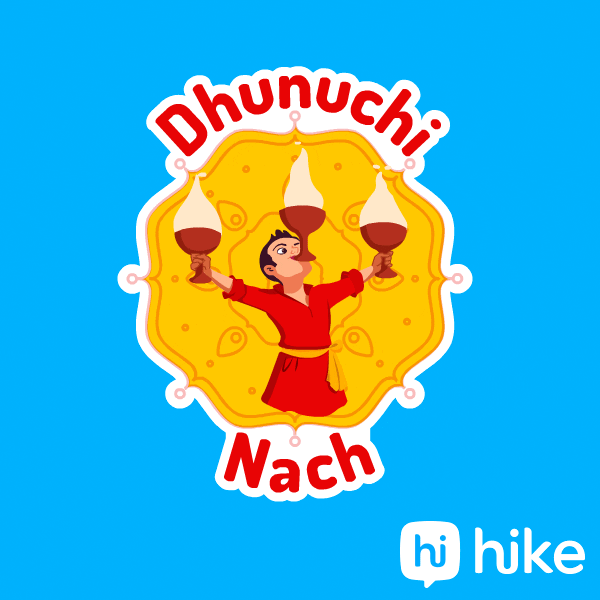 Befriend that annoying Bengali colleague for a VIP entry:
I am not exaggerating when I warn you about queuing up for 2 hours to enter a mandap. It's a mental #truestory. And when you're standing behind 750 odd people, cutting line is as easy as finding a clean sauchalaya on national highways. You might as well find friends in the locality who have VIP passes to the pandals. Organising committee members always receive complimentary passes, worth more than all your AirMiles and reward points combined.
Fast-food diet is your only option:
When the roads are flooded with pandal hoppers (think in lakhs), restaurants can only do that much. You have two options: head back home for lunch or sign up for an hour-long wait outside restaurants. My favourite approach is, however, to eat at pandals— I mean while you're at it, might as well make the most of it.
Be sure to carry some precautions like Pudin Hara, Gelusil and Digene — because the amount of oil in pandal food could put Justin Trudeau's oil reserves to shame. Everything is fried. You name it, and we have it deep-fried: brinjal, potato, mashed potato with chopped veggies, fish fillets, mutton and chicken. It's a gastronomical trip. Also, it's as reasonable as it gets. Imagine six golgappas for Rs 20. Unbelievable but true.
PS: Phuchka might also involve the not-so-secret ingredient of the maker's sweat.
Can't miss, won't miss Durga Pujo hot spots:
Shovabazar Rajbari, Kolkata:
Warren Hastings and Lord Clive attended this pandal when it first started in 1757. If Durga Puja pandals had the concept of blue ticks, this two-century-old celebration would be the first one to get verified.
Deshopriya Park, Kolkata:
In 2015, one of the oldest Puja committees built the tallest idol in the world. It was gigantic at 80ft high. The pandal committee records a daily footfall of over a lakh, and has aced the theme game.
Dadar Shivaji Park, Mumbai:
It's one of the first Durga Pujas in Mumbai. Not as star-studded as the other pujas organised by Bollywood celebs (the Mukherjee family, Bappi Lahiri and singer Abhijeet)., but it's great for taste of the traditional rituals as well as for a quick tasting session of all Bengali delicacies. Crowd favourites continue to be: Egg roll, phuchka and vegetable chop.
Kashmere Gate, Delhi:
The oldest puja in Delhi turns 110 this year. True to the traditional ceremonies, the Durga Puja at Kashmere Gate pandal is every Dilliwala's favourite haunt during puja season.
Koramangala Durga Puja, Bengaluru:
It's a fairly young puja pandal, but the festivities are as grand as it gets. Revellers can enjoy performances by Bollywood singers every evening after the arati.