Representative image: A still from Luv Suv Tey Chicken Khurana
This is the way they should have fed me history in school
7 food-obsessed creators who are flavouring Indian dishes with a pinch of the past
For most of us, the humble samosa has punctuated our childhoods with its crispy corners. Feeling hungry at the movies? In ride samosas to your gastronomical rescue, right alongside the popcorn and your repeat watch of Jab We Met. Celebrating the end of your board exams? Sink your teeth into the soft, aloo-filled centre and enjoy the spicy flavour of freedom from studies. Mom not home to make your after-school snack? A samosa from the halwai around the corner is the answer.
For a snack that could easily be called our national favourite, the samosa's origins don't lie in India but in the Iranian plateau of Central Asia. These tasty triangles have travelled far and wide — both in distance and form — to become what we know today. Yet the samosa is only one of many foods that have a history so different from what we might assume. Isn't that also true of our own family recipes that have been passed down through the generations?
There's a tamarind chutney my mother makes, with a tang so khatta it makes the plainest of dal chawal taste like an elaborate meal. For the longest time, I thought it was just another Nepali thing — like sel roti and gundruk — the recipe to which my mother had carried across the border with her. I was an adult when I found out it was a family heirloom she'd inherited from her mother, who learnt it from hers and so on.
How could one family's chutney taste so different from another's, if not for the personal touches that have been lent to it by generations of cooks? When flavour and memories are so inextricably linked that they are even processed in the same part of the brain, it is only natural for a backstory to form. Today, chefs and bloggers are employing the food itself to tell narratives about everything, from ancient mythology to family history. "Knowing how your food is made, who is growing it, where it's coming from and the stories around it greatly impact how you perceive and taste the food itself," says chef Thomas Zacharias, formerly of the Bombay Canteen, and one of the new generation of culinary connoisseurs who are flavouring their recipes with a rich serving of anthropology.
Food is more than what ends up on your plate
For someone who grew up in a household with the motto jeene ke liye khaana, khaane ke liye nahi jeena (we must eat to live, not live to eat), my relationship with food is just the opposite. So, the idea of knowing where the plain old dal on my table came from excites me. But even if you're not like me, being unaware of the story behind your food is nearly impossible, according to Subhashini Annamalai, the brains behind Greens of Kanakapura, where she documents the backstories of the edible plants she spots on her daily walks.
"We all are familiar with some history behind the food we eat. It could be a traditional family recipe passed on from one generation to the other, or the stories shared about food in the family or in that particular place," she says.
My mother says I love rajma chawal so much I would choose it over people, and she wouldn't be wrong. What a simple serving of her version brings me cannot be described in words.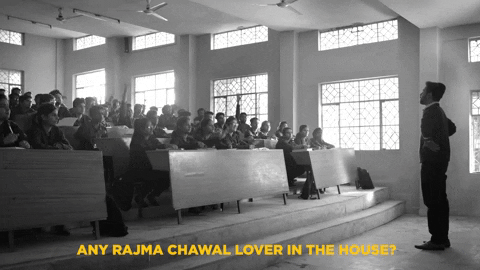 "Food is such an integral part of our life and it's a trigger-friendly connection. Good, bad or the unknown, it evokes memories irrespective," says Sumitha Menon, the creator of What The Ghee on Instagram where she shares recipes and her emotions while she was creating them.
From sharing recipes with rich intricate backstories and personal history to weaving stories behind the ingredients we eat, these creators are bringing a wave of change in how we view food.
7 creators who are changing the way we view food
Deepa Reddy (@paticheri)
View this post on Instagram
Paticheri —  a word that is both an allusion to its creator, Deepa Reddy's home Pondicherry and also the rich French history of the union territory — is an ode to her love of food and writing, and "a celebration of food in all its messy, difficult, gastronomical, ethnographic richness."
Every time I look at her feed, I'm made to feel proud of our rich cultural history, from the way we make our own natural kajal out of plants that have long inhabited our mothers' makeup cabinets to the many regional recipes of the Konkan belt, which will take you on an enriching culinary journey of your own.
Her Rasam series is essential, in the way it makes us realise that the main ingredients on our plates are ever-changing. She goes beyond the humdrum of the usual tomatoes, pepper and garlic and provides a wide variety of options to make the spicy South Indian soup.
A mere look at her Instagram will tell you she's big on keeping her viewers scientifically informed about the ingredients she's using, from their given names to their botanical family. It is because of her belief that any single ingredient has more than four ways it can be prepared. "I just happen to be trying it out myself," she said in an interview.
Paticheri explores the relevance of the kitchen in every aspect of our lives. Reddy describes the struggles a young mother faces while feeding her child, and the homemade face-powder recipes that have been passed down as family heirlooms. "So much of the story of how we live and function, make our relationships, raise our kids, go about workday lives and struggles; so much of how we suffer pain or experience happiness, even of our political enemy, is told in our foodways and food practices," she writes on her blog.
Describing herself as an ingredient collector, Reddy is also a professor of cultural anthropology at the University of Houston, Clear Lake, which she says has greatly informed her journey with food.
Thomas Zacharias (@cheftzac)
View this post on Instagram
One of the more famous food bloggers on the list, Zacharias' feed is one of its kind, which will not only make you hungry for food but also go on a road trip around the country as you discover both its regional ingredients and the people.
Formerly of the renowned Bombay Canteen, chef Zacharias was struck by the wonder of ingredients being turned into food, and then into a source of happiness for people. "Ever since I could barely reach the kitchen counter, I was in my grandmother's kitchen learning from her. I fell in love with cooking before even knowing that I could become a chef, it was just the pure joy of being able to spend time with my grandmother," he says.
When he started his #CookingWithTZac series on Instagram during the lockdown, it was refreshingly different from the usual manicured scripts that recipe videos follow. There is something about seeing an experienced chef make mistakes like you would that just connects with you.
Initially a way of sharing what he cooked for himself during the lockdown, his Instagram feed is now a visual record of our rich culinary history. Zacharias uses the hashtag #ChefOnTheRoad when travelling around India in search of ingredients and cuisines hidden in the country's small pockets. Get to know our desi vegetables, local foods, and recipes from around the country with him.
Subhashini Annamalai (@greensofkanakapura)
View this post on Instagram
Greens of Kanakapura, Subhasini Annamalai's blog on the wild edible greens of Kanakapura, was born as a way of documenting the edible and medicinal herbs in and around her locality in Bangalore. When I ask her what inspired her to start her blog, she tells me about a time during the beginning of the lockdown when her family went through a shortage of food supplies due to panic buying,  "That is when I realised how important the knowledge and skill to be able to produce or source one's food (hunting/gathering) is."
She says her interest in wild plants began as a child and blossomed late in adulthood. "Growing up in a small town, I was exposed to the wild plants growing around me… Later, in my adult life, after moving to Bangalore, I started growing food in whatever small space I had."
Encouraging everyone to grow their own food in her blog, she says "that helps one develop a healthy relationship with food and to appreciate all the hard work that goes on in the background."
No easier way of feeling like you're Wonder Woman than knowing what nearby plant would heal your scratches if your feet decided to trip over themselves in the middle of your walk.
Sweta Biswal (@swetabiswal)
View this post on Instagram
One of the creators behind this growing movement is Biswal with her blog, Odisha On My Plate, which focuses on weaving stories around her Odia heritage. On those days your fridge is crammed to the brim and you need to make space for some fresh food, her 'clear out the fridge' lunch will not only help you use up your leftovers but also make an exciting exercise out of it.
Biswal believes knowing where your ingredients come from can make you a better cook. "Tomatoes and chillies are used in almost every dish in India. So, what were the souring agents in use before tomatoes came in? Or what can one add to food to mimic the kick provided by chillies? Once we find those ingredients, the next step is obviously to use them in cooking and observe how it changes the taste profile."
When you're too bored with your regular dal, she discloses some ways you can put a spin on it. "Something as simple as switching the variety of dal being made every day works like a charm. Pairing different varieties of heritage rice with it is another way to make it even better."
Sumitha Menon (@whattheghee)
View this post on Instagram
Not one for many words as is evident on What The Ghee, Menon tells me of her relationship with food, "I would like to think that food talks to me. We are in a consistent stable relationship. I literally translate its feeling and emotions and pour them out."
Whether Menon is poetically referring to her dishes as "the pretty damsels that march out of the kitchen with a bounce in their step", or dishing up healthy breakfasts and late-night snacks, her blogs will take you behind the scenes of a food enthusiast whose "tempest affair" with food was "born from a love to feed."
Avinash Patnaik (@bhukadinsan)
Both a food researcher and photographer, Patnaik is also one of the food bloggers who have exquisitely married the tradition of sharing recipes with storytelling.
Take a look at his feed, and you see a blast of colours.  It's because his series about natural colouring agents for your food is all about putting a simple pop of colour into your everyday life.
He also routinely talks about his Odia heritage and the culinary history of Odia food. Who knew the eating of Jujube (ber) fruit was prohibited before Saraswati Puja because they are still being harvested during that time and the fact that eating jujube during the winter of February (when Saraswati Puja is celebrated) could bring you down with a bad case of cold.
From getting to know about the OG lipstick tree (yep, you read that right) to colourful gobi that has been formed by years of cross-breeding between plants. Is your kid a picky eater? All thanks to this purple gobi, now they're not.
Shruti Tharayil (@forgottengreens)
View this post on Instagram
Tharayil, whose blog is dedicated to documenting the forgotten wild greens in Telangana, did not immediately start down this lane as a child. "While growing up in a city, the only greens I knew were spinach and amaranthus, and sometimes if we got lucky, then mooring (moringa) leaves," she writes in a blog post. She's come a long way since and is now becoming a known name in the exploration of forgotten plants.
With the help of local women, her work has created a community of enthusiasts who want to know more about the rich history of forgotten greens in the country. Other than writing about the many medicinal and edible herbs, she also runs a workshop for those who want to learn how to identify and use these forgotten greens themselves.
These culinary creators are paving the way for people like you and I to understand where the food on our table comes from. How it's so much more than just something that feeds you, but something that can stand for the very history of your family. Be it a simple tamarind-chutney recipe or the marijuana-sprinkled Chicken Khurana.