Representative photo: A still from The Mistress of Spices
Homemade remedies to battle bloating, weight gain, sleeplessness and more
A nutritionist reveals the hidden superpowers of pantry staples
It was a secret relationship. We only met in the dead of the night. Ravaged by the trials of the day, I'd succumb to temptation and seek solace in my kitchen — in the bulging packets of chakli hidden in my kitchen and soft folds of leftover pizza.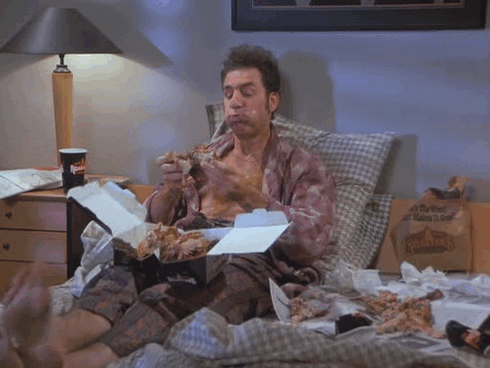 Since I'm a hopeless chef, and lucky enough to be living at home, I've never had (or been inclined) to cook.
But with 72-hour days on hand, grocery limitations, snack shortages, and the anxiety of a pandemic stealing away our sleep, I turned to homemade remedies (haldi ka doodh for my slight cough, warm milk for better sleep, garlic for immunity, honey-lemon water first thing in the morning… for I don't even…) to address niggling issues and deficiencies.
I was only skating down the tip of the iceberg. So I turned to the expert — Bengaluru-based nutritionist and food coach Anupama Menon.
She helps us battle cravings, perfect homemade remedies and create a balanced diet for the whole family despite limited access to groceries.
Following a balanced-diet
When dadi has thyroid, dad has high cholesterol, dada has diabetes, and your brother is an annoying new vegan, prepping a meal that suits everyone and endangers no one can be tough.
Menon says, "Look at the basic skeleton of what healthy eating is about, 90 per cent of it will suit everybody, and then you have to make small adjustments. Make clean, fresh food, low in sugar and oil."
Steer clear of vegetable/refined oil as it contains chemicals and opt for nut and seed oils like groundnut oil, sesame, mustard, coconut.
For people suffering from high blood pressure, add less salt when cooking. Whoever needs it, can add more for their individual meals.
For those with hypothyroid, skip cruciferous vegetables like cabbage, cauliflower.
Opt for one-pot meals like khichdi with vegetables, eggs with vegetables, vegetable parathas and yoghurt (one-pot meals conserve water, and your sanity) for a mix of proteins, carbs and fibre.
Wholegrain bread, brown rice and wholewheat staples are healthier choices for diabetics (and everyone else).
Fighting snack and sugar cravings
Repeat after me — 'I'm not hungry, I'm just bored.' Once more, with feeling. Snacking and bingeing on sugar are the inseparable Karan-Arjun of diet fails.
Menon has one message for snack monsters, "Most people tend to mistake thirst for hunger. Chug a glass of water, wait for a bit and be mindful of whether you're actually hungry before you start nibbling on something." 
Eat your main meals on time (and even if you're at home, eat sufficiently well, like you're not going to have access to food for another three hours).
Give into healthy snack cravings — a glass of buttermilk, a quick salad using basic veggies like cucumber and tomatoes, with a dahi dip, boiled eggs.
Sugar cravings are normal, especially in times of crisis, when anxiety levels, depression and annoyance from being stuck indoors all the time can get to you. Menon does not believe in deprivation, but suggests healthy swaps — have two-three tsps a day of sugar, in the form of jaggery, dates or even dark chocolate. Skip the sweetener in your hot beverages. Says Menon, "Sugar cravings are a habit and the more you feed that habit, the more it will tempt you. While it is okay at a moderate level, don't let it go over that."
Battling indigestion: homemade remedies for constipation, bloating and acidity
It's easy to blame indigestion on that neon-orange gobi manchurian­–topped schezwan fried rice, or the fact that you skipped lunch in favour of a 'healthy-ish' granola bar, but your mind affects your stomach as much as your meals.
Menon's motto is, "The longest cranial nerve is the Vagus nerve, it begins in your brain and goes all the way to your digestive system. Whatever you do and eat, will affect your mind, and the state of your mind will affect your tummy. If you are stressed, acidity is bound to happen, and if your stomach is alright, you will be calmer."
View this post on Instagram
For those suffering from acidity or bloating, increase probiotic intake (like dahi). Fruits and vegetables stored in filtered water with rock salt ferment over three-four days and can be eaten with your meals. Things like a beet kvass, lacto-fermented salsa will help prevent bloating and acidity.
Ah, constipation. As incessant and annoying as colony-wali matchmaker aunty. Menon's solution involves – two teaspoons of virgin olive oil (or coconut oil) mixed with the juice of one lemon — had just before bed, for seven days.
Cinnamon vs constipation is her second solution. Boil a glass of water, add about half a tsp of cinnamon before every large meal – before breakfast, lunch and dinner, have it 20 minutes before and it will help with digestion. Continue this for a month if it suits you
Garlic, ginger, cinnamon, haldi, lemon are all immunity boosters. Make sure to include adequate amounts in your cooking. Consume concoctions like a ginger-haldi drink, which has plenty of health benefits, including being anti-inflammatory and good for the immunity.
View this post on Instagram

Drifting off to sleep
Constant tech connectivity, blue lights, stressful lives, annoying kids, snoring partners, constipation (it ruins everything) can make falling asleep impossible. Menon's homemade remedies are easier to access than that weighted blanket you've been eyeing.
Mix haldi with water, boil it down a bit, add two-three tbsp of coconut oil, and store it in a glass jar. Add about a tsp of this to your warm milk every night. Add this golden paste to your milk and it helps you calm down, so you can sleep sleep better. Turmeric contains curcumin which helps to eliminate toxins from your system.