Representative image: Kriti Sanon
Do I really have to give up milk, coffee, white rice and all the fried food I love?
A nutritionist weighs in on 'food that is bad for you'
With each new article circulated on WhatsApp, our kitchen rules change. My mother and I were (once again) arguing about food that is bad for you. And this time around, coffee was at the forefront of our heated bi-weekly debates.
Eventually we met each other half way – "Just one cup a day, that's all." But later that day, while fighting the urge to inhale a second cup, I began wondering about the endless list of food items that have acquired a bad reputation over time. Rather like the Bad Boy Billionaires of Netflix's show, a barrage of ingredients, right after hitting the peak of their fame and success, were unceremoniously deemed unsuitable, and added to the "Food that is bad for you" list.
I assumed the role of a sleuth that I have always dreamt of being as a kid, and decided to put to rest the dining table debates surrounding food that is bad for you.
After picking nutritionist Ruchi Sharma's brains, I found some answers to our food dilemmas. Answers that will make the mice in your stomach jump with joy.
"Does milk qualify as a food that is bad for you?"
With a spoonful of haldi and a warm hug from mummy when you felt under the weather, and with a teaspoon of tea when you wanted to feel all grown-up while sitting next to dadaji as he read the morning paper – the white milk moustache was a permanent fixture in your childhood. But as an adult, the customary glass of warm milk before going to bed has become a point of contention.
"There is enough research to prove that milk is a wholesome and beneficial food product," says the nutritionist. In fact, milk provides 18 out of the 22 essential nutrients that our body requires.
Milk is one of the best natural sources of protein after eggs — it helps cope with muscle loss and wear and tear that comes with age, and keeps bone health in check. Thanks to its sedative properties, if consumed right before going to bed, it also helps you sleep better.
Let's talk lactose intolerance 
The most common reason for people to steer away from milk is lactose intolerance – the inability to digest lactose, the main carbohydrate found in dairy products.
Approximately 70% of the world's population experiences some degree of lactose intolerance, a statistic that can easily scare people. Still, studies suggest that almost everyone who is lactose intolerant can tolerate up to 12 grams of lactose in one intake, and about 18 grams of lactose through the course of the day.
Long story short, this means you might have to pass on dousing your cereal with milk, but can still enjoy your beloved masala chai.
The drawback is that you might not be able to meet your body's required calcium intake. But this too can be kept in check by consuming other non-dairy food products that are rich in calcium – almond milk, oat milk, tofu, broccoli, kale, dried figs, soybeans, almond butter, tahini and other calcium-rich ingredients.
Also, the quantity of milk you consume often determines how your body reacts to it. Imbalanced milk intake can trigger adult acne and even affect bone health. Excess calcium intake in the form of milk for a long period of time is said to increase one's chances of encountering prostate cancer.
The key is to consume adequate quantity of milk which, for a person who doesn't suffer from lactose intolerance, is about 300 ml to 400 ml of milk per day.
Where is your milk coming from?
"Milawat nahin karte ho na? (Hope you aren't adulterating the milk)," is something my grandmother would often be caught asking the milkman who had been coming to our house for almost two decades. And her concern was entirely valid.
Milawat or adulteration is one of the most important factors that have contributed to tarnishing the image of the superfood that is milk.
In a survey conducted in 2011, 70% of milk samples collected from across India did not meet the standards, with adulterants including detergents, urea, starch, formalin, and glucose added to increase thickness and shelf life.
Research and identify organic dairy farms that are reliable and follow ethical practices, especially in their treatment of cattle.
"I miss eating white rice. Is it really that bad?"
I've watched a friend fight tears when she was asked to give up white rice. "But my day begins with maach bhaat," she protested.
Over time, the world seems to have conspired against our romance with these tiny starchy grains of goodness. But we refuse to let go, and that's exactly why we put together a list of points you can hurl at anyone who threatens to come between you and dadi's world famous dal khichdi.
The "white rice or brown rice" debate
White rice is unfairly bracketed as the bad sibling, even though brown rice is an overall healthier choice.
"Even though brown rice is said to be better for those suffering from diabetes thanks to its lower glycemic index when compared to white rice, the outer layer of a brown rice kernel is made up of a fibre-rich layer called bran that is rich in phytates, which can act as a barrier to absorbing nutrients," explains Sharma.
White rice also tends to be a better option for those on a low-fibre diet or for people suffering with digestive issues as it is easy to digest. Here are some ways in which you can keep eating your favourite carb without letting it take a toll on your health.
Step one is portion control. One to two cups of white rice a day is not harmful.
Choose long grain rice like jasmine or basmati which have a lower glycemic index as compared to short grain rice.
White rice by itself is considered empty calories, made up of just carbohydrates and simple sugars. But it's useful for vegetarians — vegetarian proteins don't have a complete amino acid profile, but when combined with white rice, they form a complete amino acid protein and become more beneficial. Similarly, when white rice is paired with fibre-rich food, its glycemic index reduces, and it increases the body's ability to burn fat.
High-carb foods such as white rice are also linked to chronic diseases including diabetes and obesity. Cancel out the negative effects by cooking it the right way — steaming or boiling it to eliminate the high vegetable oil content.
Avoid eating white rice at night when your metabolism slows down.
"Do I have to break up with coffee?"
There is no better plus one than a cup of coffee, but what do you do when the rumour mill decides to churn out stories that suggest that it's time to break up?
You run to the experts to ensure that your coffee intake and sanity remain unharmed.
Increasing the risk of heart attacks, inducing anxiety, disrupting sleep patterns are cited as reasons we should steer clear of coffee. (Not to mention the nasty withdrawals you feel when you try to give it up.)
"Caffeine, a stimulant found in coffee is often linked to such ailments, but these ill effects only surface if you are consuming more than 400mg of caffeine in a day," says Sharma, unless you have been advised against it by a doctor.
Another reason coffee has a bad reputation is because of how it disrupts our sleep or as we like to call it – alone time with the man of our drams aka  Timothée Chalamet.
"Caffeine is a stimulant and blocks sleep-inducing chemicals in our brain, and increases adrenalin responses. And this effect persists for a long duration because our body takes a considerable amount of time to eliminate caffeine from the system," explains Sharma.
You can prevent this by avoiding coffee for a minimum of six hours before going to bed.
Reasons to stock up on coffee 
What most people don't know is how coffee helps the body burn excess fat by accelerating your physical performance or how it is known to lower the risk of diabetes, Alzheimer's, and dementia.
And even though coffee contains a very small percentage of nutrients (riboflavin, pantothenic acid, thiamine, niacin, manganese, potassium, magnesium, and phosphorus), consuming it every day can make up for a considerable vitamin intake.
It is also a great source of antioxidants including including hydrocinnamic acids, known to prevent oxidative stress, and polyphenols to keep health conditions such heart disease, cancer, and type 2 diabetes at bay.
You can also maximise the benefits of coffee by reducing the amount of sugar you add, instead use a natural sweetener to reduce the risk of encountering diabetes and obesity.
"Snack time seems incomplete without fried food. Please help?"
Sundays meant the sound of spluttering oil as onions coated in batter would be gently dropped into the kadhai.  A plate full of bhajiya accompanied by a bowl of chutney and a fragrance worthy of being trapped in a bottle and labelled "Bliss."
Today, Sundays mean yoga sessions, green juices, and high-pitched shrieks at the mention of anything fried.
"Fried is bad." they say. "But how can something that tastes so good be bad for you," quip those who are often labelled irresponsible.
Fat, at the end of the day, is an essential nutrient, so "you need to distinguish between good fats and bad fats," explains Sharma.
Unsaturated fats can be harmful, but good fats accelerate your metabolism.
When it comes to fried food, Sharma believes in practicing moderation – "Eat three bhajiyas instead of demolishing the entire batch in one go, and indulge maybe once in 10 days instead of every alternate day." Even celebrity nutritionist Rujuta Diwekar approves of eating fried food during monsoons.
Sharma recommends you consume not more than three tablespoons of oil a day.
Excess fat consumption can lead to a spike in cholesterol levels, and an increased risk of encountering heart diseases and getting a stroke.
Acne too can indicate that you might be consuming more fat content than required.
How to pick the right fat 
"Stay away from oils that solidify at room temperature, these are usually bad fats," explains Sharma.
Groundnut oil, coconut oil, non-hydrogenated vegetable oils, olive oil, and rice-bran oil are good fats and can be used to prepare your cheat meals.
"Reusing oil multiple times hydrogenates it, so that's a practice you must discontinue. Eateries are also known to use hydrogenated oil to make food crunchier and to enhance flavour," explains Sharma.
Hydrogenated oil negatively affects heart health, raises bad cholesterol levels and even suppresses good cholesterol levels.
Avoiding oils high in Omega-6 fatty acids is another way to eliminate bad fats from your diet. "Our body needs both Omega-3 and Omega-6 fatty acids, but when the Omega-6 ratio is higher than Omega-3, we know that the fat is bad," explains Sharma.
Soybean, cottonseed, sunflower, and corn or maize oil are bad fats you should avoid. All processed food too is prepared using hydrogenated oil. So, when in doubt, always pick homemade samosas over a packet of chips.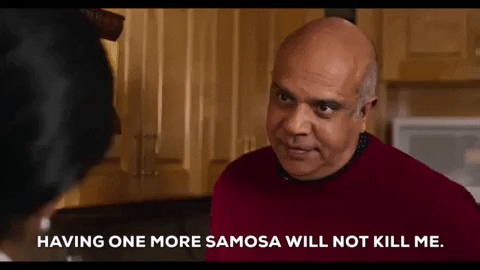 Reasons to include good fats in your diet
Dietary fats or healthy fats act as protective cushioning for your organs. They also support cell growth and enhance anti-inflammatory functions in your body.
Introducing good fats in your diet can help you generate essential fatty acids that your body may not be able to produce naturally. Additionally, fats are a perfect pathway for absorption of fat-soluble nutrients such as vitamin D, A and E.
Avocados, fatty fish like salmon, herring, sardines and trout, nuts, nut butters, organic coconut oil, and seeds (pumpkin, chia, flax, and sunflower) are some examples of good fats that you can opt for. While processed cheese, butter, packaged fried snacks, commercially baked cakes and cookies, and heavy cream are sources of bad fat that you should stay away from.