Photo: Matheus Frade/ Unsplash
Going solo: to eat, to watch movies and to discover faraway lands
Successfully transitioning from needing company, to wanting it
My mom thinks I am a bechari. I prefer watching movies alone. Every other week, I reserve a table-for-one at restaurants, and more recently, I have resolved to travel alone more. In local trains, and overseas. "No sane person does this unless they have no friends. You desperately need to get married," she says with conviction. I see her logic. Before I discovered the joy of going solo, I was on her side of the argument for the first quarter of my life. The one to blame for this flawed perception? Cinema.
Hollywood and Bollywood have collaborated to stigmatise the image of going solo. More often than not, the protagonist's life is falling apart when he or she is chugging down drinks all by herself. That's the etymology of the popular phrase: "Drinking alone? Devdas hai kya?" Or the character collides with a life-altering experience to embark on a solo journey. I am sure not every solo traveller is alone on her honeymoon like Kangana Ranaut's Rani, in Queen.
It all ultimately boils down to a strange concoction of necessity-meets-self-love. Just because I prefer watching a film alone or go to meals by myself doesn't mean that I have socially excommunicated myself. I have successfully transitioned from needing company, to wanting it. I wish I'd had this epiphany earlier. That way, I wouldn't have had to miss out on Whiplash because none of my friends wanted to watch it. I streamed it much later.
Going solo: travel edition
You've spent nights doing meticulous research for your next vacation. You've bought the tickets to a ballet show there, five months in advance. You've gathered weather-friendly clothes and you know that even on auto-pilot mode, with your G40 summit kind of planning, nobody can ruin your vacation. Except for your own friends. When you have to miss out on a connecting bus because your friend couldn't handle the alcohol exploits from the night before or suddenly thinks museums are boring, and decides to sleep through the day, only a decade of yoga can calm your nerves.
It took me two trips to Montreal, Canada to realise the joy of travelling alone. On my first trip, I was reduced to a piece of luggage, swinging between travel companion A's whims and travel companion B's wish list. I did a lot of things on that first trip: clubbing till 3AM, speeding through the F1 track in the middle of the night and buying underwhelming postcards just because of peer pressure. Montages from my second trip certainly look more like me: morning at the Grande Bibliothèque, exploring the The Montreal Museum of Fine Arts and completing 15,000 steps every day.
Going solo: restaurant edition
Eating alone at restaurants can be as daunting as parallel parking during your driving test. Thankfully, I cleared both (after several attempts, of course). The restaurant manager looks at you with pity the moment you request a table for one. Your life choices are also being discussed by the 15-member kitty party on the next table. They might soon invite you to call out the numbers for the fourth round of Housie. You better start preparing: "Two fat ladies, 88".
"How will you eat alone?" Mumbai-based filmmaker Tunali Mukherjee's friends have a genuine question. "Erm, with my mouth? How else?" she doesn't know any other way.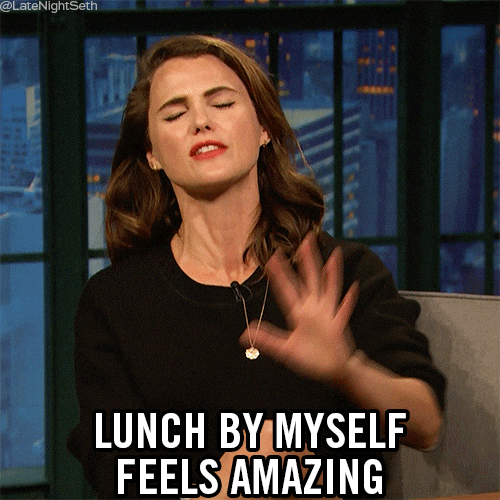 My idea of eating alone stems from two major issues. I don't want to share Gobi Manchurian with my friend just because she cannot finish it alone. And I don't want another round of beer because my enthu-cutlet friend called for two pitchers without asking anybody else.
"Generally, I carry a notebook with me to sketch or write. I have managed to strike conversations with people I otherwise wouldn't have if I was with my bunch of friends," adds Mukherjee.
Going solo: movie edition
Lootera released in July 2013. One of my friends watched it first-day-first-show, alone. I begged my cousin to watch it with me only because I wasn't comfortable going to the theatre alone. Of course, people would glare at my sorry state and think I'm a loner. My cousin obliged, yet I ended up watching 2 hours of the movie alone because she was stuck in traffic and rain, much like most of Mumbai in July.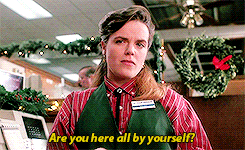 It was a packed house. Nobody cared. I could choose the popcorn of my choice: caramel and salted. I didn't have to listen to my cousin's running commentary on Ranveer Singh's ill-fitting trousers (which she made up for in the final 20 minutes anyway), and I genuinely enjoyed the experience.
That's when it dawned on me. I was under the Spotlight Effect. American psychologists Thomas Gilovich and Kenneth Savitsky coined the term to refer to the phenomenon in which human beings are convinced that people notice them more than they really do.
No, it's not always about you, but it's mostly about how much you want to watch a certain movie. "My work shift is strange: 2pm-11pm. So, I can watch the first-day-first-show without bunking office. Unfortunately, most of the time I don't have company. So, watching movies alone has become my thing," says Rahul Kshetry, a Hyderabad-based marketing professional. He does however recommended groups viewings for masala movies. "You'll look strange if you whistle alone."
Lessons from solo adventures (and misadventures):
You do you: Never again will you lose friends over your idea of travel. You don't have to fake cry at an Arijit Singh concert just because your friends want to attend a sob gig.
No more sharing: Joey Tribbiani gets me. Solo meals means more fries for me, yay.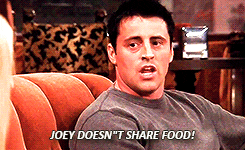 New stories: Suddenly, you will be interacting more with strangers than you ever intended to. You don't have to listen to the same office gossip even on your hard-earned two-week vacation.
Life skills: You are alone. Of course, you are more aware. You may be required to bring on those self-defence skills your PT teacher taught you in grade five to fight off that sly bag snatcher.
Me time: More me time means more time to get things done — grab a sandwich at your favourite deli while making that godforsaken grocery list.