Photo: Sucheta Pal
5 things nobody tells you about childbirth, according to Zumba star Sucheta Pal
The good, the bad and the ugly of pregnancy
So you thought you were going to wear your pre-pregnancy jeans on your way home from the hospital post childbirth. Happy wishful thinking to you.
Baby out, pre-baby body in — that's what pop culture dictates.
If cinema is to be believed, it takes a scream or two to deliver the baby, and then your world gets an auto update with the rose-tinted filter, a sound-sleeping baby, happy relatives crooning in chorus, "Badhaai ho" and Kodak smiles everywhere.
But the truth is far from this.
It's been almost two months since Zumba master trainer Sucheta Pal endured the day-long labour to give birth to her son.
"It's the most powerful human process. There's no denying it, but I wish young mothers got a little heads-up about the lesser-known side of childbirth," she says.
For starters, your genitals will attract an audience to rival the Mona Lisa at the Louvre.
Your farthest relatives will pretend to be your BFFs/gynaecologists.
While motherhood means wearing coordinated 'Mom is the best' T-shirts with your baby and breaking the Internet with plandids, it's also about accepting and being kind to your changed body.
"You won't fit into your skinny jeans right away and you may not connect to your baby at first sight," says Pal. "But that's okay. Take your time, ask for help and refuse the unsolicited advice that comes your way."
5 things about childbirth nobody warns you about
There will be blood: Be prepared to see a lot of blood. No pre-natal class prepares you for that, but adding some Quentin Tarantino classics to your pregnancy diet might help.
Doctors and nurses poke you at regular intervals to see if you're dilated enough. A wire is attached to your clitoris that collects pee in a bag.
You may poop as you push and there'll be multiple heads peeping between your legs. It's safe to say that modesty flies out of the window.
Even after childbirth, you bleed for almost a month. There's no way to escape a bloated stomach and mesh panties.
"The journey takes you from feeling sexy to almost bedridden. It's not the most comforting feeling. Especially, if your job requires you to be physically fit. These changes impact women in ways that no one talks about," says Pal, who had conducted a Zumba session four days before her delivery, and resumed her training 6 weeks after childbirth.
It's advisable that your husband takes some courage-building classes. Because you don't want the big man to faint right next to you when you're being pierced with that epidural.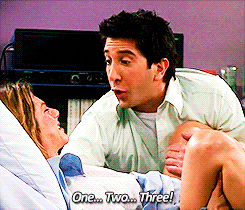 The fourth trimester: The lesser-discussed yet equally impactful trimester is the three months after your baby is born.
It's a period of extreme emotional upheaval. Your baby is helpless and trying to survive, and you have stitches all over.
Visitors are armed with an ammunition dump worth of free advice. Sleep deprivation is the story of your life.
Pal adds, "Amidst all this chaos, sometimes, you don't connect with the baby instantly. It's not your fault, and you aren't the first woman to react this way. Don't feel ashamed to ask for help and support when you need."
Breastfeeding is painful: Society and relatives will tell you that you're a bad mother if you're not breastfeeding. That's the kind of white noise you need to get used to.
Know that if you're happy, the baby is happy. "When choosing a feeding method, a woman should first decide what is best for her infant and then secondarily, what method is best for her," says Dr Ruth Lawrence,  paediatrician and gynaecologist.
Pal follows a mix of formula and breast milk, but she advises every woman check with her doctor before making the decision.
"Women question themselves if they can't breastfeed. It causes emotional and mental trauma. Besides, it's assumed that you'll produce enough milk, but that's not always true. I weighed all the options before making the decision," she says.
You lose a lot of calories while breastfeeding.
Replenish them with good fat and protein. Celebrity nutritionist Rujuta Diwekar recommends ghee, avocado, almonds and coconut oil, along with jeera, saunf and methi.
Pal drank barley water to reduce the swelling in her legs. "Believe me, toned legs are just some gallons of barley water away," she says.
The body changes forever: So much has been talked about the perfect #MomBod. But most people document the journey after they have returned to their pre-pregnancy shape, including celebrities like Kareena Kapoor Khan and Malaika Arora.
Though the results won't show overnight, Pal insists you pace yourself and keep at it.
Consulting a post-natal specialist is crucial before you get back to working out.
During labour, your ab muscles separate, in a condition known as diastasis recti. Sometimes they return to their original shape naturally, but for some, it takes time and effort.
Work on your core muscles and try different breathing techniques to lessen the tendency to incur injuries and back pain.
Show some self-love: You aren't running for the next Mother India role. Don't lose yourself after the baby arrives.
Yes, your body will never bounce back to what it used to be. But know that delivering a baby requires a lot of raw power.
You need to channelise that energy to build a stronger, more powerful body. Always remember that the experience of childbirth is your own, and your husband hasn't felt the pain that you did in labour.
Be kind to your body and never compromise on your #metime.
"I would watch Netflix while expressing milk. That hour was entirely my own," says Pal.
"Take time out for yourself. Your husband can change the diapers and sing the baby to sleep. Let go from time to time. It's the only act of self love you need," she says.