This book feels like a hug from your grandmother
14 comfort reads offering soul-ace in dark times
I used to have a drawer of shame in my bedroom. Get your mind out of the gutter. All it hid were well-worn books than promised sweeter-than-chasni happy endings and life lessons. They were my comfort reads. The literary version of your nani's arms, what you run to when life's a joke, you're broke and your love life's DOA.
I don't know why I hid them. Maybe it was because I didn't want to the world to know that I am a crusty marshmallow who gets teary-eyed at tales about sweet old uncles. But when the pandemic took away real life, I chose to live in the world of the make-believe. The books that saved my sanity were warm, feel-good, comfort reads.
No one ever said that easy reading, was easy writing. And these books are proof.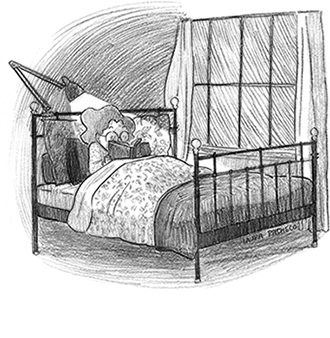 Comfort reads are like blankets. What might seem itchy and prickly to one, could be just right someone else. For some, it's the gut-wrenching, thought-provoking literary prize winners that offer solace. For others, comfort reads are easy, breezy bestsellers that guarantee a light at the end of the tunnel.
It's all about perspective. Explains Shalini Shah, a professor of Journalism at ACJ (Asian College of Journalism), "To me, a 'comfort read' might not necessarily be a book with characters that seem familiar or a plot sans jolts. It could just be a book that draws you into it enough for you to feel like a part of its world."
For others, comfort reads are those that promise cheer. Writer Neharika Manjani explains, "During these times, the news or social media can leave even the most thick-skinned of us feeling triggered. So, turning to a comfort read is something that I do now more than ever. It offers some certainty, not in terms of the plot but in the fact that you will almost always put the book away with your spirits uplifted."
An article in the Washington Post explains the lure of old favourites, 'As many experts, including coach and author Alexis Rockley, have recently explained, our cognitive energy is a finite resource, steadily being used up by every piece of "new abnormal" we have to manage.'
Translation: In pandemic times, when news is dire and even picking up groceries is a khatron ke khiladi challenge, we're drawn to dependability.
For this list, we've included everything from classics, in-betweens and new finds (including a Twinkle Khanna recommendation), most of which guarantee the happy ending that real life does not.
The overarching theme? To help you feel supported and believe in brighter times. Or just make you feel.
14 comfort reads to cosy up with
What Alice Forgot by Liane Moriarty
By the Australian author behind Big Little Lies, this story of Alice, a 39-year-old, about-to-be-divorced mum of three, who has a head injury and loses 10 years of her life, felt like my escape. She is living in 2008, but mentally she's in a happier, easier lifetime, and when I read the book, I fully disappeared into hers.
As she navigates the things she's forgotten, and the things she holds on to, I couldn't help but draw parallels to the past two years.
While my first instinct was that we would be better off just forgetting and writing them off, ultimately, like the protagonist, I learned that it is precisely those unhappy memories that teach us who we are, and shape us.
Like puzzle pieces, every memory is essential to helping us come together.
The Brown Sisters Trilogy by Talia Hibbert
I'm cheating. These are three comfort reads wrapped in a pretty little bundle. They're standalone, but so engaging you're unlikely to stop at the first.
The first of the trilogy, Get a Life, Chloe Brown, set in England chronicles the life of a 31-year-old African-American web designer with fibromyalgia. A near-death experience pushes her to reassess the life of isolation she's built for herself, and as the first step in her 'get a life' list, she moves out of her secure home and into an apartment building. Here, she collides into a man, Redford Morgan, who has also kind of given up on life. The sexy, witty novel rife with revelations about human behaviour follows them as they swim through their insecurities and her illness, towards the finish line — love. Read to find out if they sink, or make it.
The second, Take a Hint, Dani Brown, follows Chloe's middle sister, PhD student Danika who is on the fast track to career success. Love for her, is preceded by and limited to 'making' it. So when big, brooding security guard ex-rugby player Zafir Ansari rescues Dani from a workplace fire drill gone wrong, and the internet starts to 'ship; them — she gives the people what they want — a fake relationship. Of course, he has an agenda: His charity could use the 'family man' push. Going beyond the cynic opens up her heart, and Hibbert delves into Danika's issues, that definitely can't be solved by one night in bed. It also forces Ansari to confront his own demons. But it does have a happy ending (in bed, and outside of it).
The last in the trilogy, Act Your Age, Eve Brown, revolves around the sunshine girl, and baby of the family. She's been asked (read: told) to grow up and get a job, so she reluctantly leaves the family home for a job at a B&B in charming village, and meets the hero of all our rom-com dreams, the grumpy work-obsessed owner of the inn, with a heart of gold. Both are on the autism spectrum, as stated in the book. Hibbert doesn't use this as a trope, rather as a nuanced exploration that goes beyond the stereotype.
The bittersweet end of the trilogy stays true to the roots of the previous novels — addressing family dynamics, internal insecurities of the human condition and wrapping serious issues and poignant takeaways in a light-hearted, relatable package.
The Authenticity Project by Clare Pooley
We're all hyper connected with each other. Virtual watch parties and Snapchat-ed meals that look better on camera, than behind it. How many of us are sharing our tear-stained faces as we miss our loved ones or the small anxieties that loom large?
We've been living filtered lives long before the pandemic hit. Real-life authentic connections sometimes taking a beating. Even those we have with ourselves.
In The Authenticity Project, septuagenarian artist and loner Julian Jessop is tired of all the facades, so he wonders what would happen to us if we told the truth? And so he begins an experiment and writes – in a plain, green journal – the truth about his own life and leaves it in his local café, inviting the next to read, share and pass on. Monica, the woman who runs it, finds it, furtively scribbles in it, and drops it off at a wine bar, starting off a chain reaction of 'truth' and introduces us to an ensemble cast of characters, who slowly start to connect with each other.
A story about human connection, being brave enough to put yourself out there, of being accepted, warts and all, this is one of those comfort reads that in our unfettered times of loneliness could just as easily inspire you to take on an authenticity project of your own.
84, Charing Cross Road by Helene Hanff
A non-fiction epistolary that charts out a 20-year-correspondence between the New York-based author, and Frank Doel, chief buyer of Marks & Co antiquarian booksellers in London.
On her quest to find obscure classics and British literature, she contacts the shop and crosses paths with Doel, and over time a sweet friendship develops between the two, and even between Hanff and other members of staff.
The letters dive deep into the socio-political scenario of both countries in the late '40s and '50s, with exchanges of food parcels as Britain faces food shortages during the time. The letters are like walking through a time capsule; as you read, you feel the emotion flowing through the pages, and yearn for a time when this bond translates to real life.
We won't give away the ending, but the warmth the book leaves you with, will in these times of forced separation, inspire you even more, to pick up the phone, or hold on to the loved one closest to you.
PS: The book was eventually turned into a stage play, a TV show and a film.
Interpreter of Maladies by Jhumpa Lahiri
A tale for the ages, and Twinkle Khanna's recommendation for this comfort reads selection, Lahiri's nine short stories dive deep into the lives of Indians and Indian-Americans who are caught between their roots, and the new world of America. The theme of identity – cultural as well as personal – hangs as an umbrella over all the stories.
The immersive collection, Lahiri's way with words, how she speaks volumes in what she leaves unsaid, and the haunting stories never leave you.
Though published in the '90s, the identity crisis looms as a very relatable one even today, as do the human conditions that are addressed – diaspora, disappointment, relationships, culture, emotional and societal maladjustment.
Our conflicts may have changed, but in a world where we're often trying to fit in even as we feel out of place, take comfort in that we're all in it together.
Felix Ever After by Kacen Callender
In Felix Ever After authored by black, queer and trans author Callender, the teenage protagonist has been out as trans for many years and has even managed to find a community in which he feels accepted, and welcomed.
But after a traumatising transphobic act against him, he is pulled into an emotional roller coaster of a journey, where he even finds love along the way. The poignant story of Felix follows him and his blundering attempts at love, as he tries to figure if he's even worthy of it — it's an exploration of identity, acceptance and becoming.
It leaves you with renewed empathy and understanding of the protagonist and the trials the LGBTQIA+ community faces. And don't be fooled by its 'young adult' tag. We all know, that adults are nothing but kids masquerading as grown-ups, so the lessons the characters learn resonate just as much for those of us who consider ourselves grown.
The Comfort Book by Matt Haig
Described as "a collection of little islands of hope, a gathering of consolations and stories that give us new ways of seeing ourselves and the world", English novelist Haig's (of The Midnight Library fame), The Comfort Book is the sunshine we need to clear up our grey skies.
Part memoir, part philosophy and part self-reflection, the book is the literary version of that friend you lean on when times get hard, and she always manages to help you see the light — even if it's just a sliver to begin with.
From his thoughts on mental health, recommendations for feel-good songs, movies and more, advice on accepting the bad times, holding on to gratitude, the book is both cathartic, contemplative and true to its title.
(Releasing on July 1. It's called delayed gratification, kids)
The Dalai Lama's Cat by David Michie
I'm neither a cat person, nor a strictly religious one. Unless chocolate counts as a religion. But I stumbled upon this book, when I was desperately unhappy and directionless. The kind of grump that gets angry at the foot of the chair that she banged into. So I picked it up as a sign from the Universe.
The heroine of the story is a bedraggled pitiful little kitten who is rescued from the unforgiving streets of New Delhi, by the Dalai Lama himself and finds herself in his sanctuary in the snow-capped Himalayas.
Michie, who grew up in Africa, and is a mindfulness and meditation coach, uses the cat to simplify some of the major principles of Buddhism. Through the fur ball's eyes and her irreverent narrative style and observations, we learn lessons on chasing happiness and fulfilment. You don't have to be religious to benefit from this spiritual treatise, just open to meowaking a change.
If the cat can get it, so can you.
(The book was successful enough for him to write 3 sequels)
The Swap by Shuma Raha

While not the most comforting of comfort reads, Indian journalist Raha's take on modern Indian relationships depicts the complicated webs we weave for ourself, and unmasks the character's imperfections as we traverse this complicated love story.
How? Set in Delhi, the premise as the title, suggests is about couple swaps. It follows journalist Priya Bakshi and Akash Srivastav, who works at an MNC, who are married to each other for six years. Priya is having an affair with Akash's childhood friend, Dileep. On learning of spouse-swapping parties, they agree to get involved to spice up their marriage.
At the very least, it will make you grateful for the hairy-toed, midnight chana-chomping but loyal spouse you call your own. Comfort comes from the strangest places.
Magic for Liars by Sarah Gailey
It's no secret that my greatest escape is a fantasy novel. So when I stumbled upon American author Gailey's magical murder mystery, I was hooked before you can say whodunnit.
The story goes: A faculty member dies under suspicious circumstances at Osthorne Academy for Young Mages, and while ruled an accident, the headmaster smells foul play, hiring a non-magic PI to dig deeper. (Who just happens to be the estranged sister of one of the teachers)
Ivy, the slightly drunk, petty, sometimes bitter PI, dives into the investigation, and the book masquerading as a fast-paced thriller uses its plot to subvert the usual tropes of magic, sibling rivalry and of course, family ties.
The emotional takeaway sneaks up on you. As if by magic.
Miss Benson's Beetle by Rachel Joyce

British author Joyce's novel is set in the 1950s London. Forty-something Marjery Benson is an awkward single, disappointed domestic sciences teacher with a trauma in her history, barely getting through life. If you've ever hated your job with a fiery passion and felt an ache of loneliness that went down to your toes, you hard-relate, right?
She reasons her inevitable breaking point, and decides to pursue her absurd childhood dream of finding an insect that may or may not exist — the elusive golden beetle of Caledonia.
Whether she finds this urban legend remains to be seen, but what she does find is solidarity, in this tale of female friendships. Her match is the assistant she finds in a much younger Elle-Woods-esque cheery pink and pom-pom clad Enid Pretty.
They both have their reasons for leaving the country, and through the captivating, touching story with realistic depictions of grief and disappointment, the hope, faith and belief you seem to be losing, might be restored.
It's true what they say: you may be looking for what you want, but you'll only get what you need.
All The Adults Here by Emma Straub
A list of comfort reads would be incomplete without an emotional, feel-good family saga — fraught with emotion.
The book follows Astrid, a widowed, 68-year-old mother of three who sees an acquaintance hit and killed by a school bus. Something inside her changes, and she decides to come clean to her family about her real life — which includes a romantic relationship with a woman.
But Astrid is only the hook, the novel delves into the lives of her adult children, each plagued with issues of their own – as we adults can all attest to.
Everyone is stumbling through life, just trying to get by, and in this contemporary novel, issues like abuse, bullying, gender identity, bisexuality, adultery, artificial insemination are all touched upon. The cast of characters, varied in their ages, remind us that at the end of the day we're all just trying to get by.