Photo: Nicole Wolf/Unsplash
Booked for the weekend: 11 page-turners you can read in less than 48 hours
Slow readers, we got you too
"Read 500 pages a day," that's Warren Buffet's Bitcoin-sized key to success in life. And it's a habit he religiously follows. Well, if we the aam janta and serial bookworms followed his reading advice, we would have finished A Suitable Boy in three days, Atlas Shrugged in two, and The Lord of the Rings would reserve a two nights, three days booking with our brain. Isn't that every reader's Everest-like fantasy? But we know that not all book bricks are page-turner novels.
Some are meant to be brisk walks in the park, others prepare us for marathons that demand time and attention in equal measure, many turn out to be uphill treks and land in the bucket of 'unreadables' and on the shelves of your English professors.
Yet somewhere in between, you'll find the power-walking page-turner novels, mostly gripping crime thrillers, so fast and equally furious, that chances are you'll finish them before you can binge-watch the final season of Kim's Convenience. Before you realise, these fast-paced novels become an extension of you. You read them while answering nature's call or chopping onions, willingly nursing a fractured sleep cycle.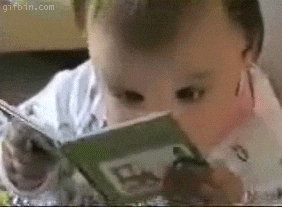 What makes them so compulsively readable though?
For starters, they're like the Shot-And-Drop ride at Essel World. Filled with stomach-dropping revelations, these tickle our curiosity, and make you go, "Damn, now what?", at the end of almost each chapter.
Don't be surprised if you feel trapped in the novel like Harry Houdini, as you glide from one chapter to another in search of the final move.
On a more serious note, page-turner novels value our time and brain space. They don't spend 200 pages strolling around a nondescript bush. In fact, they take sadistic pleasure in throwing you into the wild.
The latest favourite that comes to mind is My Sister, The Serial Killer by Oyinkan Braithwaite, which opens with, "Korede, I killed him". Hello, who is the man concerned, why did she kill him, and why is she confessing to Korede. Who is Korede? Of course, I had to keep reading. Too many questions, too little time, and thankfully, Braithwaithe answered them all in too few pages.
Unlike Thomas Hardy, DH Lawrence and Vikram Seth, who would have loved to describe every shack in Nigeria, before introducing us to Korede. Don't get us wrong, we love a well-described barn, but unfortunately, of late, most of us have lost the luxury of free time. With weekends flying by before we can say hakuna matata, we have zeroed in on some of our favourite page-turner novels, that exercise your brain cells and give you a booster shot of the joy of reading.
PS: Take a break from screen time. These page-turner novels are literature's answer to, "Just one more episode".
11 page-turner novels to up your reading game
Turn of the Key by Ruth Ware
Job hunting # 101: If the job posting is too good to be true, maybe it's a work of fiction. You'll wish London-based nanny Rowan Caine, the protagonist, felt the same.
When she comes across an ad posted by an architect couple – looking for a nanny to take care of our three kids, in a secluded mansion in the Scottish Highlands – she is thrilled. A private position, obscene amount of money, a change of scene. Only glitch: multiple nannies have left the job in the last year stating supernatural reasons.
Caine grabs the job, and ends up in prison accused of murdering one of the kids in the house. She recounts her days in the mansion leading up to the fatal incident with sinister precision, and claims she is innocent.
If Damien and the Grady twins didn't convince you already, the kids here will remind you again why they can be the creepiest characters in any psychological horror.
The mansion further adds to the mystery. It's run by gadgets and screens, and drives Caine into madness. You'll be left wondering if it's a horror thriller or a murder mystery.
But more than anything else, The Turn of the Key is about betrayal and a gradual degeneration of trust. For her, the kids and the whole atmosphere that reeks of surveillance, spirits and a poison garden.
Ware has packed in quite a few heart-stopping moments, and promises to makes you rethink every single job application you make henceforth. The book will also stop your from installing yet another smart gadget in your house.
And Then There Were None by Agatha Christie
The hype around this is real, okay? We'll call this 1939 novel the OG blueprint for whodunits.
Set in 1930s, 10 strangers from various walks of life arrive at an island mansion off the coast of Devon, England. Their host has not turned up yet.
As the guests start dying one by one, in really disturbing fashion (slashed by an axe, cyanide poisoning, suicides and so on), it doesn't take them too long to realise that there's a killer amongst them. As they start predicting who's next, and who is the murderer, you'll be glad that you're not invited by anybody to one such summer villa.
Christie's most-famous mystery is a tale of human desperation and the idea of the long-overdue justice. Yet it makes us wonder if it's lawful after all to take matters of justice into own hands.
At 264 pages, this one may not even take your entire weekend. With a murder every 20 pages, all you'll need is one languishing Sunday to feel thrilled.
My Sister, The Serial Killer by Oyinkan Braithwaite
If Christie book took us back to simpler times of the '30s, this one is a return journey to our current state of mind.
Set in Lagos, Nigeria, this darkly comic page-turner is about two sisters, and zero sibling rivalry.  Ayoola kills her string of boyfriends and her sister, Korede, who is also a nurse, cleans up the crimes. Ayoola's nasty streak of killing her boyfriends becomes a complicated affair when she sets her sights on Tade, Korede's crush.
What we loved about the fast-paced novel is its currentness, and how it documents our obsession with recording everything on social media.
Ayoola is disappointed that she can't post sweet, cheesy photos on Instagram or Snapchat with her boyfriend after killing him. That's the only regret she has after committing the crime. Or the moment when she asks her sister about for how long should she keep posting boring stuff online. Even as Ayoola herself is stabbed, she needs a photographic evidence of it on Snapchat.
In Braithwaite's strange sisterhood of serial killing, the storytelling is as sharp as the knife Ayoola carries with herself on dates. And family, most certainly, comes first.
The Herd by Andrea Bartz
Everybody is ambitious, and everybody is waiting for that perfect opportunity. But what would you do if it comes at the price of life-long friendship? Bartz sets out to find out in her latest novel, where Herd is a Manhattan-based women-only co-working space  run by three BFFS. Eleanor, the founder also owns a cosmetics label. Mikki, an eccentric artist and Hana, a PR genius.
While they paint the best picture possible, an online activist group called the Anti-Herd claims that Herd be sued for not adhering to discrimination laws as it bars membership to men.
Enter Katie, Hana's younger sister, an investigative reporter. She is on the lookout for a new topic to expose. As she decides to write an unauthorised biography of Eleanor and the origins of the Herd, things start to go horribly wrong in the inner circle.
The novel poses a crucial question: is it impossible for powerful women like Eleanor to scale great heights without stomping on others along the way. Bartz skilfully scratches beneath the surface narrative of  supporting feminism and lifting each other up, and throws us into a rabbit hole of secrets and the dark side of female friendships.
Verity by Colleen Hoover
New York-based writer Lowen Ashleigh is cash-strapped, when Jeremy Crawford, husband of thriller writer Verity Crawford approaches her to ghostwrite Verity's bestselling. Verity is in comatose following a tragic accident.
Of course, Ashleigh accepts the well-paying job, and spends weeks at the Crawford residence reading Verity's notes on the series. Can people stop accepting jobs in sheer desperation? Most certainly not in creepy page-turner novels.
When Ashleigh finds an unfinished manuscript of Verity's autobiography, she can't help but read and discover some shocking, mostly messed-up truths. What she decides to do with this newly acquired knowledge determines the course of all the individuals involved.
All we can say is Ashleigh's gig, after all, turns out to be quite lucrative in the most unimaginable ways ever, and make you believe in humanity a shade lesser.
Hoover's disturbing thriller is a dynamite you can't put down. And while we highly recommend this, we'd also suggest you don't begin reading this at night in case you want some sound sleep.
The Thursday Murder Club by Richard Osman
Pointless arguments, pointless history, pointless quiz… Richard Osman, the man behind the popular 'Pointless' series has written a murder mystery starring a bunch of retired, old folk, and it's far from being a pointless venture. In fact, we feel it's a serious tribute to Miss Marple, the true blue elderly amateur sleuth, who uses her age to ensure people overlook her as she solves one crime after another.
In Coopers Chase Retirement Village, a quaint Kent-based retirement home, four remarkably enthusiastic senior citizens – mysterious Elizabeth, former psychiatrist Ibrahim, retired nurse Joyce and ex-union leader Ron – juggle their grey cells in an innovative fashion.
On Thursdays, "between Art History and Conversational French", the quartet meet to discuss the cold cases from police files secretly acquired by Elizabeth, and call themselves the Thursday Murder Club (TMC).
When the corpse of local developer Tony Curran is discovered, the TMC finally has a live homicide case to crack. And these retired foursome will not let any borders, boundaries or rules to come in the way of their investigation.
One of the most unusual page-turner novels, this is a heart-warming and witty murder mystery sans gore and blood. The eccentric characters will remind you of the motley crew in Fredrick Backman's Anxious People (a high-recommended book of another kind), and thankfully, Osman doesn't stereotype them as just some disgruntled, grumpy old folk.
My Lovely Wife by Samantha Downing
Marriages, after a passage of time, sure can be in a desperate need of a spark. While some find it in a couple's therapy session, others unearth it with innovative foreplay.
In Downing's domestic thriller, Millicent and her husband of 15 boring years, spice up the relationship with a dark, extracurricular activity: murdering people.
They are just like your neighbours, or even your parents. A middle-aged couple, with two kids in the upscale Californian neighbourhood of Hidden Oaks. The husband is a tennis instructor, and the wife, a realtor. Just like every other couple you know, they have "date nights", too.
Only difference: their date nights are codewords for plotting murders.
It's a breezy psychological thriller, and we hope you won't cheer the couple's actions, but you'll secretly wish they don't get caught. It's rare to come across a murder mystery with such a strong focus on the family. As the parents go on their thrill-seeking adventure, Downing shows us the expected consequences their actions have on their kids, and only when that happens do you realise all over again that the ones you've been rooting for are nothing but psychopaths.
Page-turner novels can also be delightful and full of family time. And this twisted guide to 'How to get away with a murder, or many' is one of them.
The Guest List by Lucy Foley
Claustrophobic and psychological, Foley's thriller, in many ways, is her homage to Christie's bibliography.
For over a year now, many of us are missing the excitement of attending big, fat weddings. This book will make you feel glad to be missing out on the shaadi celebrations.
A destination wedding takes place on an island off the coast of Ireland. Page 3 has all eyes on it. TV star Will Slater and Jules, a magazine founder, are set to tie the knot in the presence of their closest friends and family. They managed to book this island because of its isolating effect (cell phone connectivity is spotty and WIFI is an alien concept).
As the vows are exchanged and the spirits fly high, someone's found dead, err.. murdered to be precise. And turns out, everybody on the guest list seems to have a motive or two against everybody.
Foley gives us a double-whammy of suspense as we don't know who is killed and who is the murderer till the penultimate chapter. The puzzling narrative is ever-changing, as each chapter is written from a different character's perspective, making the book feel like a satisfying game of Clue.
Try as hard as you may to put together this 320-pager puzzle, you'll realise why destination weddings perhaps is not the way to go, especially if it's at some place listed on Atlas Obscura.
PS: The Guest List should come with a slew of trigger warnings for child abuse, self-harm, rape and so on.
The Grownup by Gillian Flynn
No list of page-turners would ever be complete without a Flynn entry.
Flynn's horror novella is about a hand jobs-only sex-worker, who also pretends to be a psychic aura reader in the mornings. When a rich lady named Susan opens to her about the hauntings in her palatial Victorian house, the unnamed protagonist finds this as a money-making scheme.
As any thriller trope goes, she accepts the job to cleanse the mansion. Unfortunately, she doesn't have to pretend to believe in spirits, as she starts feeling them watching her and following her.
Susan's stepson Miles is more mysterious than the malevolent spirit that's tailing her. Things escalate real quick, when Susan finds out that her husband is the client of this aura reader, and she will do anything to extract revenge.
As the girl feels trapped in the gothic mansion, and has no one to trust, she will have to trust her gut to know who is the real danger to her life: Miles, Susan or the mansion itself.
And we repeat, get a premium account on Glassdoor, and indulge in some investigative background check of your employers as well as the office space as a safety precaution.
The Adventures of Feluda by Satyajit Ray
We nominate this to be your weekend fix for the month. Feluda and his nephew, Topshe, along with their friend, Jatayu, a crime writer, travel the length and breadth of the country, as well as cross borders and reach Kathmandu to solve some of the grittiest crimes sans OTT drama.
Midnight vigils in the graveyard, tracking an emperor's ring, finding the jewels in a golden fortress in Jaisalmer, the missing case of Italian painter Tintoretto's painting, taming a man-eating tiger and more, India's answer to Sherlock Holmes is a beacon of knowledge and middle-class simplicity.
He wears Bata, cotton kurtas (the kind you find in Fab India) and jeans, believes in yoga and meditation, and looks at the calendar for long weekends to plan vacations. It's a separate story that mystery follows him wherever he goes.
The 35 stories may definitely take more than 48 hours, but we bet you can't put the anthology down anytime soon once you open it.
One Of Us Is Lying by Karen M. McManus
It's The Breakfast Club and Gossip Girl married in a very dark space. High-school is often a perfect setting for page-turner novels. After all, there's never any dearth of drama, gossip and scandals.
At Bayview High, a fictional high-school in the USA, five students (Bronwyn the scholar, Addy the queen bee, Nate the truant, Cooper the athlete and Simon the misfit, who is also the creator of the school's infamous gossip app) walk into detention.
When Simon succumbs to a peanut allergy, everybody knows it's not an accident. After all, he was going to spilling secrets from the detention centre the following day. The other four become prime suspects in the case.
Be prepared to get roped into some fresh high-school drama, that's darker than all those high-school movies you've ever watched. The book comes as a wake-up call for happy introverts who love to spend their time. It's just too easy to frame you as a murder suspect. Maybe step out more often, and hang out in groups of two at least to have an alibi at all times. It's a bad world out there.