Representative photo: Freepik
The unreadable reading list: Tweak editors and readers reveal 13 overrated classics that deserve a little less love
Fare thee well because you didn't fare well
A communist Bengali household conditions you to not look beyond Tagore, Karl Marx and George Orwell for reading pleasure. At 15, Das Kapital and 1984 made me feel incompetent, and I made it my mission to read as many "unreadable books" or classics as possible, until I was considered "intellectual enough".
Soon enough, a formidable congregation of literature's who's-who gathered (dust) on my shelf. I sped through the top 100 books of all time list which I now believe is solely designed to aggravate insecurity, even among voracious readers.
And then a reality check happened. A classmate confessed that Tagore put him to sleep, and I gasped, "What audacity! He won the Nobel, what did you win?" Well, he was only being honest and exercising his freedom of speech.
He made me reassess my reading habits. I was judging books by their glowing recommendations, spending months trudging through tomes that dragged. I desperately pined for validation from the league of extraordinary readers aka the Literary Elite. I was not reading for my own pleasure.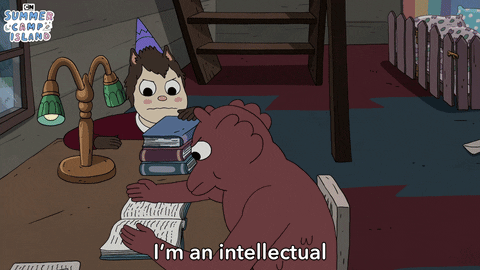 Why this unhealthy obsession with literary magnum opuses? Turns out, I'm not stranded alone with the Old Man and the Sea; our readers share my agony too. We are bound by reader's guilt: we can't and won't leave a book unfinished.
"I waste much time reading books I don't enjoy. It's a mental block. I can't judge a book until I have read it cover to cover. In order to earn dissing rights, I will read every word. It's unhealthy," says Rachita Chaudhary.
Clinical psychologist Matthew Willhelm claims that Type-A personalities might be more likely to abandon a book because "they tend to be motivated by reward and punishment, and if there are no consequences or public recognition, why finish?". On the flip side, laidback Type-B personalities may never start a book that they feel they can't finish. But peer pressure is the biggest motivator. "The social pressure is why book clubs are so good at getting readers to the epilogue," he says.
That explains why the celebrated classics lure in so many readers. It's a bad case of academics and intellectuals kya kahenge?
To bolster our case of abandonment, we turned to our virtual librarian, Goodreads, and its detailed study of the psychology of readers. And we found James Joyce's Ulysses, JRR Tolkien's The Lord Of The Rings, Ayn Rand's Atlas Shrugged, Joseph Heller's Catch 22 and Herman Melville's Moby Dick on the list of most-abandoned, unreadable books.
Respondents cited reasons such as "slow", "boring", "immoral", "weak protagonist", "extremely stupid" and more for abandoning them half-way.
I'll add a few more reasons: never-heard-before words, excruciatingly long sentences, prose designed to annoy readers and plots more convoluted than Christopher Nolan's scripts. What's there not to love, right?
When we provided a safe place to our readers to share their painful trysts with unreadable books, the stories came out in large numbers. From Arundhati Roy's The God Of Small Things and every Haruki Murakami title to Leo Tolstoy's War And Peace and some Ayn Rand, the crème de la crème of literature made it to the register, and we put together the ultimate list of unreadable books, along with some comprehensible replacements.
PS: Read at your own risk
13 unreadable books that critics want us to love
Gone With The Wind by Margaret Mitchell
The first Pulitzer winner on our list is Mitchell's epic romance set in Georgia, USA, during the American Civil War. Scarlett O'Hara is a manipulative woman in love with an unscrupulous man, Rhett Butler, and together they drag subjects of racism, socialism and Klu Klux Khan into the novel, that, well… drags.
"Scarlett O'Hara is a selfish, manipulative and spoiled brat. Rhett Butler could be institutionalised for his anger issues. Also the story is set in extremely racist southern USA. Tried reading it and wanted to punch Scarlett within the first 20 pages. Never read it beyond that and I am proud of myself for walking away from that book of horrors," says a triggered Niyati Kukadia.
Tweak recommends
Roots: The Saga of an American Family by Alex Haley
A more realistic and less problematic look at racism in the United States of America as seen through the eyes of Kunta Kinte, an 18th-century African, who is sold into slavery and transported to North America.
The God Of Small Things by Arundhati Roy
We were taken aback by the number of readers who felt The God of Small Things was genocide of brain cells. Roy's Booker Prize-winning novel is the story of fraternal twins — Rahel and Estha — as they navigate 'Love Laws' to decide who can be loved and who can't. Roy's debut fiction novel is set in Kerala between the '60s and the '90s.
And don't be surprised if some of you feel you've aged 30-odd years during the course of reading this book.
"I had no clue what was happening. It felt like a burden crushing down on my soul and not in the good, poetic way," sighs Tunali Mukherjee.
Tweak recommends:
The Inheritance of Loss by Kiran Desai
Desai's acclaimed novel set in the hills of Kalimpong in West Bengal, tells us the story of an old judge, his teenaged granddaughter, an underpaid cook of the household and a forbidden love story.
The Satanic Verses by Salman Rushdie
Controversy's favourite child joins the list, of course, with his "blasphemous" Satanic verses.
In the book, actor Gibreel Farishta and expat Saladin Chamcha fall from a hijacked plane into the English Channel, and survive. The book then becomes a surreal examination of religion, reincarnation and mental illness through disturbingly vivid dreams that haunt the survivors.
"The first few pages make you feel like you know nothing. So it discourages you to go ahead because if you haven't made sense of it till now, why bother? It's heavily esoteric, and not the good kind," says Priyanka Maheshwari, who has given it a shot a few times since 2010.
Tweak recommends:
Midnight's Children by Salman Rushdie
Swap The Satanic Verses with a more palatable and masterful Rushdie. Midnight's Children follows Saleem Sinai, born at the stroke of the midnight hour on August 15 in 1947 when India won independence. The infant is switched with a child from a rich family and spends the first quarter of his life in luxury. Rushdie tackles classism, sexism and post-Partition trauma with a hint of magic realism; it's thrilling.
Of Human Bondage by William Somerset Maugham
Goodreads describes it as a thick novel. From the myriad reader reviews, it feels like Maugham's masterpiece can make your brain feel thick. It's a semi-autobiographical novel, where the protagonist Philip Carey, an orphan is raised by his religious aunt, and grapples with sexual obsession and his search for freedom when he grows older.
"I was the kind of person who refused to be defeated by a book, no matter how long and boring. I considered it a sign of inferior intellect. Well colour me stupid, because Somerset Maugham broke me. Trying to read this book felt like trudging through wet sand in stilettos, it remains one of my more traumatic memories of childhood," says Tweak editor Rochelle Pinto.
"The title relates to the experience of the reader while enduring this book. Having said that, I might give it another go."
Tweak recommends:
The Adventures of Augie March by Saul Bellow
Bellow explores similar themes of belonging and alienation, love and lust and poverty and wealth through the eponymous protagonist's life in Chicago of the '50s. Only difference: it has comic undertones and doesn't drag at all.
War And Peace by Leo Tolstoy
Napoleon invaded Russia in 1812. Tolstoy takes this historical event and dissects the era and its problems through the lens of diverse characters: laymen, peasants,  soldiers and they are all struggling with their own individual problems.
And chances are, you'll have a fair share of problems understanding their troubles as you struggle through this arduous read.
Features editor Sara Hussain considers War And Peace her "Everest". "I've tried thrice and failed to get through it. It's the length that does it for me. I keep going back to remember what has happened and then read something new and realise, 'Wait what is going on? Who is this?' I have to read it the next time with a notebook handy to take notes," she says.
Tweak recommends:
Anna Karenina by Leo Tolstoy
If you want to check Tolstoy off your reading wish list, attempt doing so with the relatively easier and more colourful Anna Karenina. 
The Glass Palace by Amitav Ghosh
It's difficult to tell if this one's a historical fiction or an academic textbook with its exquisite attention to detail. Ghosh's 2000 novel is set in Burma, India and Malaya and takes place over a period of a century, touching upon the historical milestones of the British invasion of the region, the fall of the Konbaung Dynasty in Mandalay, the Second World War and the end of the 20th century.
Time-consuming and all-consuming, this reading experience.
"My mind went into a spiral trying to recollect and remember all the confusing names, and there were one too many in the book. I gave up," says Antara Sengupta.
Tweak recommends:
Into Hidden Burma by Maurice Collis
Collis was a frustrated poet and a British official posted in the country, and because of his sympathy towards the Burmese, he fell out of favour with his countrymen. Collis's autobiography is a poignant journey and an officer's account of the British rule in Burma.
A Suitable Boy by Vikram Seth
There was a revival of interest last year when BBC adapted Seth's voluminous magnum opus, set across the heartland of India and Calcutta in the '50s. The novel follows protagonist Lata's journey of finding the suitable boy, but under her mother's strict vigil. The novel also touches upon the class system, the erstwhile zamindari system, religious disparities and more.
This was voted as an overrated masterwork of literature by numerous readers, and some of us aren't surprised at all.
Moumita Munshi says, "It went from cheetah speed to that of a snail". Jyoti More had an interesting anecdote to share. "I've been trying to read this for an eternity. Had started before my Mr Right was even seen in the outermost orbit, and now I'm married for 11 years and the book still remains half-read."
Tweak recommends:
The Great Indian Novel by Shashi Tharoor
Going from Seth's voluminous prose to Tharoor's big words can feel intimidating, but this one's not. The timeline is similar. Tharoor's satirical retelling of Mahabharata is an intelligent account of the individuals who shaped the tapestry of India in the three decades after we became independent.
Kafka On The Shore by Haruki Murakami
Japanese writer Murakami often has a polarising effect on readers. Either they swoon over his words or detest them.
Murakami's World Fantasy Award-winning Kafka On The Shore follows the life of a teenage boy, Kafka Tamura, who runs away from home to find his missing mother and sister; and Nakata, a war veteran. When the two meet and strike up an unusual connection, we are drawn into a world where cats talk, fish fall from the sky, and spirits commit murder. Intriguing, much? Might be mind-numbing for some.
Roshni Roy who gave one too many Murakamis a shot, says, "Each and every Haruki Murakami book is drivel – gave up after Kafka On The shore. Understood nothing."
Tweak recommends:

Norwegian Wood by Haruki Murakami
If you must read a Murakami, make sure it's the heartbreakingly beautiful Norwegian Wood. Protagonist Toru takes us on a poetic hike across the snow-capped mountains of Kyoto and gives us a close look of the Japanese university life, while he deals with unresolved feelings and grief.
The Catcher In The Rye by JD Salinger
What happens when a disillusioned teenager gets expelled from school for two days? Salinger sets out to find out in The Catcher in the Rye. In the 1950s, California-based 16-year-old Holden Caulfield is temporarily rusticated from his boarding school. The depressed youth spends the last days before meeting his family vagabonding around New York City trying to understand life and adults.
That's all.
"I am a John Lennon fanatic. His assassinator, Mark Chapman, submitted the book as his statement to the cops. Apparently, his actions were inspired by the protagonist of The Catcher In The Rye. Obviously, I wanted to read it. And then I wanted to scream, 'Why so whiny?'. The book is a self-indulgent piece of bad literature that needs a plot. The book pretends to have one, but, NO, it doesn't. The unlikable protagonist meets friends, drinks, calls a hooker, drinks, goes out with a girl, drinks and spends a lot of time inside his head.
Call me obtuse, but I refuse to accept this as an iconic book of teenage rebellion," says Arundhati Chatterjee, lifestyle editor, Tweak India.
Tweak recommends:
The Death of Cool: From Teenage Rebellion to the Hangover of Adulthood by Gavin McInnes
McInnes's hilarious memoir is a giant ego trip for every teen. He gives us an honest laugh-out-loud account of what teenagers actually do: body shots, bar fights, sexual escapades and the overwhelming devil-may-care attitude.
Dr Zhivago by Boris Pasternak
This one's from the same shelf that houses Gone With The Wind — those epic romances that may not always feel as epic when you read them.
Pasternak's Nobel Prize-winning bildungsroman follows Yuri Zhivago, a Russian physician and poet, from his childhood, to his adulthood where he falls for a married woman, goes on to survive the Russian Civil War, World War I and years later, reunited with the love of his life, Lara. There's a lot happening here, and you're better off watching the movie. Finally, a film adaptation that lives up to and perhaps, surpasses the beauty of the words.
Somewhere my love, there'll be Dr Zhivago to stream. Cue: Listen to Lara's theme.
"The film is an all-time favourite. And it led me almost compulsively towards the book. Fifty pages in, and I was lost. The book is dense, has sentences which don't end, and so many characters (all with unpronounceable names) that I was continuously lost. I gave up on the book, so I could carry memories of the film intact," says avid reader Sunil Bhandari.
Tweak recommends: 
The End of an Affair by Graham Greene
A simpler, shorter war-time romance between Maurice Bendrix, an upcoming writer during World War II in London, and Sarah Miles, the unhappy wife of a civil servant.
One Hundred Years Of Solitude by Gabriel García Márquez
In Marquez's Nobel Prize-winning novel, there are births and deaths, mythical legends and magic realism and some more births and deaths. Seven generations of the Buendia family are going through deception, misunderstandings and somethings you can't explain rationally.
As the characters struggle to reconcile, several readers complained that they struggled to turn the pages over, it's exhausting.
Rekha Jad got "flustered by so many Antonios and reluctantly got through the book", while Shilpa Mohta "just gave up".
Tweak recommends: 
The House of Spirits by Isabelle Allende
Allende's debut novel tells us the story of an unnamed Latin American family's ups and downs over a period of 45 years. It's turbulent with a hint of magic realism.
The Lord Of The Rings by JRR Tolkien 
We seek forgiveness in advance as we try to condense Tolkien's epic fantasy novel. The story takes place in the ancient times when the Rings of Power were crafted by the Elven-smiths, and Sauron, the Dark Lord. Sauron forged the One Ring, with his own power so he could rule all others. But when the One Ring is taken from him, a great conquest is launched to look for it across Middle Earth.
"No matter how many cosplaying, ring-collecting fans tell me that the book will change my life, I just have not been able to get into it.
This is going to make fans even angrier — but I have devoured all the films, and loved them, even read The Hobbit. But every time I take a crack at the book, I get to about 100-130 pages, and the long winding descriptions of trees and songs throw me off, and I just put it away again. I'm not sure if I'm waiting for my attention span to improve, or if I need a whiff from Gandalf's pipe to really get me in the mood, but for now this epic hasn't made it to my precious reading list," says Chandni Sehgal, copy chief, Tweak India.
Tweak recommends
Sorcerer of the Crown by Zen Cho
Cho's epic of an unlikely hero is much simpler and shorter to get through if Tolkien's magnum opus has killed your final brain cell. In Sorcerer of the Crown, Zacharias and Prunella are oppressed because of their race. But the return of magic to England rests in their hands, and can they protect it?
Atlas Shrugged by Ayn Rand
In Rand's 1957 dystopian magnum opus, Hank Rearden, owner of the biggest American steel company, and railroad executive Dagny Taggart challenge the rigid economic policies and struggle to keep the system afloat. It's a big feat for both Rearden and for a lot of readers to keep going.
"I think I was 11, and asked my older cousin, who was visiting what his favourite book was. He recommended Atlas Shrugged, and my father happened to have a copy, so I decided to give it a go. And I understood nothing, I have never felt dafter.
The book was so intimidating that I still don't have the courage to try and read it again. What if I still don't get it? I'm not doing that to my self-esteem post lockdown," says Nikhita Arora, senior digital writer.
Tweak recommends:
Noble Vision by Gen LaGreca
When a head injury leaves ballerina Nicole Hudson blind, she turns to ambitious neurosurgeon David Lang's revolutionary procedure. The catch? His new method isn't approved by New York's healthcare system. This tale of a brave doctor and a courageous patient fighting against the system is one for the ages.