A still from Midnight In Paris
Hanging out with your heroes: Where you can sip chai like Manto or rage with a Rolling Stone
If you liked Midnight In Paris, hop on for the trip of a lifetime
In 2006, Munna Bhai hung out with Gandhi ji in Lage Raho Munna Bhai, and won a National Award. In 2011, Gil Pender was partying with Ernest Hemingway, Gertrude Stein and F Scott Fitzgerald in Midnight In Paris. The movie went on to win an Oscar and my personal award for Best Childhood Fantasy Come To Life.
I too want to discuss stream of consciousness with Virginia Woolf in her London estate and have my 15 minutes of fame in Manhattan with Andy Warhol. And if none of that is possible, I want Zelda Fitzgerald's nod of approval when I get that bob. But every time I express these wishes, people laugh it off.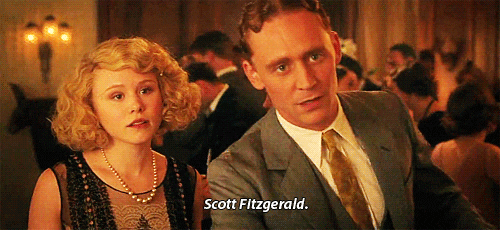 But since time travel is not happening in my lifetime, I've decided to walk in the footsteps of the famous cliques of writers and artists, quite literally. Imagine having bun maska at B Merwan where Manto loved to have breakfasts. Or indulging in some heated chai pe charcha at Coffee House in Kolkata, the city's hub of intelligentsia. Or you can simply pose at the Plaza Hotel where Truman Capote threw the 'party of the century'. It's going to be the trip of a lifetime, I promise.
Americans in Paris: Hemingway, Mr & Mrs Fitzgerald, Gertrude Stein, E.E.Cummings and Ezra Pound
In search of a writer's retreat, around the turn of the 20th century, several trucks full of American writers flocked to Paris. And most of them never returned. 
La Closerie des Lilas Cafe, Paris: 
This one is Hemingway's favourite watering hole and writing spot. While he dedicated a heartfelt tribute to this cafe in his memoir, A Moveable Feast, the owners of the restaurant have also kept his spirit alive by naming a steak after him: Le pavé de rumsteak au poivre Hemingway.
Dingo Bar: This Montparnasse bar served booze to expat writers for several decades before revamping itself. It has taken rebirth as L'Auberge de Venise, an Italian restaurant. Parisians claim that this is where Hemingway and Fitzgerald had their first meeting in April 1925.
La Rotonde:
Back in the day, regulars included TS Eliot, Man Ray, Henry Miller, the Fitzgeralds and Hemingway. In Hemingway's book, The Sun Also Rises, he wrote, "No matter what café in Montparnasse you ask a taxi driver to bring you to from the right bank of the river, they always take you to the Rotonde."
Almost a century later, La Rotonde still stands tall and caters to all budgets. You don't need to be a big spender to enjoy their vast selection of beef and fish specialties.
Calcutta chromosome: Satyajit Ray, Amartya Sen, Rabindranath Tagore, Subhash Chandra Bose, Buddhadev Bhattacharya
The lazy, Bengali Bhadralok is not a stereotype or a myth. Men in their twenties delivering high-pitched bhashans while nonchalantly dropping buzzwords such as fascism, bourgeois and saamrajyavaad was rather commonplace in Calcutta until the '90s.
To go back in time in Kolkata, all you need to do is walk down College Street or sip a cup of coffee at the Indian Coffee House.
Indian Coffee House: Old world charm peacefully coexists with postmodern ideas here. The list of its regulars is Hall of Fame-worthy, including two Nobel Prize winners: Rabindranath Tagore and Amartya Sen. Others include Subhash Chandra Bose, Satyajit Ray, Jyoti Basu, Manne De and several generations of college students.
Das Cabin: Imagine having your own cubicle in a public restaurant — it's taking 'get a room' to a whole new level. In the '60s, Das Cabin became famous for hosting writers and actors, including Sahitya Akademi Award winner Sunil Gangopadhyay and actor Soumitra Chatterjee.
If you're a cleanliness freak, please give it a miss. If you can deal with the stench of mustard oil and onion, head to this restaurant for its Mutton Kosha and Paratha.
Of the Beaten path in San Francisco: Allen Ginsberg, Jack Kerouac, Neal Cassady
As WWII ended, America woke up to a new generation of nonconformity. This brand of youth didn't care much about the American dream or their parents' conservatism. The biggest agent of this change was a group of writers who met at Columbia University. They called themselves the Beat poets and wrote about everything that was taboo: drugs, alternate sexuality and spirituality.
Today, their writing serves as gospel text for rebels with or without a cause. For introductory sessions, we'd recommend you start with Allen Ginsberg's Howl and Jack Kerouac's On The Road.
Caffe Trieste, San Francisco: Ground zero of the Beat movement, Caffe Trieste, is considered to be the first espresso coffeehouse on the West Coast. Italian immigrant Giovanni Giotta opened the joint in 1956, and in no time, Trieste became the cradle of the Beat Generation. Kerouac and Ginsberg spent long writing sessions here. Fun fact: Francis Ford Coppola apparently wrote most of the screenplay for The Godfather over several rounds of espresso.
City Lights Books: Bibliophiles, if there's one bookstore you must visit on the West Coast, it's this. This independent book shop was the first-ever store dedicated only to paperbacks and progressive literature. Ginsberg also read his rather controversial poem, Howl, for the first time here, before the work found itself amidst the long-drawn obscenity trial.
Today, you can check out their top floor which houses only works of poetry, and their main floor celebrates both mainstream as well as independent literature.
Jack Kerouac Alley: It was the spot where the Beatniks indulged in substances, mostly illegal. Decorated with graffiti and wall art on all things Beat, the dingy alley continues to be a popular selfie spot. While you're soaking in all the poetry, make a pit stop at Vesuvio for a quick drink where the writers have downed their sorrows over several pitchers and barrels.
Progressive Writers in Bombay of the '40s: Ismat Chugtai, Saadat Hasan Manto, Bhisham Sahani
You leave Bombay, but Bombay never leaves you. It's a common thing to say to people who leave the metro for greener pastures. And in the '40s, when writer Saadat Hasan Manto left Bombay to return to Lahore, he spent the remaining years reminiscing about the city he left behind and his contemporaries, progressive writers Chughtai and Sahani. Eventually, he succumbed to alcoholism before dying at the age of 43. But the writer left behind hundreds of tributes to the city in his short stories. His most famous one being, 'Main chalta phirta Bambai hoon'.
PS: Carry a copy of Bombay Stories by Manto. It will come in handy as you rediscover Manto's Bombay.
American Express Bakery, Byculla: The popular bakery turned 111 this year. While it opened shop on Grant Road, in the '30s, it relocated to Byculla where artists and writers thronged for chai pe charcha sessions. The eatery has been witness to Manto and Chughtai's debates as well as mutual admiration sessions.
Sarvi, Byculla: This lacklustre eatery serves a meal for two with a side of nostalgia for Rs 350. It's cheap and busy, and equally rich in memories. The Progressive writers' gang frequented this eatery, as did Bollywood legends Raj Kapoor and Dilip Kumar. Persian kebabs used to be a celebrity favourite.
Alfred Theatre, Grand Road: The writer worked as a screenwriter and scriptwriter on Bollywood movies in the '30s and the '40s, living on Grant Road. Manto, with his contemporaries Krishan Chander, Rajinder Singh Bedi and Chughtai, would often enjoy a movie at Alfred Theatre. Nothing except for the formidable Victorian structure stands tall today. Of course, it still does screen movies, but mostly the raunchy kind. For cheap thrills, maybe you can watch Dhoti, Lota Aur Chowpatti for Rs 25 only.
Blurred lines of the '70s: Joan Didion, Truman Capote, Mick Jagger, Andy Warhol, Bob Dylan
In 2016, when Bob Dylan won the Nobel Prize in literature, puritans couldn't fathom why. What they conveniently forgot was that the songwriter belonged to a time when the lines were blurred between writers, musicians, film folk and artists.
The '60s and the '70s in America were the best of times and the worst of times. Assassinations, wars and flower power levelled the playing field. Photographer Annie Leibovitz was shadowing the Rolling Stones on their tours. Journalist-writer Joan Didion, pop artist Andy Warhol and Hollywood icons Cary Grant and Grace Kelly were all thronging the same ice cream parlour. John Lennon and Ken Kessey were partying together at the writer's mansion. Art was never this inclusive again.
Serendipity 3, New York: It seems like the owners of this establishment were highly inspired by Willy Wonka's Chocolate Factory. The diner's iconic Frrrozen Hot Chocolate enjoys celebrity status, drawing Warhol and Marilyn Monroe. First Lady Jackie Kennedy's request for the drink's recipe was politely turned down. Today, you can sit on the same chairs where Warhol made his earliest sketches.
Elio's, New York: This old-school, tiny Italian restaurant has hosted celebrities more often than Page 6 does. Of course, a meal here will burn a giant hole in your pocket. But imagine rubbing shoulders with Jerry Seinfeld and Didion as you dig into your spaghetti aglio e olio. At the end, it's all worth it.
Plaza Hotel, New York: In November 1966, writer Truman Capote invited over 500 guests for a black-and-white masquerade ball. Katherine Graham, the publisher of the Washington Post was the guest of honour, and I am sure she didn't know 70% of the revellers present in the room. From actors and musicians and designers to journalists, photographers and editors, the who's-who of the media in its entirety made an appearance at the do. Decades later, Capote's masquerade ball still enjoys the status of 'party of the century'.
While you pose at the lobby of the New York Hotel, you should know that your favourite artist has certainly walked the same path as they entered and left the famous ball.