Representative photo: Katrina Kaif/Instagram
I tried the Katrina Kaif workout for 5 days and it made me cry
A moment of silence for my sweat glands
Anyone who says they enjoy working out is secretly a sociopath. My idea of exercising is taking the dogs for a long walk around the neighbourhood and huffing and puffing up six flights of stairs on the days my building's elevator dies. Words were spoken by my Editor that my mother never thought she'd live to hear. "Sara's going to do the Katrina Kaif workout."
My fitness goal over the years has been to maintain the same size range so I don't have to make an effort to buy clothes. I now felt a new kind of fear.
I was to be sacrificed at the altar for a 5-day trial. I already regretted every decision that brought me to this moment. I'll be honest, in the past, I've been that person who scoffs at a lot of Bollywood actresses.
"All she has to do is work out and look good. Anyone with that kind of money, a personal trainer and a chef can look like that."
With stay-at-home orders in place, a stocked pantry, structured work-from-home hours and no children to look after (other than myself), I now had time to put my theory to the test.
After borrowing workout gear – clothes, a mat, a will to live – from my sister, I pumped myself up with a pep talk and a bite of chocolate.
With the power of social media, I had her celebrity trainer in the palm of my hands. I pulled up the routine on Yasmin Karachiwala's page, propped up my phone in the living room and began Katrina Kaif's workout.
A warm-up to the beginning of the end
When you say 'warm-up', I think of a light jog in place but Katrina Kaif's workout included no such plebeian business. We were getting right into it.
1. Squat with feet hip-width apart – 2 sets x 25 reps
2. Squat with feet wide parallel – 2 sets x 25 reps
3. Squat with feet wide turnout – 2 sets x 25 reps
4. Squat with feet together – 2 sets x 25 reps
On day one, I thought I was hot stuff and dove straight into it. I was a mess by the second set of the third move with a pulled muscle in my glutes and tears in my eyes, putting myself out of commission for the rest of the day.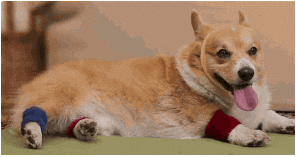 I lay in the foetal position on the mat. The only squatting I was doing till now was the jhaadu-pocha, and even that hadn't prepared me for this.
On day two, I stretched beforehand and managed to get through the warm-up with just one set of each move and 15 reps. I needed to get my body to the real workout.
The real workout routine
Following the first day's bad decision, I decided to be more realistic about my body's capabilities. There was no way, I was going from zero to a full-blown Katrina Kaif workout at a moment's notice.
I was sweating before I even got to the workout part of the routine but this time I was ready for it (my body still wasn't).
Forward and backward lunges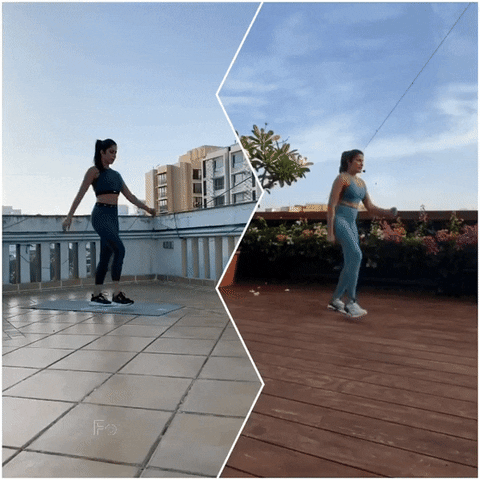 OK, real talk, this one was pretty fun. I felt like I was doing a strange version of my school's Sports Day marchpast. My reps were set to 10 and I thought it would be a good idea to move slowly to make sure my posture was right.
I ended up getting stuck in place on the fifth deep dip. Rolling over sideways was the only way I could stand back up. Thankfully, I didn't have an audience to remind me that I had the flexibility of an 80 year old.
Getting your posture right is important, otherwise, like me, you may end up putting too much stress on your knees instead of your thighs and glutes (where it's supposed to be). For the first few days of the workout challenge, I kept my hands on my waist to maintain balance.
I guess some muscle memory from my school PE days kicked in as I sailed smoothly through the lunges. Hands down, the most enjoyable part of this workout.
In hover, hip dips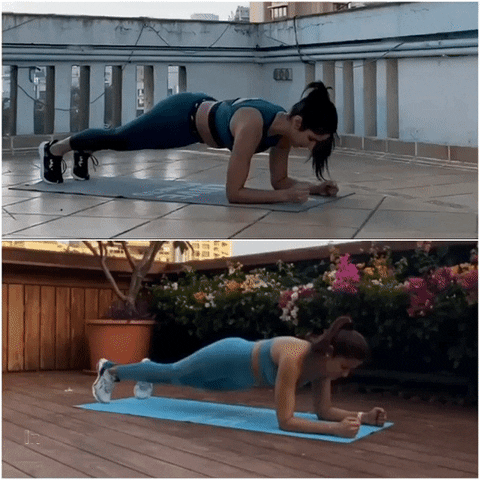 I pride myself on having a high tolerance for pain. Multiple tattoos, piercings and animal claws have punctured and marked my skin, but this pain was something else.
The longest I've ever held a plank is probably 15 seconds. I had to first watch a tutorial on how to do a proper plank without throwing out my lower back.
Just two reps into this and a puddle had started to form on the mat as sweat trickled down my face. I took a third dip to the left and plopped sideways onto the floor, my abdominal muscles and lungs screaming to give up.
I was ready to call it quits. On the day's workout, the challenge, my job. Anything to go back to being a kaftan-wearing butter blob.
Day two, I brought myself successfully to three complete plank hip dips and day three saw five. I stuck to five for the rest of it to keep myself from throwing up. My body isn't made to bend in such ways.
Curtsy lunge to side kick 
Disappointed by the hip dips, I didn't expect much from myself for this one. But to my surprise, doing the curtsy lunge felt like I was going to break into a Bharatnatyam move and I just had fun with the kick.
I took it slow to maintain my posture and keep my knees from wobbling, and let out a hoodibaba! with each kick.
Amateur tip – Make sure there's nothing important within kicking distance, like a rack of freshly washed clothes, or your sister charging out of her bedroom after hearing you yell.
With my sister still intact and laundry folded back up again and at a safe distance, I got through a set successfully on day one itself.
By the end of it, this was the only exercise move from the Katrina Kaif workout that I could complete with the required repetitions.
I think the kicking had a lot to do with it.
Suicide Push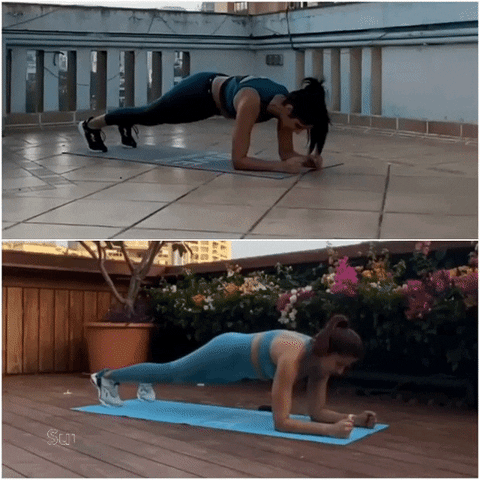 Forgive me, god, for I have said your name in vain a lot in the last five days while doing this exercise. It's aptly named and looks a lot easier than it is.
It's a wonder my arms are strong enough to type this out after doing suicide pushes.
The excited hoodibaba! turned into a sad oh my gooood (expletives removed) each time I pushed myself up off the floor.
I had to take breaks in between, complete with muffled cries for whatever the universe was currently punishing me for.
There's no way I was going to get through 3 sets with 15 reps each in five days, so I stuck to one set with a maximum of seven reps without my arms completely buckling under me.
Landis or single leg squat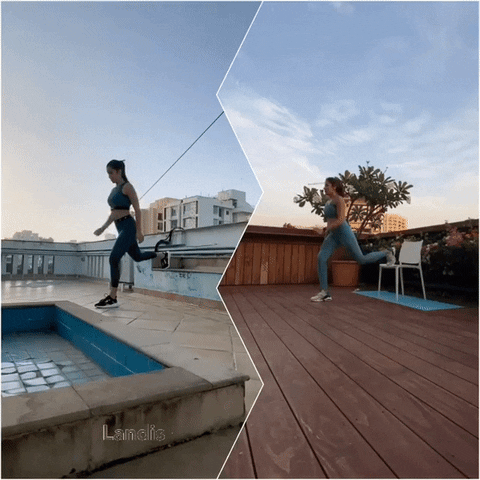 My now-delirious mind spent a minute giggling and slowly muttering landis to myself like a 10-year-old. I propped my back foot on a kitchen stool only to end up sliding off it by the sixth rep. The move is comparatively easy, but you really feel the burn with each dip.
I'd suggest keeping your leg up on a ledge in the house, table or sofa instead of a stool if you're a bumbling beginner like me.
It negates the fear of slipping off or the stool giving out. And you could always plop yourself on the sofa for a quick beat to catch your breath in between reps.
Squat jacks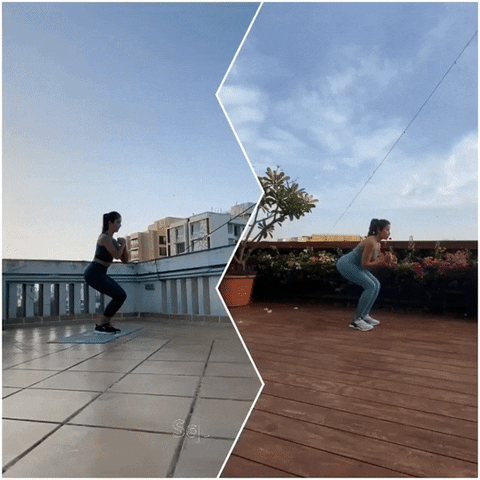 At the end of my Katrina Kaif workout was an interesting move called squat jacks. Interesting, because it's hard not to imagine what you look like to a passerby while doing them.
I positioned my arms like Karachiwala for this exercise and felt like I was doing an adult version of the chicken dance. Somewhere between the squats and laughing at what a fool I must look like, I launched into a breathless fit of coughing and nearly choked up a lung.
By the end of the first set, I could hear my heartbeat in my earlobes and I wheezed like the heavy smoker that I am. It didn't get any easier over the next four days of the challenge either, but it did make me reconsider my vices.
The final verdict
My new state of being is constant soreness. It's only been five days but, wow.
Katrina Kaif makes most things look easy, but this workout really takes the cake. Speaking of cakes, do what I didn't and avoid eating for 30 minutes to an hour after exercising unless you want nausea to be your new companion.
I realised how hilariously out of shape I am for someone my age. Despite all the sweat and tears (there was a lot of both) that went into doing the Katrina Kaif workout, the kilos didn't just disappear through dehydration.
As far as working out goes, this level is still not for me. But I managed to get through five days without any workout injuries, and that's a major accomplishment.
The only 'equipment' you need for this workout is the enthusiasm to get through it. It got my heart rate up to borderline dangerous, but mark that up to my unhealthy lifestyle.
This workout showed me that my body is capable of more than I give it credit for. I learnt my limits and even managed to get through a full set of suicide push-ups by the end of it.
My main advice to anyone wanting to try this workout routine is stretch. That's mostly for people like me for whom squats are limited to getting on and off the couch. Anyone familiar with the wondrous world of fitness will be comfortable with these moves.
I tip my hat to Katrina Kaif because I know this is just the tip of the iceberg of her daily workout regime. I tried it for 5 days and will forever bite my tongue when someone complains about actresses doing nothing but working out. It's not easy.
Now excuse me while I try and regain full feeling in my legs.
WATCH NOW – Working out with Kubbra Sait's trainer