Representative image: Sara Ali Khan for Puma/ Twitter
Selfies, bets and a Govinda playlist: 9 fitness motivation tips from lazy people that actually work
Scroll at your own pace
As the skinny child, I was convinced that I was fitter than the rest, and didn't need to exercise. I was Munchlaxing (like the Pokémon) on my couch, enjoying a lifetime membership of rest and laziness for years, until I moved out of my comfortable house, and subsequently, my comfort zone.
While living on my own, I began noticing that I wasn't as fit as I thought. Breathless carrying groceries up a few flights of stairs. Pulling a muscle if I jumped. Ditching hiking plans because walking for long hours was painful.
Meanwhile, my roommate lived to exercise, blending protein shakes in the kitchen and giving sermons on fitness. In the company of this nucleus of energy, I was forced to head to the gym.
In my first two weeks, he lifted mountains of weights without flinching while I tried to stay awake on the stationary cycle and tripped off the StairMaster.
I locked myself in my room to get out of what seemed like thirteenth degree torture to my crumbling muscles. After much wailing and cribbing, a truce was made.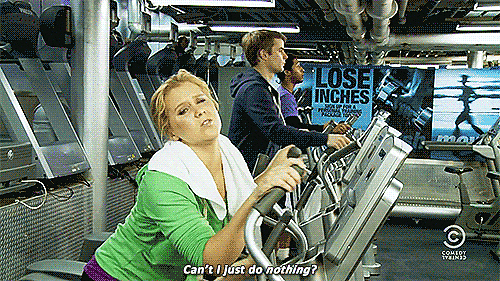 I would walk regularly and track overall changes. I unwillingly ditched public transport, painfully clocked in for an hour, and started at a sloth's pace.
Soon, I wasn't breathless after climbing a couple of floors. This tangible success motivated me. Four years later, I'm obsessed with my fitness tracker and have taken baby steps towards running. Not because I want to lose or gain weight, but because I want to feel that same beastly energy I had once upon a time.
As Ross Andersen, PhD, a professor of kinesiology and physical education at McGill University in Quebec, says, "There are many ways to define fitness. In simple terms, it is the aerobic capacity to do daily activities without strain."
My tryst with fitness has also made me realise that working out is the fraternal twin of marriage. In both, society is the despicable villain pressurising us to conform to their (questionable) expectations. From finding a match or imposing flawed body image standards and goal weights. But fitness isn't about anyone else.
Looking back, I realise that I was a victim of this mindset like most lazy people face. We measure our fitness by our weight.
Fitness enthusiast and blogger Anaheez Patel, says, "Your fitness progress is more than just a number on the weighing scale. It could be better form or better stamina, improved flexibility or improved mental health."
Once you wake up to this, it certainly lifts a heavy weight off your chest.
Most of us just need an external force of fitness motivation to hit us. The fortunate ones find it in their peers, and the unlucky ones may encounter them in the form of health scares.
View this post on Instagram
And it gets the hardest to stay motivated when the honeymoon phase is over. After the initial burst of energy, your brain may say, "Good start", but your heart desperately wants you to slow down. Your energy levels begin to plateau, and your mind and body seizes this opportunity to pull you back to your couch, and remind you that there are 31 new shows you need to watch.
But from the experiences of other lazy bodies around us, who have managed to survive this lull, we've realised that there's no set rule to stay motivated. Experts and fitness freaks helped us with a treasure trove of fitness motivation for lazy souls.
From taking endless selfies and indulging in gambling to investing in fitness trackers and trusting your accountability buddy, consider this a gentle push, so you can bust society's pressures, survive the honeymoon phase, document your journey, and see how fitness becomes an extension of your identity.
9 tried-and-tested ways to find fitness motivation before you say, "I quit" (again)
Indulge in selfie therapy
Never underestimate the power of photographic evidence. And don't judge selfies on the basis of what your father sends you from the Covid vaccine queue. As far as fitness motivation goes, selfies are vital stats.
After the initial burst of energy wanes, your heart will attempt to hijack you once again. It's during these crucial decision-making moments that you need to deep dive into your gallery to see the progress you've made.
Seeing the photos will give you a better picture of how far you've come, making you stay committed to the yoga mat, than falling for, err… into the couch.
"I document my workout by taking a before and after selfie as well as record a video of my dance workout. I share it on Instagram regularly. It's not to get likes or indulge haters, but for myself. It feels great to see the change happen. It's a tangible way to track progress," says Raina Kshetry, a dedicated member of the Cult Fitness tribe for several months now.
Track overall changes
Headaches, bloating, acidity and lethargy – this combo deal of minor conditions is slowly taking over our lives. Many of ususe these as excuses to ditch workout hour. But before you throw yourself a pity party, hear us and other scientific studies out.
According to Nabih Ramadan, neurologist at the Diamond Headache Clinic in Chicago, exercise can reduces stress, improves your cardiovascular fitness, and show the door to your headaches as well. 
Deepayan Chowdhury, 25, who has been working out for three years now, says, "I used to fall sick often. Either it used to be a bout of gastritis or some kind of a dull headache. Working out regularly has reduced it all significantly. It's impacted my overall fitness."
Burn those calories and torch the heartburn at once.
One change at a time
Let's be real. You've been vegetating on your queen bed, when you have not been spinning in your work chair for years now. Given this state of sluggishness, you can't simply step into the pool, and compete against Michael Phelps to swim across the English channel.
Don't keep oversized expectations. "Most of us get on fitness plans which are unsustainable and very ambitious," says Rujuta Diwekar, celebrity nutritionist.
View this post on Instagram
Go slow, and don't make fitness a competitive sport. Go at your pace. For starters, set the alarm to 6am, and call it a night by 11pm. Or start by climbing the stairs every day. Lay the foundation, and you'll find the fitness motivation you need to take the next giant leap.
Sudeshna Chakravorty, 32, who was entertaining a deathly sleep cycle (sleeping after 4am and waking up at 11am), vowed to wake up early for a week, and now has a better circadian rhythm, and also finds the time to clock in a workout before work hours.
"The brain takes time to adjust. The first few weeks are the hardest. I have also changed my phone wallpaper to a 'wake up at 6am' graphic, so it's a constant reminder. But making this one tiny amendment has been life-changing. I have so many extra hours suddenly, and feel fresh. If you can keep up with small changes, your fitness progress will be smoother," she says.
Invest in a fitness tracker
My first fitness tracker was borne out of a classic case of FOMO. Sometime in 2019, everybody around me had replaced their wrist watches with a FitBit overnight. The enthusiastic early adopters were flaunting the Apple Watch too.
Two years have passed, and I'm obsessed with MiBand, and I have progressed from 7k steps every day to crossing the 10k mark. I have also become a bit of a hypochondriac who measures the hours of deep sleep and tracks the resting heart rate every 15 minutes.
In terms of fitness motivation, it's the quintessential numbers' game, and if you're into stats, trust a fitness tracker to drown you in a post-run or post-workout sweat. And, since it's gaining popularity, really rapidly, the companies are also focusing on stylish bands and colours to ensure the tracker isn't an eye sore on your evening soiree.
Find an accountability buddy / personal trainer
First things first, don't hate yourself if you've failed to keep up with your fitness goals, a bunch of times. It's not earth-shattering. This is where a brutally honest friend comes into the picture. Think of your PT Sir who made you sprint across the playground when he spotted a tiny spot in your white canvas shoes.
As your accountability buddy, this person knows your goals, walks with you through every step, and tracks your movements like a hawk. The accountability buddy is the baby cam to keep an eye on your progress. They could either be your gym buddy or you could go the extra mile and invest in a personal trainer, who will give you feedback, plan the workouts and do regular check-ins to ensure you're not slacking on the floor.
And if you're caught, be prepared to face their wrath or cold treatment.
Psychologically, when you know someone's watching you, you will be more keen on following through the commitment. Plus, personal trainers don't come for free. As you burn a hole in your pocket, you'll find some extra fitness motivation to burn those calories too.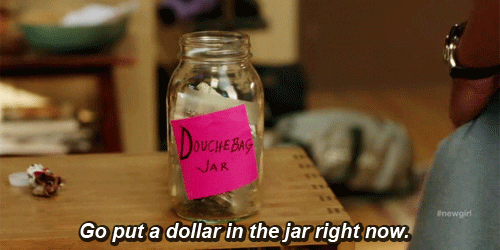 A jar of shame
This one's inspired by Schmidt's Douchebag Jar on New Girl. For the uninitiated, the jar exists to correct one of the character's flippant behaviour. Every time he makes a douchebag move or says something frivolous, he has to part ways with a certain sum of money.
If you fail to hit your goal, you add a certain amount to the jar. And no, it's not a piggy bank. The contents of the jar belongs to your accountability buddy or a frenemy, basically anybody but you, at the end of every month.
Well, nobody enjoys or voluntarily chooses to pay a fine. Especially a monetary one. The other option? More motivation to stick to the regime.
Run for a song
This one's for the marathon enthusiasts who haven't been able to sprint past the kitchen in the last several years.
Jogging or running for anything more than five minutes can seem like trekking Everest in the beginning. Instead, trust your favourite song to push you take another step. Start by running the length of your Spotify favourite. On an average, a song would last anywhere between three to five minutes, and you'll not realise where the time flew.
Once this fitness motivation propels you to the advanced lap, do what researchers say. According to a study published in the Journal of Sport and Exercise Psychology, "Motivational synchronous music can enhance in-task affect during an exhaustive endurance task, like running."
Before you hit the ground running, curate your genre-bending 'tunnel' playlist (songs that athletes listen to when they walk out of the tunnel on to the playing ground), and extract the extra push needed from your earphones. Sure, bring on your '90s Govinda hits. No one's judging you.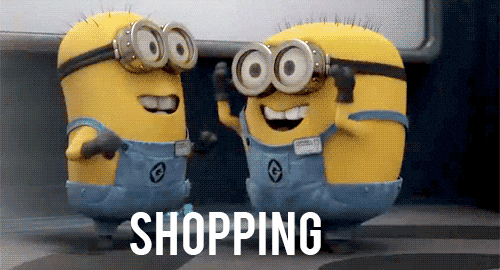 Go Athleisure shopping
Your three-year-old Nike kicks look like they've seen fitter days. Worn-out running shoes often lack shock absorption and you'll soon be running on the stairway to injury.
To double the benefits, expand your workout wardrobe, by buying that fuchsia spandex and neon tank you spotted on Myntra. "When I wear new yoga pants, I'm keen to show off the pair on the gym floor and naturally more driven towards the treadmill. I'd rather tell myself that 'I have new workout clothes, let's hit the gym' than 'I look so fat and have eaten so much junk food, I must exercise.' New gear is just a positive approach that works," says Priyanka Menezes, 26.
Sometimes not focusing on the goal at all and just having fun with it will take you where you need to go – the StairMaster maybe.
Numbers support this retail therapy claim as well. According to a study that interviewed over 2,000 people who workout, 69% said that "having nice workout clothing that they enjoy putting on helps push them to exercise."
Bet those calories away
We don't advocate gambling or betting. But just this once, we will push you to place some bets for fitness motivation. Ditch the carrot, give yourself the stick.
The plan is simple: Take any object that you value. A limited edition watch or those Good Earth plates you saved up for months to buy. Then commit to a realistic fitness goal. Finally, set the condition: if I don't achieve the goal, I'll give these away to my friends, colleagues or whomsoever it may concern.
And then trust your fear of losing your precious ones to drive you to the winner's circle. Unlike casinos in Goa, your chance of breaking even are much higher in this bet, we promise.