9 unhealthy habits that could be lowering your immunity
When tea bags are more annoying than the bags under your eyes
For the first quarter of my life, I avoided the kitchen with a vengeance. I was a pampered child who was often spoilt (by grandparents) and ate whatever I wanted, whenever I wanted. Unhealthy habits borne out of unconditional love, I'd like to defend.
A quarter-life crisis ensued as I turned 25 and left home to study. My inner Goldilocks, who always wanted her food 'not too hot, not too cold' and 'not too cooked, not too raw' was facing an existential crisis. And my kitchen resembled an unfiltered 'Hell's Kitchen'.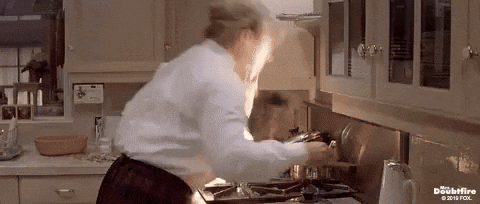 Leftovers were rotting in some dark corner of the fridge, potatoes started eyeing for my attention. My lack of culinary experience showed up in the form of a foul-smelling refrigerator, a dysfunctional digestive system and a truckload of unhealthy habits: leaving food uncovered in the fridge, reluctance to washing fruits before slicing them and hoarding tea bags.
Are you wondering what's wrong with tea bags? Well, turns out, there are a whole lot of red flags for health hazards in some of our most seasoned habits, including reusing oil and even working out.
I can already see all the moms and dadis frowning at me and giving me a lecture on home science and finance management.
But I've come prepared with scientific studies and expert analysis to burst your greasy bubble and save you from hospital bills. This guide to rewiring old, unhealthy habits encourages you to go easy on that treadmill, go Tupperware shopping, and wash not just your hands, but also the fruits in case you missed that memo.
9 unhealthy habits to revisit for a healthier mind and body
Storing uncovered food in the fridge
Mutton biryani and boondi raita go together forever, until your digestive system takes them apart. And while you want to let them bond even while they are chilling in the refrigerator, it's better for them and other members of the fridge family not to see each other.
Create social distance between the food items by covering them with a lid, because refrigeration can only slow, but never stop the breeding of bacteria and mould. Uncovered food items spread the bacteria from one utensil to another faster than PT Usha can sprint to the finish line. And before you know it, your dinner, like your overworked brain, is now mush.
Covered food restricts spoiled items from expanding their rotten roots, and protects your freshly made baingan ka bharta from catching the nearby virus. Go find those missing lids, now.
Using aluminium foil to wrap food and leftovers
There's a reason why moms hoard air-tight dabbas in all shapes and size. It's a convenient and healthy addiction as compared to the easy hack of wrapping food in aluminium foil.
Bacteria needs some fresh, flavourful, oily air from time to time to thrive. And since covering food in aluminium foil leaves tiny pockets of air, bacteria finds its safe haven. "When air is present, that allows the bacteria to grow faster, so you really want to get the right containers and pack things appropriately," says Lindsay Malone, a registered dietitian at the Cleveland Clinic.
The foil also sticks like a parasite to your khaana and since our digestive systems aren't equipped to process large quantities of aluminium, the growing pile can lead to ailments like dementia and Alzheimer's.
Keep an eye out for sales on Tupperware and paper wraps.
Dipping tea bags in hot water 
Next time you dunk or bounce that tea bag of your favourite second flush from Darjeeling, notice the film of froth that forms on the surface. Our convenient little pyramid bags of tea are often layered with epichlorohydrin, a carcinogen that gets activated in warm water.
Some are also made of food-grade nylon, and nutritionist Aditi Rampal observes that most tea bags contain flavouring agents and pesticide residues that can cause more harm than good to our system.
Breaking up with your chai-time ritual of dipping the tea bag in a steaming cup of hot water can be heartbreaking, but trust us to find the perfect rebound with potential of long-term commitment: loose tea leaves.
Tea snobs can start collecting herbal and organic loose leaves rich in antioxidants to boost their immunity too, and move on to fancier tea-ware for indulgent and healthier Pinterest boards.
Being stuck with non-stick pans
A tiny one for your omelette, a mid-sized one for stir-frying for two and a family pan for the pariwar brunches. There's not one but a team of non-stick pans in every household. And each is garnished with a coat of Teflon, and when it gets all heated, it can give you a bout of teflon flu.
Heating non-stick pans in high flame releases toxic fumes of teflon resulting in polymer fume fever or teflon flu.
While ditching these pans completely isn't always feasible, you can achieve peaceful coexistence by following some simple steps:
Don't pre-heat your nonstick cookware at high temperatures.
Avoid heating empty pans. Fill it up with some water.
Invest in an exhaust fan and don't forget to turn it on.
Replace the pans when you notice the teflon layer is scratched or flaky from overuse.
Reusing cooking oil
Would you believe us if we said that you've picked up one of these unhealthy habits from your dadi and mom? We beg you hear us out before pulling out those chopping knives. Indian cooking thrives on deep frying every sabzi in our vicinity – bhindi, baingan, aloo and so on.
The drenched-in-oil delicacy lines our arteries with a coat of grease, and also manages to leave behind a pool of oil in the frying pan. And being judicious with this oil only backfires over time.
Food cooked in reheated smoked oil increases levels of bad cholesterol (low-density lipoproteins) in the body. This can put you at risk of heart disease, stroke and chest pain.
Oil develops free radicals and harmful molecules that can lead to heart disease, hypertension, and premature ageing.
According to sports nutritionist Emilia Elfiranti Achmadi, "Oils contain fatty acid groups connected with inter-group bonds, resembling a pearl necklace. Repeated heating severs these bonds, turning the originally anti-inflammatory oil into an inflammatory substance."
Breaking some unhealthy habits are easier than others, and this is one of them.
For starters, you won't have to go through the pain of storing used oil. Cook food in small quantities using less amount of oil. And in case, you really want be in budget, and reuse oil (some experts approve a maximum of two rounds of cooking in the same oil), keep a three-pointer checklist to know when you just have to let the oil go:
If it smokes on heating, discard.
If it has turned dark, let go.
If you notice any unpleasant smell, that's a red flag too.

Photo: Hana Lopez/Unsplash
Not washing fruits that require peeling
Common sense dictates that fruits with a tougher exterior like watermelon and pineapple don't need to be washed before peeling and slicing. After all, how can a bacteria break down that thick wall, right?
Unfortunately, even if the bacteria isn't capable of making fruitful inroads, the knife you use comes in contact with the outer surface and can drag the dirt inside.
This year has already reignited our passion for washing hands incessantly, dedicating a 10-second rinse to all the fruits and vegetables can't really hurt, can it?
Following the mono diet
Mono diet is almost like granting that last wish for one's gastronomical journey: can I have pizza forever? Yes, but only pizza and nothing else. Following a mono diet means you eat only one kind of food for a long spell, and the menu is open to interpretation, meaning chocolate mono diet is a legitimate thing.
But before you get sold on that idea and order Sneakers in bulk, know that experts are laughing at you right now. It's a restrictive diet that eliminates a variety of nutrients and causes an excess of a singular kind of intake. Nutritionists the world over agree that followers of mono diet "are likely to experience fatigue, decreased metabolism, malnourishment, and muscle loss".
They also warned us that often people choose to go on a fruit-only mono diet and that's so full of sugar that it could shoot up your insulin levels and increase chances of contracting diabetes.
Giving breakfast a miss
Some rituals begin to die when adulting strikes, and unhealthy habits soon take over. Breakfast becomes a roadblock between waking up after a series of snooze hits and reaching office, and many decide to kick it out of the way, and replace it with a shot of caffeine instead.
But skipping breakfast can eat into your heart's health. "Non-breakfast eaters had 87% higher risk of dying from cardiovascular disease," says Wei Bao, MD, assistant professor of epidemiology at the University of Iowa's College of Public Health. Previous studies in the same space have indicated that skipping breakfast is directly related to hypertension and diabetes.
Listen to your super ego, silence the ID and have that bowl of cereal already, will you?
Working out too much
It's a gentle reminder: don't burn one too many calories and hit burnout.
Say no to sedentary lifestyle, and get out of that sinking couch. Moving your muscles every day reaps health benefits, but this one's for the overachievers, who have decided to start from 5k steps every day and turned it up a notch by clocking 10k steps the very next week. Don't exert yourself to exhaustion.
Overtraining and too much exercise can lead to sleeplessness, exhaustion, cardiovascular conditions as well as irregular menstrual cycles. In fact, according to research published in Preventative Medicine journal, exercising for more than 7.5 hours a week, makes you prone to anxiety, depression and poor mental health.
All we are saying is let the pedometer enjoy a slow day once in a while.