"I made the first move... and finding love was easier than I expected"
How to keep the spark alive during social distancing
It was a midnight surprise that banished all chances of falling asleep. "I've been dating this guy I met on Bumble for a month. He's kinda perfect," read the message that launched a thousand replies.
"What do you mean dating? We've been in lockdown!" we chorused.
For those of us who haven't even seen family and close friends in weeks, the idea that you could meet someone new, spend enough quality time to actually like them, and even see this connection grow into a committed relationship seemed unreal.
She's a shy girl — even in the ancient days when we could order cocktails at a bar and mingle, she would hesitate to strike up a conversation with an interested stranger. So, it was no surprise that we wanted in on all the deets.
"Actually, I initiated the conversation. Women have to make the first move on Bumble," she said.
Sensing our surprise, she continued, "It was easier than I expected, because the app has really easy conversation-starters, that you can use to start chatting. I actually felt way more confident than I usually do."
Now, that's something we wish we had IRL to help us during the awkward silences on every first date.
He's an Arsenal fan who loves ghee-soaked aloo parathas and isn't afraid to admit he's watched every Hugh Grant rom-com there is. Oh, and he's terrified of spiders.
"I found out all of this within half an hour of matching with him," she told us. "The app has a fun Question Game that allows you to learn more about each other without it sounding like a job interview. It's just so easy to be yourself and get to know each other. I told him I'd never seen a Hugh Grant movie; so, we watched Notting Hill together on our first official date."
"Wait! Don't tell us you went over to meet him", we panicked.
Turns out, their romantic date happened over video chat on Bumble; sitting on their own couches, microwave popcorn in hand, and phones propped up so they could see each other's reactions. Well, we guess, Hugh Grant has a new fan in our friend…
"I could never have imagined finding someone who I had so much in common with on an app," she said. "With all their in-app features, I felt secure and in control of the exciting turns our conversations took."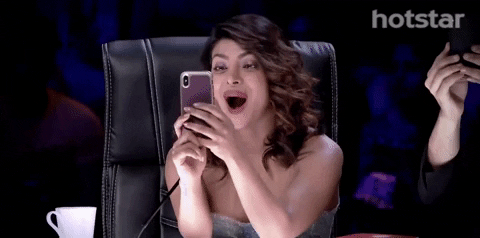 "Thanks to Bumble's photo verification feature, I also knew I was not speaking to someone at the other end of a fake profile or worse, a robot," she laughed.
They've decided to take things slow, especially with all the uncertainty revolving around social distancing. But, we can hear the happy lilt in her voice. She's equal parts excited and hopeful to eventually meet him in person. All this, while being safe at home or even without exchanging numbers in the beginning. The future of dating is here with Bumble!
For their next video chat date, she's demanded a culinary cook-off — they're going to pit their aloo paratha skills against each other. Winner gets bragging rights for life, and a fully home-cooked meal whenever they meet. Current score: Lockdown – 0, Love -1!
Download Bumble now on the App Store or Google Play Store.