Representative photo: Pexels.com
How to survive working with someone you can't fire — your spouse
Your better half, err… or worse
Four words trigger the imminent tornado in your eyes. It's not "I ate your pizza". It's your thoughtful partner asking, after a 9-5 shift that felt longer than the Lord Of The Rings trilogy, "How was your day?" As you un-bottle your work-induced stress, office toxicity is healed by your SO's pearls of positivity. Soon, you reclaim some semblance of self-worth, reward him with the final slice of pizza and fall asleep to the OST of his snoring.
In March, lockdown transformed your dining table for two into a community table at WeWork. You were overjoyed. Imagine having your personal cheerleader right across the table. All day long. Indefinitely. Dreams do come true.
A few weeks into the lockdown, it was a nightmare you wouldn't even wish upon your building's panchayati auntijis. Now, you are one "Meri file kahaan hai?" away from stabbing him.
Working with your life partner isn't exactly the partnership you had imagined it to be. The dreamy visuals are now buried under the Antilia-esque tower of his folders on your side of the desk.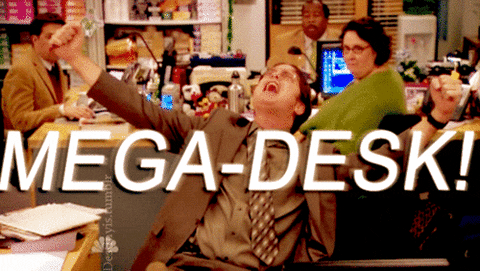 He has become Dwight Schrute with his mega desk (those two screens and his laptop make for a convincing modern art installation), a tendency to invade your Zoom calls, and a need to snack 16 times a day. Relatable much?
We spoke to a bunch of women who groused about their worst WFH fails: trying to cope with their partner's borderline toxic work behaviours. Losing WiFi connectivity was a distant second. And we put together the ultimate FAQ cheat-sheet to peacefully co-exist when working with your partner (in life).
There will be no Call Of Duty blood, we swear.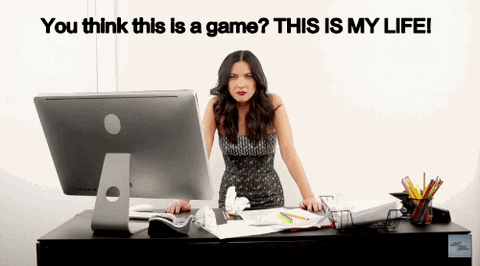 Can I ask my co-worker and his team to stop cackling like wild hyenas during their morning Zoom meetings and ruining my train of thought?
Well, revenge is a playlist, best served by blasting the speakers when he is trying to focus hard at work.
But since we don't want crimes of passion here, we have three words for you: Noise-cancelling headphones. Invest in one, run to your room and experience the overwhelming JOMO (joy of missing out).
"He is a morning person and it has been an adjustment-in-process forever. But dealing with this loud commotion every day when he decided not to use earphones drove me mad. Now, I simply plug in my headphones and cancel him out for most of the day," says Bhavya Prakash, a Mumbai-based financial analyst.
My co-worker has fun team lunches – which includes drinking beer on the job. I'm experiencing FOMO. What can I do to ruin his Zoom potlucks?
Sure, you can be the Grinch to Santa and his elves, and turn the WiFi off for those sessions (if you can afford to). But that would only result in a Grinchier partner post-work hours. Now that's something you cannot afford right now when working with your partner.
Instead, follow in Mumbai-based Shalvi Mangaokar's footsteps, and start making guest appearances. "I haven't met most of my husband's colleagues in real life, but now I chat with them sometimes. I'll wave to them. Sometimes, they'll also catch me guzzling some spirits in the background. This is the new normal and we might as well adapt to it."
You can also pitch the idea of a Zoom potluck to your own colleagues, and give your husband's team stiff competition. And that's how you do it: Two teams, one score.
The only thing that's certain is that everybody needs a drink. Or three.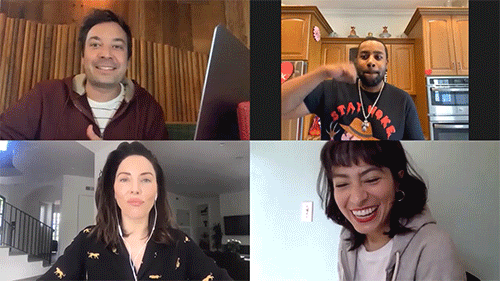 Can I tape my colleague's mouth to stop him bragging about finishing at 6pm while I am still slogging?
There's always Chloroform, you know?
But if you aren't the Crime Patrol kind, the DND sign can be your rescue plan. It goes way beyond Whatsapp statuses and signage outside hotel rooms.
IT professional Chandrima Ray has designed one for her workspace after banishing her husband to the front room. "My husband's workplace (ad agency) is dramatic and loud. He shoves his drawings and sketches in my face, asking for opinions. I used to love this before lockdown. But now my work hours are crazy – 12-hour work days is a norm. I cannot deal with his exhibitions. I shut my door and hang the DND sign on it until my day is done.
And maybe the old adage is true: absence makes the hearts grow fonder.
To survive working with your partner, create separate workspaces in the house if possible. Grab lunch together, but don't be Fevicol-ed at the hip all day long. It will still leave a room for the question of the hour during dinner: "How was your day?"
"Creating a schedule and putting it up on the refrigerator door helps because that's where everybody runs to during breaks. Knowing each other's schedule and call times is crucial. We also keep updating it during the day if a new call or meeting comes up," says Vishakha Panwar, a Delhi-based content creator.
My colleague is a kleptomaniac. He steals stationery, USB cables and my thunder by interrupting my Zoom meetings. Who do I report it to?
We have a ray of retail hope for you: The worst is over, and Amazon is back in non-essential action. Instead of calling him out, why don't you gift him a desk package? Pens, pencils, power bank and cables.
Label them with his initials. Or better yet, build your secret stash and hide it away after work every day.
"I found a couple of pens and sticky notepads in his pyjama pockets during laundry. You know how we all have that curious case of pen theft at work? I realised my husband was the culprit in his office. I just bought myself extra supplies and hid them away from his sight. It's working out well," says Smita Deshmukh, a University of Mumbai professor.
I'm torn between my love for Excel sheets and my dog. Can my co-worker take her out for walks and entertain her?
Of course, he can. In all probability, your husband may even love the fluff-ster's undivided attention. But rest assured, you won't be the favourite parent after lockdown, no matter what the equation was before the Big C hit us. Do you really want to risk it?
"Having a pet is like having a child. The dog is the third member of the family and you can't just ignore or let them be. Initially, it involved quite a lot of adjustments and time management. But when it was clear that this is what the normal was going to be for a long time, we had to firefight the issues. We have divided our pet duties, and now we have our me-time as well as our time with the dog," says Delhi-based Ruchika Kher.
Can I steal my co-worker's dabba if lunch break is at 1 pm, but I'm starving by 12?
Nobody says you can't when working with your partner. Just make sure you don't leave any evidence behind in the form of dirty bartans, and dal stains on your white T-shirt. Keeping those two apart can be a task straight out of MTV Roadies. 
Or you could use some appetisers to counter starvation. Aloo Bhujia is always waiting in the wings, you know? And then at 1 pm, you can vent together and calm each other down to conquer the second half of the day.