I got sick of fighting and finally learned to embrace my curls, here's how
"My hair no longer puffed up like a Pomeranian's tail"
I've spent most of my life wishing for straight hair. But, genetics gave me natural curls. And I don't mean a glorious mane of perfect ringlets cascading down my shoulders. On most days, I look like Merida from Brave. A head full of frizz-prone tangles that cooperate so rarely, you'd think they have the brain of a rebellious teenager. Do my curls give me character? Yes. But it's like being in a relationship with someone who is extremely high maintenance and requires constant love and attention.
Every morning before school, my mother and I would get into legendary screaming matches while she tried to wrestle with my knots. They would end in tears and two tight braids that felt like they were cutting off my blood circulation. Neither of us had any idea that I had curly hair and that I wasn't supposed to detangle it when dry.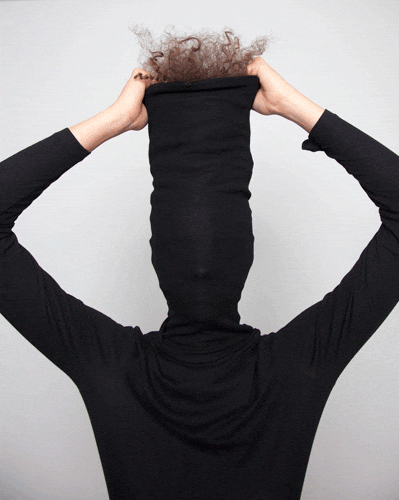 It wasn't until a few years later that a friend pointed out that the perpetual frizziness was due to incessant combing, and that I should adapt to a curly hair care regime.
I am so glad I listened. That weekend, I hung up my faithful straightener and vowed to change my approach, not my hair. It's all about moisture. The natural oils on the scalp couldn't get down to the strands of curly hair, which is why it was so dry all the time.
To combat this, I also made sure I ran a wide-toothed comb through my hair in the shower while it was soaking wet. And sure enough, I saw a difference.
My hair no longer puffed up like a Pomeranian's tail. It was softer and more luscious than ever. Turns out, my curls just needed some love.
Curls are made in the kitchen: DIY hair masks for curly hair
Dimple Jangda, Ayurveda health coach and founder of Prana Healthcare Centre, uses a hair mask made of yoghurt, lemon, honey and olive oil. Yoghurt nourishes the hair while honey and olive oil hydrate it. After you've used this mask a few times, you won't have to worry about dehydrated hair that makes a crunchy sound every time you touch it.
Ingredients:
● 3 tsp fresh yoghurt
● 2 tsp lemon juice
● 2 tsp honey
● 2 tsp olive oil
Directions:
1. Mix all the ingredients together to form a paste.
2. Divide hair into medium-size sections and apply the paste generously.
3. Let it rest for 30-40 minutes and then, rinse. Follow with shampoo and conditioner.
If you want a little extra bounce and shine, add a banana and some aloe vera gel.
The products worth investing in
After months of experimentation and thousands of rupees, I finally found a suitable regime. And considering curls are having a bit of a moment, allow me to introduce you to this whole new world.
Start with a pre-shampoo: This could be your grandmother's homemade oil or a deep conditioning mask. I use the BBlunt Curly Hair Pre Poo treatment. It softens, conditions and detangles the hair.
According to Australian author Lorraine Massey, creator of the Curly Girl Method, you have to avoid using products with sulphates, drying alcohol and plastic coating silicones. She also warns you against washing hair frequently because it can dry out the curls.
When shopping for a pre-shampoo product, keep an eye out for ingredients like coconut water, aloe vera extract and castor oil. They hydrate, add lustre to your hair and the oil helps to detangle smoothly.
Washing curly hair can be daunting. Every part of the plan has to be executed perfectly or you're stuck looking like Anne Hathaway from The Princess Diaries (before her magnificent makeover, of course). Dr Mikki Singh, head of Bodycraft Skincare Clinic, says, "Don't wash your hair with hot water. It dries up the moisture in the hair and this makes the hair frizzy."
Rubbing, scrubbing, swirling or piling your hair on top of your head can cause a catastrophe. This is exactly what the tangles want us to do. Instead, try dividing your hair into two or four sections, depending on the volume. After shampooing, use conditioner. A lot of it.
I use the Arata nourishing conditioner, which uses all-natural, vegan ingredients. You could also try the Ashba Botanics Right Ringlets hydrating shampoo and conditioner. Like Arata, Ashaba is also a sustainable, vegan and cruelty-free brand. It has a blend of avocado and macadamia oil along with quinoa and rice protein, which leaves hair feeling like satin.
The next step is crucial. Apply a curl-defining cream and lay off drying your hair with a towel. Instead, use a cotton cloth or even an old T-shirt to scrunch and twirl into ringlets. Look for products with ingredients like argan oil, flaxseed oil and hydrating shea butter to soothe the frizziness and give you those perfect ringlets you've always wanted.
Asha Barrak, the founder of Ashba Botanics and the popular Facebook group India Curl Pride, told The Week, "Learning how to manage your curls is a life-changing experience. You are reborn as a new person, with more confidence and self-possession."
Sometimes, it can be frustrating to have to plan your week around your hair wash schedule or have to give up a better part of your Sunday because you have to deep condition and detangle your hair. But once I got in tune with this process, I fell in love with my curls and embraced a part of me that I had struggled with all my life. And finally, I felt free.