Photo: Renato Abadi/ PExels
3 natural hair masks for shiny, healthy shampoo-ad hair
An egg a day (week), keeps the trichologist away
Colour treatments, heat tools, chemical products, repeated tugging, twirling and tying – we aren't very kind to our hair. It only hits us when our hair starts to fall with the determination of an Olympic athlete, punishment for everything we've put it through. The hairfall remedies out there range from bank-busting (deep conditioning at salons at Rs 3,500 a pop) to blood-sucking (platelet-rich plasma therapy where your own blood is processed and then injected into your scalp). If you're scared of needles and your bank balance is on a diet, it's time to channel some grandmotherly wisdom and dig around your kitchen for natural hair masks.
My nani swore a yoghurt, methi and castor oil mixture would be the solution to all my hair problems. Smelly as it was, I committed to the home remedy twice a week and noticed improvements in my hair quality and scalp health. It took a few months (and a lot of patience) but I saw baby hair sprouting in places that had been long abandoned by hair follicles.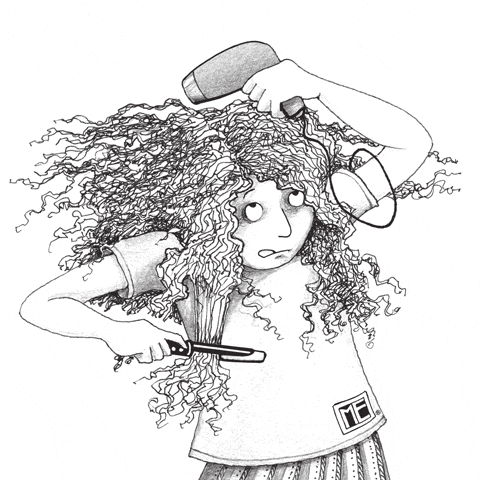 Sometimes, natural hair masks really do the trick. With a few ingredients from around the kitchen, you can create a nutritious and effective solution for your hair type. As always with natural ingredients, not everything will be suited to you. Individual hair and skin can react differently, so do a patch test before complete application.
These natural hair masks tend to get a bit messy so keep a shower cap or towel handy. And in some cases you might have to control that gag reflex (egg whites, I'm looking at you).
Natural hair masks for every hair type
Dry and damaged
Do you have dry, brittle hair that lacks shine? Bring life back to your hair with banana, coconut oil and honey. Bananas are full of vitamins like potassium, Vitamin C and E, as well as biotin, which makes hair healthy and more manageable.
Honey locks in moisture, retaining it for shiny and luminous hair. With antibacterial properties, it soothes the scalp. This is one of the best DIY hair masks for chemically-treated and coloured hair that's thirsty for hydration too.
Ingredients
½ – 1 ripe banana (depending on hair length)
1 tbsp coconut oil
1 tbsp honey
Directions
Once you cut up the bananas, you can either manually mash them up with a fork or run it in a blender till you get a smooth consistency. If you're doing it manually, make sure you get all the lumps out and strain it before applying it otherwise you'll have monkeys picking out bits of banana from your hair for the next few days.
Mix in the honey and coconut oil and apply it evenly to your scalp and hair. Do NOT wear a remotely nice top while applying this. It will be messy so drape an old towel around your shoulders. You'll want to leave this in your hair for at least 30 minutes and wash it out normally with shampoo and conditioner. Let it air dry naturally for beautiful, lustrous locks.

Oily and greasy
When you live in a tropical country like India, nothing seems to help curb the itchy greasy scalp. Your answer lies in eggs. Well, egg whites and lemon juice. As is the case with oily skin, egg whites are believed to remove the excess oil being produced by your scalp. Full of protein and minerals like niacin, egg whites also aid in hair growth and eliminating dandruff. Lemon juice curbs oil production, is antiseptic and keeps bacteria and dandruff at bay. If you have an oily scalp but dry ends, you can use the egg yolk to condition the tips and prevent split ends. Eggs are one of the most versatile ingredients in natural hair masks.
Ingredients:
1-2 eggs (depending on hair length)
1/2 lemon juice
Directions
Crack your eggs, keeping aside the yolk as you'll only be needing the egg white for this mask. Whisk it till it turns into a frothy consistency and then add in the lemon's juice. Lemon juice can be irritating for people with very sensitive skin so test it out before going all in with the mask. Apply this mixture to your hair for 15-20 minutes and always remember to wash your hair with cool water when eggs are involved. You don't want egg bhurji cooking on your head.
CURLY HAIR
Curly hair problems are often ignored and dismissed, but the truth is that it requires special care to maintain defined, frizz-free curls. When mishandled, it can turn into a frizzy hot mess and you can barely manage to get a comb through without causing breakage. Curly hair tends to be dry as the oils produced naturally by your scalp struggle to reach the ends. One of the best DIY hair masks for curly hair is a banana, avocado and coconut oil mix as it will bring back moisture into your curls. Avocados are definitely pricey but the natural oils they contain can do wonders.
Ingredients:
1 banana
½ avocado
1 tbsp coconut oil or olive oil
Directions
Cut and mash the banana and avocado together – easier to use a handheld blender or mixer-grinder to make sure it's not lumpy. Add in the oil, coconut doesn't suit everyone so you can swap it with olive oil. If the consistency is too thick, you can add a bit more oil or even a little bit of water to the mix. Strain the mixture, which should be similar to the texture and consistency of a bottled conditioner. Slather it on your scalp and the length of your hair and wrap it up for at least half an hour, if not more. If you're worried about the tangles, section your hair while applying the mask. Wash your hair normally with a gentle shampoo and conditioner that's suited to curly hair.
WATCH NOW: 6 easy makeup tips from celeb favourite, Namrata Soni