Help, I hate washing my hair every day in this beastly summer
Hardworking products for greasy hair to keep your expensive blowdry looking fresh for longer
It's a blazing hot Saturday morning and you've been woken up at 7am by your mother's cooker ki seeti. You consider going back to sleep when a realisation strikes: for once, you actually have time to hit the gym you've only visited thrice since you joined two months ago. The trainer pulls you into a HIIT workout that makes you regret your morning optimism. And it's not only your arms and legs that are dying. Your freshly washed hair, which looked like a cascading waterfall an hour ago, is now closer to an oil spill. That's when you wish you'd invested in an arsenal of products for greasy hair.
Beyond the chapta look, having oily hair could lead to an itchy scalp and hair fall. "The skin on your scalp has pores, just like the rest of your body. These are connected to glands that produce an oily secretion called sebum," says dermatologist Dr Kiran Sethi. Sure, sebum is essential to maintain moisture levels and a dearth of it will leave you with a mane that's crunchier than a pakora. But when these sebaceous glands move into overdrive, they create a hot mess on your head.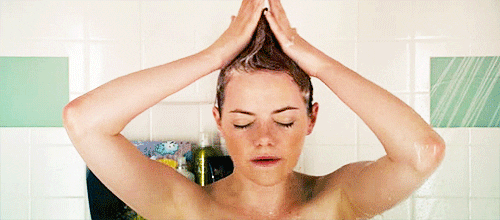 The good news? It's not necessary for you to shampoo and re-shampoo your hair every day. In fact, Dominic Burg, hair biologist and trichologist, tells Byrdie, "Too frequent washing of the scalp with harsh cleansers can upset its microbiome, and cause problems."
Let's face it, overwashing dangers are not the only reason we don't wash our hair every day. Who has the time, or the bicep strength? But this doesn't work in the summer. That's why we rely on these hair heroes to freshen us up between wash days. From dry shampoos to hair mists to detangling sprays, these multitaskers are the minimum-effort antidote to overwashing your hair.
Products to keep your hair looking fresh for longer
Batiste Dry Shampoo  
Looking for a true multitasker? One that will mop up the grease, add volume and refresh your hair? Dr Noopur Jain, MD dermatology and founder of SkinZest, says, "If you use dry shampoo once or twice a week to refresh your hair after a workout or to keep your blowout looking good, you should have no problems."
The Batiste Dry Shampoo is a paraben and sulphate-free option that absorbs excess oil and works to texturise your hair. Shake the bottle well, then spray evenly on your roots (keep the bottle about 12 inches away), massage it in, and brush it out.
It comes in a range of colours, from Clean and Classic to the Divine Dark, that blends in with brown or black hair.
Bella Vita Organic Hair Perfume
Even if you feel just standing under the shower for hours to beat this aggressive heat (Here are some products to help you survive this summer), washing your hair every day is not an option. Dr Jain says, "Washing often or on a regular basis, especially for a scalp that does not require it, can deplete natural oils and leave hair dry and brittle."
Made just for days like these, the Bella Vita Organic Hair Perfume is the answer. This hair perfume is formulated with organic perfume oils that have hints of sweet and floral scents. A few spritzes are like CPR for dirty hair. Hold the bottle at arm's length from your head and gently spray it all over your hair.
This isn't a substitute for washing, it's more of a bandaid solution, but sometimes that's all you need to get you to your next wash.
Kerastase Fresh Affair Dry Shampoo
The Kerastase Fresh Affair Dry Shampoo is formulated with vitamin E protects the hair from drying out, and rice starch, which absorbs the oil and product build-up. You can also use this product as a blow-dry extender to prevent oily roots. Don't forget to shake the bottle well before use and hold it at a distance of approximately ten inches from the hair. Spray evenly throughout the hair, focusing on the roots and the scalp. Then flip your hair over and brush it out. You're all set for the next 24 hours.
Moroccanoil Clarify Shampoo
There is no feeling quite like having squeaky clean hair. No oil build-up, no desperate urge to scratch like a chimp in the zoo. During this nightmarish summer we're having though, this amazing-hair-day wali feeling only lasts for the first two hours after you wash your hair. After which, it's back to being a hot mess.
But if you want to extend that feeling, use a clarifying shampoo once a week. Dr Jain says, "Those who have an oily scalp can use a deep cleansing shampoo/exfoliant on a weekly or bi-weekly basis to offer extra cleaning."
The Moroccanoil Clarify Shampoo is a highly concentrated shampoo that cuts right through all the product, oil, and sweat buildup and all the environmental factors that make our hair appear dull and lifeless.
Remember, don't use this product every time you go in for a hair wash. You'll be walking straight into an arid hair zone.
Arata Advanced Curl Care Detangling Spray
Ever since I started following the CG (Curly Girl) method, I've been looking far and wide for a product that would refresh my hair between wash days. Curly hair can get quite dry and tricky to maintain without constant conditioning (Fall in love with your curly hair with this easy routine for beginners). So, the product needs to be moisturising enough to define the curls but not heavy so as to not weigh them down.
I found solace in the Arata Advanced Detangling Spray. It is formulated with barley protein, hyaluronic acid, vitamin E, and niacinamide, nourishing hair fibres, preventing breakage and gently rehydrating the curls. All you have to do is spray through your dry or damp hair, then brush it out to ensure the product spreads evenly.
The Body Shop Lemon Caring & Purifying Hair Mist
What do you do on the days when your hair feels sweaty and in desperate need of a wash, but you just don't have the time? You can't wash it, but you can't go for your meeting looking like you've just emerged from the sauna.
A bad haircut may ruin your life, but greasy hair doesn't have to. A hair mist like The Body Shop Lemon Hair Mist is an on-the-go solution. Section your hair, spritz it on, and comb your hair out. This hair mist is made with lemon essential oils which are extracted from lemon peels, known for their cleansing and purifying properties. It's just this easy to have lemony fresh hair every day.
Exfoliating Shampoo Bar from Earth Rhythm 
Is your goal to wash your hair as seldom as possible? If yes, every few washes, pick up this exfoliating shampoo bar from Earth Rhythm. It works on dandruff, product build-up, and controls sebum production thanks to the 2% salicylic acid that softly exfoliates the outer skin of the scalp.
It also contains willow bark extract that clears skin pores of excess oil and helps to maintain healthy sebum levels. Enough to moisturise and protect hair strands, without leaving them looking greasy. The tomato fruit ferment in this product claims to soothe a dry and itchy scalp, add shine, and remove funky odours.
Give your scalp some love if you want your hair to look fresher for longer this summer.
Pipa Bella (hair scarf) + Streak Street Hair Donut
If all else fails, accessorise. If you're having one of those unsalvageable hair days, you can't go wrong with a hair up-do and accessories to distract from your dirty secret.
We recommend the Pipa Bella scarf scrunchie that's straight out of a '90s Bollywood movie. Tie your hair with the scrunchie and knot the attached scarf. If you're going for a more formal look, use a hair doughnut to make the perfect bun. All you have to do is tie your hair into a ponytail, pull the end a few inches through the hair doughnut, and start rolling it towards the base of your ponytail. Your hair will miraculously wrap around it into a perfect bun, which can be cemented in place with a few bobby pins.
You can use either one of these two options for most occasions, whether work, casual, or formal. For instance, the hair doughnut is an appropriate choice to wear to the office, while the scarf scrunchie is a cute choice for a spontaneous night out.
₹350 (scarf scrunchie) ₹99 (Hair Doughnut)
We got the idea to accessorise greasy two-day-old hair after Apurva Chaudhari from Schwarzkopf Professional showed us how to recreate three hairstyles that helped us embrace the greasiness instead of desperately trying to get rid of it.