Representative photo: Pexels
Will I ever get rid of these dark circles?
It's about more than just your sleep cycle
I'd like to believe that inside me lives a wolf in hibernation. We all want the wolf to be our spirit animal. The reality is that I'm more of a giant panda. I'm clumsy and I'd love to curl up into a ball and roll from one place to another if I physically could. Flop around with no purpose other than just trying not to go extinct. I definitely have the dark circles to go with it.
I could meditate, give myself a soothing face massage, eat well, sleep a solid eight hours… and still wake up with dark circles and puffiness.
The darker the skin, the richer the melanin. Meaning the majority of people reading this can relate to my plight. They didn't bother me until I entered the workforce — being asked at least once a week whether I was sleeping well or not.
Women are always expected to put their best face forward, especially in a professional setting. A man could put on 10 kilos and grow a beard, and people will assume he's just very stressed, bechara. A woman stops wearing kajal and it's like a rift occurs in the space-time continuum.
From creams and serums to supplements and meal plans, women have tried it all to combat under eye circles. It's the most common complaint that women come to dermatologist Rati Seth with. If only it were as easy as a one-pot cream solution.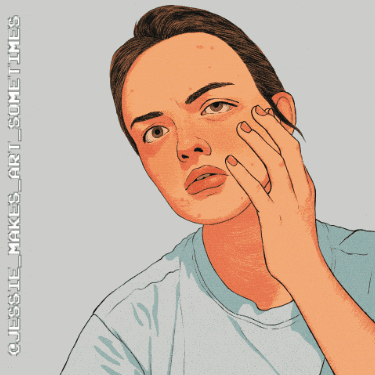 Not all dark circles are created equal, and scientists haven't been able to crack the code on banishing dark circles with one product.
"There's a lot of misinformation when it comes to treating dark circles. When 10 out of 20 products being sold in the market brandish claims of banishing dark circles in one week, then our understanding of how dark circles occur becomes misguided," says Seth.
What causes dark circles for me could be very different from what's giving my sister raccoon eyes.
"Some under-eye discolouration can temporary, sometimes really attributed to lack of sleep or oversleeping, which can cause the skin to become pale and dull," says Seth.
If your lifestyle habits are back on track and the dark circles persist, something more could be going on underneath the surface.
What's causing the dark circles that make me look like I haven't slept in 10 years
Genetics
For some, it comes down to your DNA. If your parents have deep-set eyes and darker skin around the eye socket, it's likely you'll inherit that.
Seth says it's not just the pigment of the skin but the structure of our face. Deeper set eyes, more prominent brow bones, arches and contours in particular places. Combine that with different kinds of lighting and you get shadowing on your face.
"Most people have some kind of altered pigmentation (darker/different than the rest of the face). We just don't see it because cosmetics company show you before and after shots after heavily investing in good lighting," laughs Seth.
Our faces also change as we grow older, and so do our underlying muscles. What you're seeing as darkness under your skin could be shadows created by your underlying muscle.
Thin skin and ageing
"Because the skin is a lot thinner around our eyes, you see blood vessels and muscles a lot more prominently. Look at your lower arms and wrists, the coloured veins you see are similar to what's going on under our eyes. And we have little control over how that presents itself.
These, and the collection of fluid can create dark circles. You may notice more apparent discolouration and puffiness right when you wake up which then dissipates as the day progresses as the fluid disperses," says Seth.
As we mature and our collagen production slows down, the area around our eyes gets even thinner. Seth says that there is a kind of padding of fat and tissues under our eyes that loosens as we age which makes our eyes deeper set with time. The blood vessels here also are slow to contract and release, making them more apparent when you look in the mirror.
Hyperpigmentation 
"Most of what people call 'dark circles' are genetics at play, but there are also cases of actual hyperpigmentation in the area," explains Seth.
The greatest defence for our skin against most ailments, darker under eyes included is – say it with me – sunscreen. Sun damage accelerates the skin's ageing, causes hyperpigmentation and irritation across our body, other than, well, skin cancer.
"Opt for sun protection that is free from fragrance and essential oils. The safest option would be one that includes zinc and titanium dioxide, known as a physical sunblock. These ingredients, iron oxide also, can scatter light hitting your face, and reduce the appearance of discolouration," says Seth.
There's also melasma, hormonal changes during pregnancy, perimenopause and menopause, as well as some medications which can trigger hyperpigmentation and discolouration of the skin.
Because of its delicate nature, the products you're applying on the rest of your face may not be suitable for daily use around the eyes. "We apply so many products to treat the area but end up irritating it, causing contact dermatitis and allergies, which leads to more post-inflammatory hyperpigmentation," says Seth. She recommends applying such targeted under-eye treatments a maximum of three times a week.
There are many possible causes for under-eye discolouration, and finding the right treatment can be a process of elimination with a consult from a specialist if you're very keen on getting rid of it.
Treatments for dark circles
Cosmetic
I befriended concealer a long time ago to deal with my dark circles. It's the quickest way to colour up puffiness and darkness around the eyes. More importantly, takes minimal effort compared to the rest. And I'm all about being lazy *energy efficient*.
Go in with a colour correcting product before applying your concealer. Depending on your skin tone, you can try a peach-red or green one for full coverage.
Make sure you moisture your eye area so it sits well. Nobody likes creasing. Keeping the area hydrated also ensures that you don't accidentally end up irritating or damaging your skin after rubbing it too hard.
Some amazing products in the market are aimed at treating hyperpigmentation. Look for products that include ingredients like alpha arbutin, azelaic acid, vitamin C and kojic acid. "A retinoid/retinol product around the eye can combat signs of ageing and thicken the skin with long term use, but it must be used with extreme caution," advises Seth. "Products formulated with caffeine can temporarily constrict the blood vessels around the eyes, making the area brighter and decrease swelling/puffiness." Just don't go applying your coffee powder on your face.
Start off incorporating these around the eyes slowly, and keep it to three times a week. If you're thinking of trying a face serum with these ingredients near your eyes, make sure the concentration isn't too high.
Procedural
Our best bet for a more permanent solution to dark circles is handing things off to a professional. Clinic procedures can be quite an investment, but most results speak for themselves.
"Clinical procedures include laser and light therapies like intense pulsed light therapy, that's very effective in treating the under-eye area. Fillers can plump up the hollows and contours of your eye socket. There are also dermal fillers of fat replacement where it's taken from another part of your body and injected under the eye to give it more padding," explains Seth.
A blepharoplasty is a more invasive treatment that fixes dark circles by essentially doing an 'eyelid lift' which removes the excess sagging skin and bags around the eye.
Consult a few doctors to see what your options are and find one that suits your needs and budget the best.
Some specialists also do light peels which can help exfoliate the discoloured skin around the eyes. Seth suggests that if you want to opt for something like this then make sure you are going to a trusted professional who knows what they're doing because it can do some serious damage in this area.
WATCH NEXT – Facial yoga and sculpting with facial yoga expert Vibhuti Arora