We're cueing up these holiday movies as a reminder that Christmas isn't cancelled
Deck the halls, embrace a sugar rush and stream on
The year 2020 feels like being trapped in a Stephen King novel. A Grinchy entity wafting through the air, enveloping us, waiting for our guards and masks to drop, just once. It's been rather dark and uncertain, just like our watchlist all year long (a quick nod to Paatal Lok, Bulbbul, Dark, Money Heist, you get the vibe). But Christmas is upon us, and believe it or not, things will change for the merrier. Mariah and Michael are back with their vocal stylings, schools have shut for year-end vacations, online deliveries mean Secret Santa traditions are still alive. And streaming platforms know exactly what we need right now – more holiday movies than we could possibly watch.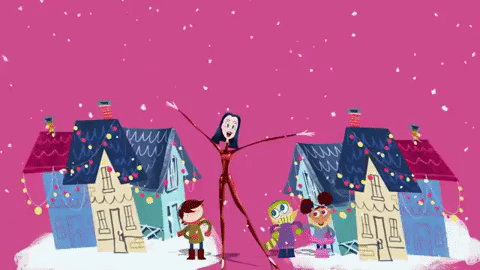 In fact, this year's holiday offerings started to stream as early as October 28 (Holidate); clearly, streaming Santa knows it's been a painfully long wait.
Dear Ebenezer Grincheshwar, you really can't hate holiday movies this year, okay? OKAY!
In a year that aced the art of broken promises, formulaic, saccharine holiday movies and shows pack in a rare sense of certainty – boisterous fam-jam, stealing kisses under the mistletoe and a guaranteed happy ending.
Added bonus: holiday movies are always family-friendly. We'll take it in bulk, every day.
Scouring the streaming platforms, we fortunately found a bag full of binge-worthy treats. Unrealistic yet charming romances, a princess who can't stop switching places, a Pixar story about the afterlife, and of course, a musical starring Santa's favourite child, Mariah Carey.
11 holiday movies to wrap your heart with happiness
The Christmas Chronicles 2
Just like its 2018 precursor, where Santa was a badass action star (Kurt Russell), this too, sleighs. Director Chris Columbus gifts us dhishoom dhishoom-packed holiday cheer.
In the sequel, teenager Kate (Darby Camp) is unhappy as she spends the holiday at a Mexican resort with her mother, her mom's new beau, Bob, and his son, Jack (Jahzir Bruno).
When the teens are kidnapped by the evil elf Belsnickel, they end up in Santa's village run by Mrs Claus (Goldie Hawn). Problems begin when the band of elves decide to ruin Christmas, and Kate and Jack learn lessons in mythology, love and forgiveness.
Don't miss the wasted elves on spiked cocoa crooning, "Who Let the Dogs Out".
Streaming on Netflix
A California Christmas
Itching for a farm stay this Christmas? This is your ideal escape.
California-based playboy Joseph (John Swickard) works for a land-acquisition firm, and has three weeks leading up to Christmas to acquire a dairy farm, to retain his job.
The first meeting with the land owner Callie (Lauren Swickard) goes against the plan, and she has no intention of selling her land to the greedy big-city jock. Joseph hatches a scheme to seal the deal and win some hearts while getting a crash course in farming.
There's enough mulled wine and cheese as the heartwarming transaction unfolds to keep you hooked. Fun-fact: Joseph and Callie are a real-life couple.
Streaming on Netflix
The Princess Switch: Switched Again
Two years ago, Chicago-based baker Stacy (Vanessa Hudgens) married Prince Edward (Sam Palladio) while visiting the fictional kingdom of Belgravia. Her coworker, Kevin (Nick Sagar) wound up with Lady Margaret (Hudgens again) of Montenaro. There was a twin swap leading up to the happily-ever-afters.
Two years later, things are rocky between Margaret and Kevin. Stacy decides to help the estranged lovebirds find a way back into each others' arms.
However, her scheming requires another complex switch, involving Margaret's con-artist cousin Fiona (Hudgens yet again), an elaborate kidnapping coup and a whole lot of confectionery.
As crazy as it sounds, just go with the switch, and have yourself a royal Christmas, once again.
Streaming on Netflix
Soul
Director Peter Docter (of Up, and Inside Out fame) just sent us the care package of the year. A far cry from formulaic holiday movies, Soul is a thoughtful last-minute gift from Pixar all set to drop on Christmas.
In this story of life, death and life after death, Joe Gardner (Jamie Foxx), a middle-aged music teacher in the New York City is awaiting his big gig at a jazz bar. When Gardner encounters a tragedy, he crosses paths with 22 (Tina Fey), a soul who is so weary of the world that it refuses to be born.
The mismatched duo meet between the Great Beyond (where the souls reach in their afterlife) and Great Before (the space where souls learn life lessons before being sent to Earth). Between seminars on soul development and afterlife conferences, the two strike a connection and discover that crazy thing called love.
Streams on Disney + Hotstar from December 25
Dash & Lily
Based on the young adult book series, Dash & Lily's Book of Dares by David Levithan and Rachel Cohn, the mini-series brings to life a heartwarming story of two strangers grappling with their own insecurities.
Cynical teenager Dash escapes Christmas paraphernalia and finds solace in the aisles of a bookstore. Here he finds a red notebook with an unexpected dare. He completes it, and continues the correspondence by leaving yet another dare.
In a bid to find a partner, the owner of the diary Lily a naïve high schooler starts this chain of events after being egged on by her brother.
As they continue their 'dare-ventures' anonymously, they forge a bond, confront fears and grow as individuals. With a whole lot of carolling and mistletoe, this is a bonafide Christmas watch.
Streaming on Netflix
Godmothered
It's so nice, we had to recommend it twice. Director Sharon Maguire has spiked good ol' spirits of fairy tales and with a contemporary twist. Job markets are crashing, and fairy godmothers aren't safe either. They are reduced to proverbial tooth fairies.
Eleanor (Jillian Bell) a godmother-in-training decides to save the profession and finds herself a passion project: a letter from a 10-year-old Mackenzie in Boston, who is crying for help, and she hits the road.
The excited godmother is shocked to find out Mackenzie (Isla Fisher) is actually a 40-year-old cynical single mother. And turns out, everybody needs a fair share of mothering here, and the duo remind us that we are never too old for an extra dose of pampering.
Streaming on Disney+ Hotstar
Holidate
The worst and the best thing about holiday movies? No groundbreaking plot twists, but the promise of a feel-good ending, the kind we desperately need right now.
Director John Whitesell's rom-com is no different. Two single Chicagoans –  Sloane (Emma Roberts) and Jackson (Luke Bracey) – are back from their respective holidays in hell. A nightmarish Christmas with the fam, and a Christmas gone awry at a deranged girlfriend's house. The two squabble at the returns counter of an apparel store, and a few banters later, decide to become 'holidates': each others' plus one for all the holidays till they remain single, no heartstrings attached.
Couch surf through year-long festivities to reach the final destination – Christmas next year – for a miracle wrapped in a happily-ever-after.
Streaming on Netflix
Mariah Carey's Magical Christmas Special
The year I turned 10, I woke up to the big Christmas spoiler (parents know what I am talking about). Since then, only M&M could put me into the holiday spirit: M for Mariah (Carey) and M for Michael (Bublé).
In this Hamish Hamilton-Roman Coppola musical extravaganza, Mariah, Santa's trusted accomplice saves the North Pole by ending the cheer crisis that's taken over the world.
Carey plays the 'Queen of Christmas' who saves the world from a Grinch attack with her magical musical performances. All hail, Queen Carey!
Streaming on Apple TV
How to Ruin Christmas: The Wedding
Overachieving siblings, overprotective moms, intrusive relatives and a whole lot of family drama – this South African comedy show reminds you of all the things that could go wrong during holiday season with your family.
Straight shooter Tumi Sello (Busi Lurayi) hasn't been home for Christmas in a long time. When her sister Beauty Sello (Thando Thabethe) decides to have a Christmas wedding, the older sister flies home only to be accused of ruining her little sister's wedding.
Can she save the day? Or will she find solace in downing pitchers of Hot Toddy? Either way, be prepared for incessant bouts of belly laughs.
Streaming on Netflix
Sylvie's Love
Not all holiday films scream Christmas in bold reds and greens. Some don't resemble the most wonderful time of the year, but comfort you just the same.
Set in the '50s, director Eugene Ashe's period drama is about Robert (Nnamdi Asomugha), a saxophonist and the eponymous Sylvie (Tessa Thompson), an aspiring actor who works at her father's record store. Their friendship blossoms into a summer romance.
As the summer draws to a close, the two separate. Years pass by, and Sylvie's acting career takes flight while Robert has carved his musical niche too. When the two cross paths once again, it's impossible to not root for this woozily romantic pair that promises to sweep us off our feet this Yuletide.
Streams on Prime Video from December 25
Home for Christmas, 2019
Language: Norwegian
Last Christmas, the Norwegian outpost of Netflix dropped its maiden original, Home For Christmas, a six-part romantic drama.
In the last season, Johanne (Ida Elise Broch) a 30-year-old single nurse was trying to find a boyfriend just in time for the holiday events, to shed her image of being boring and uptight.
She remained unsuccessful through the season, and in the finale, Johanne's mom greets a surprise visitor with a smile. Will he be the one for Johanne?
We are as excited to know who this person is as we are to figure out who our Secret Santa is.
Streaming on Netflix