Photos: Stills from Turkish shows - Love 101, Rise of Empires
My binge-watching diet is heavy on Turkish delight
Feeling a little Dizi
If you're reading this, pat yourself on the back. We've a lot to thank our readers for. Every now and then, we turn to you for recommendations. And you never let us down. From books to help us survive the pandemic to K-dramas we must add to our watchlist, you fill our half-empty mugs to the brim. Last month, we had our first crushes on K-dramas, as we rewired our brain to read subtitles while watching the shows. We crossed over to K-scope but just before we could settle down, some of you left us feeling all Dizi. For the uninitiated, Turkish shows are called Dizi, and they're the up-and-coming kids on the Indian OTT block.
Stories of love and yearning with an occasional cocktail of history, Turkish shows are as dramatic as most of us on a good day, sans Komolika's vicious overtures or characters who go to bed in Kanjeevaram silk and chaandbalis.
Simply put, they make you feel at home with familiar plot lines and an easy helping of sanskaar.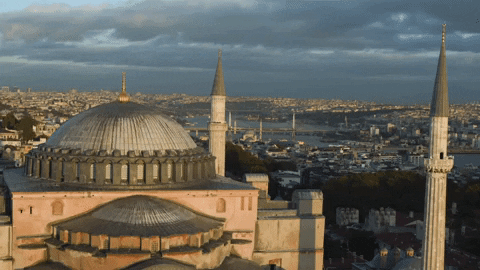 For a while now, we've been browsing through the wide array of Turkish shows streaming on our smart TVs, investigating the reason for the genre's meteoric rise.
At first glance, it felt like we were watching Indian soap operas, or even Pakistani shows like Zindagi Gulzar Hai and Humsafar (of course, that's how we met Fawad Khan, too). There's tehzeeb, a strong sense of pariwaar yet it was all so foreign. Occasional dervishes swirling away to glory, the vast expanse of the Bosphorus and an enviable balance of the European and Asian aesthetics.
Dizi plots also do not shy away from showing the difficult side of life, albeit sanitised versions: suicides, rape, mental health issues and patriarchy, while holding close the tried-and-tested tropes of a love triangle, family drama, economic disparities and dangerously handsome leads.
Let's just say Turkish shows capture the best of both worlds in all its binge-able glory, and if you've already invaded the foreign-language territory in your streaming arena, or even contemplating a big shift, let these Turkish shows lure you in.
9 Turkish shows you'll fall in love with
Fatma, 2021
Crime show lovers will dig this one. With three deaths in the first two episodes, the show has all the makings of a serial killer drama, but without a psychopathic serial killer on the loose.
In Istanbul, Fatma Yılmaz (Burcu Biricik) is a shy cleaning lady. Her husband, Zafer (Ferit Kaya), has gone missing after being released from jail. What begins as a mere search for her husband, soon pulls her into the big bad underworld and after a major misstep (shooting gang leader Bayram Karadağ played by Yılmaz Ak), she becomes the most unsuspecting professional killer.
She needs to kill to survive, while keeping her day job as a cleaner.
The star of the show, Fatma, may seem powerless at the onset, stuck in a monotonous day job, but as life keeps getting complicated, her decision-making skills are put to the test, and she emerges as a force to reckon with.
Watch on Netflix
Love 101, 2020
Fans of Mohabbatein and Main Hoon Naa will love this teenage drama.
Set in the '90s, in an Istanbul-based high school, a bunch of misfits find a support system in professor Burcu (Pinar Deniz), who is the only one who understands the students. She saves them from getting caught on various occasions, covers for their innocent pranks. She is basically Raj Aryan for them, without the musical instruments.
But when she decides to move to another town, the students hatch a plan to make her stay back. Solution? Make their favourite teacher fall in love with their eligible basketball coach, Kemal (Kaan Urgancioglu), so she doesn't leave the school.
The course of their actions never run out of misadventures, romance and cheese. Yes, secrets are spilled, detention and suspension, too, invades the story, but as they say, everything is fair in love and, err… high school.
Watch on Netflix
The Gift, 2019
Imaginary friends. We've all had them. No, you too, dear cynic. And in this Turkish drama dipped in magical realism, there are multiple imaginary friends in the unlikeliest places.
Director Gonenc Uyanik's show is set in Istanbul, where artist Atiye (Beren Saat) is gearing up for the opening night of her art exhibition. In a faraway archeological site, an archeologist digs up ancient sculptures with an engraved symbol that he has never seen before.
A series of apparitions disturbs Atiye, and when she learns about the symbol at the archeological site, she is startled. It's the same that she has been drawing all her life. Without much consideration, an intrigued Atiye leaves her life in the city to find the connection with her past.
A little like Eat, Pray, Love, a lot like Wild, this is a woman's solo trip that ends in self-discovery, self-preservation, and most of all, liberates her from the shackles of society. Sure, we would embark on a similar journey too, if only we were blessed with spirits.
PS: This happens to be one of the most popular Turkish shows streaming currently.
Watch on Rain Dizi
Intersection, 2016
The personal is pitted against the professional in this intense yet accidental love triangle that will make you believe that some relationships simply fade away, when ambitions take over.
Ali Nejat (Ibrahim Celikkol), a wealthy young businessman was involved in a car accident that caused the death of his nephew. Nejat could never overcome the guilt.
Years later, on a business trip to Italy, Nejat befriends Naz (Belcim Bilgin), a paediatrician, who takes care of Nejat's friend and the two return to Istanbul together.
Back in Istanbul, Naz is married to Umut (Alican Yucesoy), a car mechanic, who dreams of designing his automobile someday. But life always posed challenges, and Umut could never live his dream. Naz's acquaintance with Nejat not only fills a void in her life, but also propels Umut's ambitions.
As the three get tangled in a tragic love triangle, Umut's dreams seem like the villain of the story, but Intersection makes you scratch your brain to wonder, "Can relationships and ambitions co-exist without one overshadowing the other?"
Watch on Rain Dizi
The Choice, 2020
Life-changing, ground-breaking, tough calls. We all make them from time to time, and live with the consequences for the rest of our lives.
In director Uluc Bayraktar's Turkish drama, Irfan (Halit Ergenc), a professor of economics shows us both the micro and the macro impact of our choices.
A loving father and a loyal husband to Eda (Nur Fettahoglu), Irfan is every aam aadmi: works hard, earn a living, lives happily ever after, or so he hopes.
Until his colleague defames him ahead of a promotion meeting, and overnight, he loses his job, his bank accounts are frozen, and he reaches the pit, when his seven-year-old son is diagnosed with brain tumour.
Irfan has to bend his rules, challenge his own ethics to save his son. How far will he go? Although the father-son duo is the core of this family drama, the race against time gets real dark, real soon, and you'll know what they mean when they say, "Desperate times need desperate measures".
Watch on Rain Dizi
Love Me As I Am, 2013
Rich boy and poor girl fall in love. Get married. Trouble ensues. This is probably the most run-of-the-mill formula, but well, it works.
In Love Me As I Am, university students Aysem (Zeynep Camci) and Omer (Alper Saldiran), take only a few meetings to fall madly in love. So much so that they skip the courtship, and head straight for marriage, against their family's reservations about the alliance.
Twenty-year-old Aysem grew up in a village while Omer is the son of a wealthy urban family. Parents have foreseen troubles the (blinded-by-love) couple can't see.
As the story unfolds, and the couple deal with the hiccups of the first year of a marriage, the show will remind you of Saathiya. The two turn out to be their own worst enemies. One's stubborn, the other is a parent pleaser, and they look like they could definitely have used the crucial difficult conversations a couple needs to have before getting hitched.
Watch on Netflix
Çukur, 2017
There's a reason a lot of youngsters don't want to do anything with their family business. Sid from Wake up Sid! is a popular example. In most cases, they know it inside out, have their own aspirations, and are looking for an emergency exit.
In Çukur, Turkey's answer to The Sopranos, Yamac (Aras Bulut Iynemli) marries the love of his life, and flees to Paris for his honeymoon. He hopes to not get involved in his family's business empire that operates mostly in underworld activities.
When his mother, Sultan (Perihan Savas), orders him to return to Istanbul to head the business for a while, he is trapped forever. Things only get worse when another drug lord crosses path with Yamac's family, leading us into a minefield of dangerous activities.
Yet again, family comes first, before personal goals, marriage, and everything else.
Çukur makes you sit back and think it really is always about loving your family, or can family sometimes feel like an obligation you cannot run away from.
Watch on TurkFlick
Rise of Empires: Ottoman, 2020
We bet any watchlist on Turkish shows is incomplete without this gem.
We hope schools stream this show for kids to keep them from falling asleep during history lectures. The trailer of the show reminded us of the passing mention of the Ottoman empire, Constantinople and Bosphorus in textbooks. But the dramatic re-enactments, are… well, just so larger than life.
Set in 1453, the show focuses on how after the death of his ailing father, Sultan Mehmed II brought Constantinople to its knees, while the city's last lines of defence, emperor Constantine XI and the Genoese soldier of fortune Giovanni Giustiniani Longo, face tragic downfalls.
Emre Şahin's docudrama showcases how Mehmed II aimed to snatch the control of the East away from the Christians, and succeeds. The battle drama takes one of the most crucial events in world history and sensitively portrays the historical lead up to the fall of Constantinople.
Fascinating battle planning and period costumes makes this enlightening documentary series, an even more riveting historical drama. No, nothing on History Channel or history lessons ever came close.
Watch on Netflix
Sampiyon, 2019
Whether it's Masoom, or The Pursuit of Happyness, a father-son drama always manages to carve a special place in our hearts. Is it because strained father-son relationships are kahani ghar ghar ki, and strikes a chord somewhere?
In Şampiyon, Fırat Bölükbaşı (Tolgahan Sayışman) is a promising boxer. When an unfortunate incident in the ring leaves him distraught, he quits his career, and never fights back. Years later, when his son Güneş turns seven, a surprise turn of events takes Firat back to the ring.
This time, he isn't fighting to win for himself, but there's much more than just professional dreams at stake. He crosses paths with a lot of people he left behind years ago, and as he realises how the world has moved way ahead of him, he is assured by his son that, he is just at the right place.
Make a binge-watching plan with your father and find yourselves silently sobbing or ugly crying at the end of the show.
Watch on Watch Turks