How to be unforgettable
Including one of Oprah's techniques
I wear my business card as a crown. Like Indira Gandhi — or Cruella DeVil — a streak of silver hair in a sea of dark brown. Swapping email addresses and phone numbers are common networking tactics, but give it a few days and you'll probably forget who "Sheetal Accountant" is in your contact list. Who would have thought that premature greying would become my calling card to make a lasting impression?
"You can dye it so easily. You've barely entered your 20s," cried my mother, who inherited premature greying from her mother and then passed it on to me. She couldn't understand my indifference, but I was used to the ease of it being my stand-out marker. 
Then the bubble of cocooned, living-with-your-parents college life burst, and I had to start thinking about how I presented myself. Sure, you can improve a bad first impression, but lumbering at 5'8″ over most of my peers and sporting a resting bitch face made me all the more unapproachable. Though I tried unsuccessfully to turn my perma-frown upside down (read about my experiments here), I've now realised that we can't always control that first bite. What we can do, instead, is focus on the taste we leave in people's mouths to make a lasting impression. Now that more of my hair has greyed thanks to my miserable vitamin D levels, I had to find another way to be remembered. 
Whether driven by ego and self-importance, a way to cement professional networks or make a lasting impression on a prospective partner; we seek to make a mark. What we're remembered for, or associated with, is among the few things that are in our control in a world that tries very hard to legitimise elaichi in biryani.
Reading up, and observing other people's habits and behaviours you'll come to notice, as I did, that if you want to make a lasting impression, it requires a little forethought to find your personal signature.
8 ways to make a lasting impression and be unforgettable
Smell like a bakery
All hell broke loose on Nykaa last year. It wasn't a Diwali sale, but people speed-buying one particular perfume – Narciso Rodriguez For Her EDP. When rumours spread about how Deepika Padukone smelled heavenly according to those who'd met her, Diet Sabya did some investigating and came up with this name. Soon, more celebrities started spilling the beans about their signature scent. But Padukone clearly made a lasting impression as Rodriguez's perfume is still sold out.
If you're still looking for a signature scent that's going to make a lasting impression, we're all for following a celebrity favourite, but you might want to give vanilla a shot.
I know, I know, while everyone loves the smell of freshly baked goods, you may not want to smell like that all the time. But consider this: earlier this year, scientists from the University of Oxford and the Karolinska Institute in Stockholm hailed vanilla as the scent that people are universally drawn to.
You can fuel your work day with lively citrus scents and splash on a lighter floral mix for brunch with friends. But if you're heading to a networking event, a first date you're really excited about, or any important meeting and want to make a lasting impression, then give the vanilla scents a try. Of course, your perfume can have other notes in it, but let vanilla be a star of the show, like in Mon Guerlain Intense By Guerlain and Donna Born In Roma from Valentino.
Add a fiery red to your signature look 
Ariana Grande's high ponytail, Harry Styles' feather boa and Salman Khan's turquoise bracelet – the association is so strong that you could play a 'guess the celebrity' game and win just by looking at a silhouette. The science, however, is more on the side of Rekha and Taylor Swift. Two women who you will never see without their red lipstick.
There's no greater weapon in your makeup arsenal to make a lasting impression than red lipstick. Not only because it's a product that elicits often contradictory feelings of fear, judgement and admiration in the viewer, but also because of colour theory.
In one study, researchers marked red as the most noticeable colour, followed by green and yellow. Red is bound to be eye-catching. Make it a bold red lipstick and you're definitely going to be remembered. 
Or you could do what Tweak's Multimedia Editor Kahini Iyer has done and go for blazing red balayage. It takes commitment, not just because coloured hair requires upkeep. So maybe a good starting point could be integrating smaller items into your daily look. Red nail polish, kolhapuris, a shirt, or if you're feeling really bold, then a monochrome red power suit.
Highlight your best feature
Maybe it's the way your ear curves before it dips into the lobe, the jet-black hair you inherited from your mother or the fact that every possible bindi design and colour looks fantastic on you.
Pick one thing, anything – it could be a physical feature that you love or a skill that you've mastered and highlight that to the world in the way you present yourself.
You wouldn't see actress Mila Kunis without her staple smokey eyes that make her heterochromatic eyes pop, spot Kim Kardashian in baggy clothes that hide her trademark curves or watch a Beyoncé video with mediocre dancing. They know what works and they stick to it. Like Tweak's Native Content Lead Lamiya Chitalwalla, whose perfectly executed winged eyeliner never fails to attract attentions and compliments.
If you, like me, can't match your left wing to your right, don't panic. You wouldn't expect Mariah Carey to be known for her karate skills, though she could very well be a champion. Find what works for you and hone it to a fine art. 
Pull an Oprah
What makes Oprah, well, Oprah? So much so that I don't need to write her full name for you to know to whom I'm referring. Is it that she was the first African American woman to host a nationally syndicated talk show in the US? The fact that her commanding voice holds a devoted international audience or that she managed to make people open up about things in a way that no one else did before? Giving new cars to her entire audience probably added to it.
What facilitated all of it is an ability that propelled her to an icon position — to connect with people in a way that they naturally open up to you in a way they can never forget. Channel your inner Oprah to make a lasting impression by employing one of her most effective interviewing techniques: listen, summarise, and then say it back to the person you're speaking to.
It shows the other person that you are very intently and actively listening, not just hearing, what they're talking about. It gives the person a feeling of importance and respect, regardless of how deep or superficial the conversation. It helps you understand what they're saying, too.
You can take it up a notch too. Listening is important but you should ask follow-up questions too. That shows greater interest and leaves a better impression. 
Forget the three-day rule
Pop culture has made us believe in the three-day rule before texting someone, namely in the dating domain, but the best thing you could do to cement your interaction with someone you'd like to develop a relationship with, whether professional or personal, is to follow up.
Send that text message. Drop them an email. It doesn't have to be very long or formal either. A simple message indicating how nice it was to meet them and that you look forward to working together or catching up again. It sticks in the mind of the receiver. It also sends them the subtle message that they are noteworthy enough for such a quick response of appreciation. The trick here is that it makes them feel like they made a great impression on you.
In the show Mismatched, Rishi (Rohit Saraf) walks up to Dimple (Prajakta Kohli) and says "hello, future wife" without waiting too, right? Did it backfire? Iced coffee in the face as a response made that pretty clear. But it's a meet-cute we're not going to forget anytime soon.
Skip the how do you do's
You can ask someone where they're from and what they do, but maybe a little later or in a slightly different way. Instead of the conversation non-starter, 'what do you do?', open with a more direct question – like, where they got the necklace they're wearing because you absolutely love it – before going to the more traditional questions.
You can ask someone how they know the host, how long they've been at the company and what they find the most interesting about their job role. It takes the conversation beyond the superficial talk points we've all heard and are used to by now. It shows that you genuinely want to talk to them and are interested in where they got that necklace because, damn, emerald green is a dazzling colour.
With slightly left-of-centre questions, you stand out from the crowd and give your conversation a more intimate and personal touch.
Exit with a bang too
You may have gotten the hang of introductions, but it's equally important to leave with a bang. In psychology, a concept called the serial positioning effect sheds light on how we remember events. When people go through a series of events, the beginning and the end stick in their memories the longest. 
Psychologist Danny Kahneman's peak-end theory, on the other hand, says that it is the end of the experience that holds the most weight when we put value on the overall experience. 
Imagine you are headed out on a 5-day-long family vacation. It was a bumpy start. Your flight got repeatedly delayed, the hotel messed up your room reservation, and your kid caught a stomach bug on the second day itself. But if things turn around and everything starts to work out as you planned, the last day of splashing in the pool, lounging on the beach, and soaking up some sun will make you view the holiday as a good one. It morphs into a happy memory.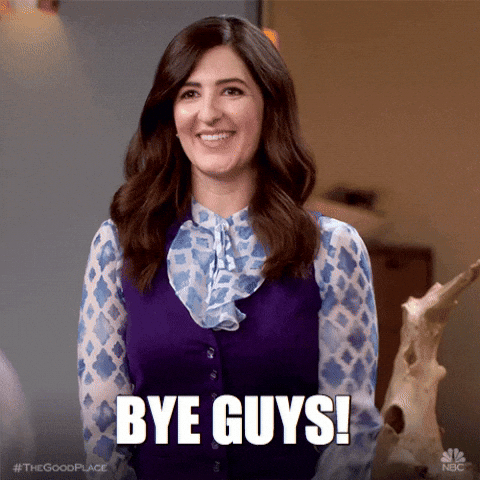 The same can be said for the conversations we have with people. Before bidding adieu, call back to something you discussed earlier. It could be something personal they shared with you or a joke they made. Or give them thanks and a compliment before saying goodbye. Such an ending makes the other person realise that you've been paying attention to them during the conversation, or that you agreed with something that they said, or just found them to be very funny. They leave on a high of validation, and who doesn't crave that?
What's in a name?
It's the beginning of our identity, a singular word that catches your ear like nothing else. The saying goes that some people love the sound of their own voice, but turns out, it's the sound of our own names that we love to hear. So if you want to make a lasting impression, say the name of the person while you're talking to them. Just once or twice, to begin with. Whatever seems natural in the moment.
There's science behind it too. Some believe that hearing your own name releases dopamine and serotonin into your system, happy hormones which are then associated with your presence and actions. Another study found that there is greater brain activation when you hear your own name as compared to that of someone else.
We may not admit it or see it very often but I truly believe that a part of us changes as much as the seasons do. There may come a point in your career, friendship, or relationship where change is necessary and the choice you make isn't working for you anymore. So be open to adapting, pivoting and finding the next thing to propel you to greater heights.
What you choose to highlight about your identity could be one thing now and something completely different a year from today. These are things which are a part of you, not your whole self. The same way you'd add baby's breath to a bouquet to give it an added flair. When we all know the heliconia is the star of the show.