A still from Bikram: Yogi, Guru, Predator
When I met controversial yoga guru Bikram Choudhury in the flesh — too much of it, actually
What to do when your interviewee shows up in a Speedo
Last week, Netflix notified me that they have new releases to ruin my weekend sleep cycle yet again. My options: the sappy third season of Little Things, Martin Scorcese's The Irishman and the documentary, Bikram: Yogi, Guru, Predator. Suddenly, I remembered one of the most random evenings of my life in 2015 when I was sent to interview the eponymous ambassador of Bikram yoga. It was a paid attempt to whitewash his rather controversial body of work. 
Fitness guru Bikram Choudhury was staying in one of the luxury suites at a Mumbai five-star. I had done my routine interview prep: read 12 pages of Google search results on hot yoga. Colourful, very colourful, I must say. I was prepared. Not with a pepper spray or Swiss knife, but with a photographer in case things got a little funny.
But the guy was stuck in Mumbai traffic, and what could have become my #MeToo confession turned out to be an awkward stand-up act.
I was alone with the 'predator' as Netflix addresses him. First impression: he looked rather harmless in his black kurta and trousers, resembling the duur ke rishtedaars we bump into at family weddings. He started talking in Bengali the moment he learnt my full name. The quickest ice breaker. 
And before I could ask any questions, he handed me a 12,344-page folder filled with newspaper clippings about him, his photo-ops (most of them looked incredibly staged) with former POTUS Richard Nixon, Elvis Presley, action stars Bruce Lee and Jackie Chan, among other Beverly Hills residents. As I browsed through the clips, I wondered how old this man was. He didn't look a day over 60. And then he disappeared.
I texted my photographer friend. He was still some 20 minutes away. I took a few photographs of the Mumbai skyline, sneakily opened the mini fridge out of curiosity. Coconut water and soda bottles. That's all. 
And then he emerged out of a steamy bathroom in, well, nothing but a black speedo. For that split second, I wanted to disappear into the mini fridge. What was happening? More than being scarred, I was overcome with the strong urge to burst into laughter. Imagine your grandfather walking into the room in dressed in the briefest of spandex. Yes, close enough.
Maintaining eye contact with him was a greater struggle than sitting through a sex scene on Netflix in the company of my parents.
But things only got funnier when he started demonstrating his yoga postures and then popped the question: how old do you think I am? 55, 60, 65? And he answered himself: 70. "Do you know any other 70 year old this fit?"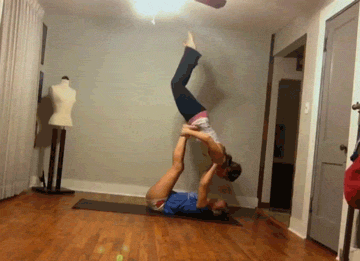 I wanted to say, "I really wish I hadn't seen any 70 year old in a speedo, Dadu." At that moment though, I just managed an awkward "Erm. No."
The bell rang. He rushed to open the door. Still in that minuscule piece of black cloth. My friend arrived. Ah, I suddenly felt relieved. I wish I could have recorded that flabbergasted look on my friend's face. For the next 20 minutes or so, Choudhury rambled on about his "great gift to mankind", and how he taught fitness to America.
Nothing was worth documenting except for that highly inappropriate outfit change. We left and have ever since, remembered the great escape to add laughter to our dull days.
In retrospect, what went down in that room was uncalled for. I hadn't asked for a live demonstration of hot yoga. It made me uncomfortable, and the only reason I can now laugh about it is because I had safety in numbers. As I watched the documentary and heard the horror stories from Bikram yoga 'followers', I wondered what could have happened if I was alone that evening.
Although the yoga guru is still facing a deluge of harassment cases, Choudhury has fled the States. But he will be closer home now. In January 2020, Choudhury is launching a 15-day tour of India with his followers. His pit stops: Delhi, Kolkata, Mumbai and Jodhpur. Are you ready for a hot, sizzling session of Bikram yoga? I will never be in a million years and more.