Still from 'Friends'
I thought I was Rachel or Monica. Turns out, I'm Ross
We were never Rachel
We were born in the era of cassette tapes, cycling back from after-school tuition classes in the heat, and watching the first dial-up internet connection being immediately disrupted with a phone call from nani asking if she should add badam or pistachio to the laddoos she's making for you. The rapid evolution of technology, globalisation, and a shifting cultural landscape saw us hopping from the hardy Nokias to snazzy Motorola Razrs, before BBM came into our lives with the shake-up of iPhones right around the corner. And we thought the best way to handle it was to walk into the neighbourhood parlour and ask for 'the Rachel' haircut.
Whether on Star World, Zee Cafe, or a virus-laden Limewire download, F.R.I.E.N.D.S. was that comfort watch you could always rely on after a hard day at school. Chandler and Joey were the 'bros' every boy duo in our grade would try to emulate; Phoebe was the loveable goof while Monica became the go-to for every type-A personality; and Rachel, the coveted position in every high school friends' group. But no matter which clique you were in, Ross Geller was someone no one wanted to be.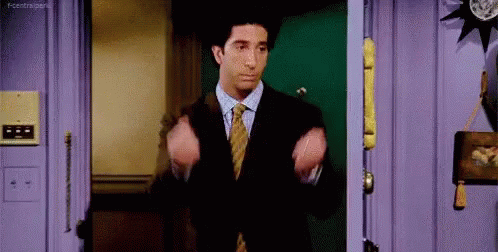 At that time, the one word that described him best in the entire show would be 'annoying'. Whining and clingy, he always seemed to be wallowing in some pool of self-pity. He was insensitive at times, along with several other unlikeable traits that have made the character, played by David Schwimmer, one of the most criticised and polarising ones in TV history.
David Hopkins made the case that the denunciation of Ross Geller — a paleontologist who was by far the most professionally and academically accomplished of the group — marked the end of culture and intellectualism. My realisation is a lot simpler. The older I become, I've come to understand that Ross Geller is the most relatable and realistic character on the show, especially when you're a millennial rewatching it.
His moments of ennui and existential distress are spot on for someone on the cusp of their 30s. You're telling me that when your love life is dead on arrival, appraisal is a joke and inflation has you flat broke by the 15th of every month, you're not having meltdowns like Ross Geller?
We all wanted to be Rachel or Chandler. But it's only a matter of time before you realise that you're more Ross Geller than anyone else.
The one with the sandwich
You know you're a millennial when you get this excited about food and recipes. Hiding family recipes from your neighbour Anita with the headstrong determination of a single bobby pin holding your sari pleats.
Hacks to make every homemade dish feel like a gourmet meal? Sign me up. Celebrity chef secrets and absurd yet useful kitchen products? Yes, and yes. And there's no happiness quite like that first bite into a chilled kulfi on a hot summer's day.
Happiness is fleeting, and food makes everything better. You spent the entire week trying out intermittent fasting, reminding yourself that your cheat day is coming up on Sunday. Then imagine that you wake up with pep in your step as you head to the fridge to pull out the nihari your mum sent, only to see that your spouse has already polished it off. The audacity, really.
I've witnessed first-hand the heartbreak of finding the food you were looking forward to eating all day missing from its spot in the fridge. It has led to a war between flatmates that's hard to come back from. Can you really trust your colleague to keep the gossip sessions about your boss a secret from supervisors if you can't even trust them not to eat from the box that's clearly labelled with your name?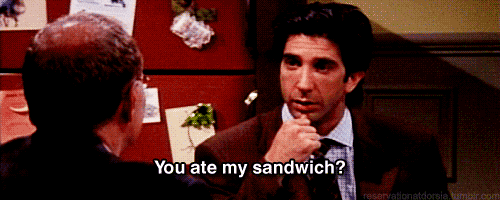 The one with regrettable fashion choices
Shahrukh Khan wore orange cargo pants in Kal Ho Na Ho, so I insisted my mother buy me orange cargo pants. I wish this were one of the moments she resisted, but I have seen many more photographs of my 12-year-old self in orange pants than I would have liked to exist in this world. If someone ever wanted to blackmail me, these photographs would seal the deal.
In our teens and again in our early 20s, we go through identity upheavals to deal with hormones and life's milestones. These often come with interesting fashion choices as we experiment with the person we want to be.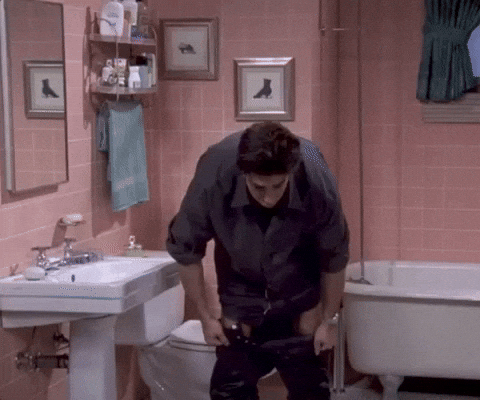 I wish I had Gen Z's confidence in fashion, but oh boy, have I had moments of crisis like Ross Geller and his leather pants.
Trying to wash away a haldi stain after confidently wearing one of your sibling's favourite shirts. Doing a crisis management call with a friend in the changing room of a high-fashion brand after leaving a sweat-infused foundation patch on a very expensive garment. Wearing white undergarments under a semi-opaque outfit at a nightclub only to find out they have lights that make you stand out like a mushroom-katori hairstyle in a room full of perfectly styled wolf cuts.
The one where we pivot
Every time Ross Geller screams "pivot" at his friends while trying to squeeze a large sofa through a small stairwell, I feel it in my bones. To pivot is to maintain relevance and keep your head above water in today's world.
Whether that's switching jobs or entire career paths because the pandemic decimated your industry, or being put on a timer to decide whether or not to have children because your ovaries have decided they want to abandon ship.
The need to constantly pivot, upskill, and reskill in our highly competitive world can feel like we're living inside a pressure cooker. With each seeti you can almost hear Ross Geller scream.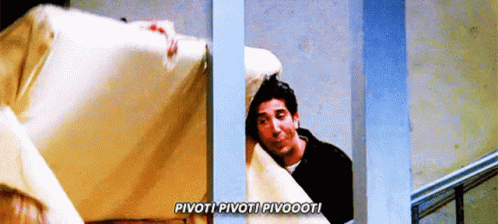 Not fitting into the wedding outfit you spent lakhs on because your period came knocking, and you're so bloated the buttons will pop the minute you try to bend even a little? Pivot and let your mum do some jugaad with extra fabric. Your spouse decided to put all your savings into crypto? Pivot. Your mental health is holding on by a thread because your family doesn't understand boundaries? Pivot. Did your client decide to change the brief two days before the event you're hosting for them? It's time to pivot with that massive sofa on your head and a sharp corner in your way with no one really helping carry the burden.
And why would you ask for more help? You thought you could do it all by yourself instead of hiring movers to help. Or, more likely, didn't have the budget for it.
The one where it's all fine
They call it the 'art' of moving on. Turning to a friend for advice after a bad breakup, she brought up kintsugi, the Japanese art of mending broken pottery with gold. After the shattering trauma, you become a better form of yourself — healed, in a way, and ready to fill your cup with whatever comes next.
But I'd be lying if I said my first reaction was not like Ross Geller's when I was told by my ex, who ended our relationship on the premise of him needing time to himself, that he was seeing someone else only a few weeks later.
Many people will tell you that you can be friends with your ex, including our Tweak readers, as long as you have certain parameters in place. But more often than not, when you're overcome with emotions (or simply confusion and rage), you will end up bumbling through your conversations with a margarita in hand when you're put in a room with your ex and their next.
You spend the rest of the night asking yourself, how can I take that once-romantic love and salvage a healthy platonic friendship out of it? Is it even possible? 'How to be friends with an ex' may be the most googled relationship question on the internet — perhaps after 'how do I bury a body without anyone seeing me?' In the meantime, we're all fine, pakka promise.
The one with the break
There exist three great debates in pop culture history: whether the spinning top falls over at the end of Inception, the quality of the final season of Game of Thrones, and whether Ross and Rachel were on a break.
I might get cancelled for this, but I'm more with Ross here than Rachel. What does a 'break' in a committed relationship mean? I get the sheer confusion of it all.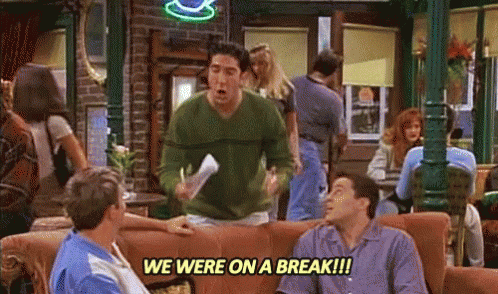 I thank the universe for being in a committed relationship because if I had to enter the dating pool again, I'd be like a blind rat trying to find its way out of a maze with no exits. Situationships, ghosting, breadcrumbing, zombieing – each week, there seems to be a new and more awful dating term added to the guidebook.
For those entering the dating world after exiting a long-term relationship, it feels like you're watching a K-drama with no subtitles or dubbing. What are the new rules of engagement for dating when you're swiping through pictures on an app? I'm sure by the time I figure it out, there'll be a plethora of new things to learn.
The one where we laugh at our pain
A lot of the comedy in FRIENDS is based on laughing off other people's goof-ups and meltdowns. As Ross himself said in one episode, "Humour based on my pain."
While in the show, others were doing it for him, self-deprecation is probably one of the biggest coping mechanisms for millennials. As a generation, millennials are the odd kishmish in an aloo samosa. Our upbringing ingrained in us the notion of being exceptional as our parents' ambitions infused our very being, while social media inundated us with glimpses of our peers' seemingly endless successes, only for us to step into the real world and get hit in the face with the hard reality that we're not that special.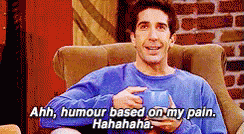 We've dealt with one calamity after another, with an impending climate crisis and economic collapse in the face of unending inflation. Will having a stable job with a monthly salary ever be enough for us to retire in the state of comfort that we've been envisioning? Not in this economy, and not without a lot of investing (slow investing is a good starting point).
What are we to do but laugh at our pain to maintain our sanity? We connect with each other by poking fun at ourselves to find kinship with others in similar situations. We want to feel less alone, so we create a sense of camaraderie by laughing together at the miserable state of our bank balance.
Call me a pessimist, but we're doing whatever we can for some comfort in a largely uncomfortable world.
And did you even grow up with siblings if you didn't practice and perform complete dance routines in front of your entire family? Doing it as adults is a different matter altogether. But that's what shaadi sangeets are for.
You're going to want to deny it, but just think it through. Ross is justifiably a cynic who wishes he were cooler than he is. Honestly, as a tired, over-the-hill millennial, I feel the same way.