Representative photo: Gustavo Fring/Pexels
6 substitutes for egg you can use to bake all your sweet and savoury favourites
A vegan pastry chef shares accessible, easy-to-make substitutes and recipes
"What do you mean you don't eat eggs? What do you even eat for breakfast?" says every egg lover at least once in their life. Whether it's a deep dislike for the world's most-loved breakfast ingredient, an allergy or animal-loving instincts that urge one to egg-scape, there are lots of reasons people seek substitutes for egg when cooking.
Because the humble egg is so versatile, it find its way into plenty of basic recipes, and is the glue that holds baking together.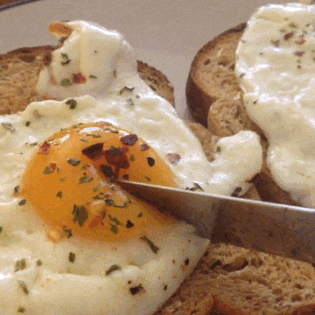 Chef Naimita Jagasia, pastry chef, recipe developer and owner of Mumbai-based vegan bakery An Ode To Gaia identifies affordable substitutes for egg, and recipes to experiment with.
Why eggactly is it so difficult to find substitutes for eggs?
It's the Jim Carrey of ingredients – its versatility is unparalleled.
"Eggs serve multiple purposes in baking and cooking, so looking for substitutes for eggs depends entirely on what function the recipe demands," explains Jagasia.
For eggsample, in quiches and tarts, they're the core ingredient and binding agent, while in meringue, egg whites are used as aerating agents. Eggs also help with adding moisture, leavening and influencing texture.
As we set out on an arduous journey to identify substitutes for eggs, Jagasia swept in to lend a hand.
6 substitutes for eggs to meet all your needs
Mashed banana
"One-fourth of a cup of mashed banana acts as a binding agent while providing moisture too. This applies to almost any thick fruit or veg puree such as pumpkin, sweet potato, apple, and beetroot," says Jagasia.
These substitutes for eggs can be used to make brownies, cakes, and muffins.
Flax seed powder
Popularly referred to as vegan egg, flax egg is the only binding agent that gives you protein and moisture, while acting as a binding agent.
All you need to make a flax egg is to mix one tbsp of flax seed powder with three tbsp of water. Set it aside for five minutes, and your vegan egg is ready to go.
This is usually mixed with wet ingredients for quiches, cakes, brownies, breads, and muffins. "It's the perfect healthy addition to any recipe," adds Jagasia.
Nut butters
Just like mashed bananas, one-fourth of a cup of nut butters can be used for binding and as a moisture agent instead of eggs. "However, nut butters cannot be used alone as substitutes for eggs. The oil and milk needs to be adjusted as well," explains Jagasia.
Vinegar and baking soda
These substitutes will take you back to your volcano experiments in school. The chemical reaction between vinegar and baking soda makes baked goods soft and fluffy. This texture is usually a result of using eggs.
Two teaspoons of apple cider vinegar, and half a teaspoon of baking soda for one cup of milk is the ratio Jagasia suggests you follow. "Add the vinegar to your milk of choice, mix it around to curdle it and let it sit for 10 minutes. Add the baking soda to your dry ingredients. This works for most baked goods that need a very light texture, like cakes and cupcakes," she adds.
Tofu
When making scrambles and quiches, silken tofu acts as the perfect replacement. It blends smoothly, which allows it to be poured into a tart crust, topped with veggies and herbs and baked," explains the pastry chef.
Tofu crumble can be used as a substitute for scrambled eggs. All you need to do is add some oil and spices, and pan fry it.
Aquafaba
Aquafaba is a term used to refer to the leftover water from cooking chickpeas or the liquid found in canned beans.
Three tablespoons of aquafaba act as a substitute for one whole egg.
"You can whip the aquafaba like egg whites, and add sugar to make meringue or add butter to make Swiss meringue buttercream, and even add almond flour to make macarons. Aquafaba is a very complex ingredient, but once you learn how to use it, you can make the most magical things like meringue kisses, smores and macarons," says Jagasia.
It can also be used while baking cakes and quiches.
These delicious recipes feature substitutes for egg
Pizza-flavoured tofu scramble
This recipe is a fitting response to everyone who's been telling you that you are missing out on wholesome egg breakfasts.
Ingredients:
1 tomato (chopped into small chunks)
1 small red onion (chopped)
2 cloves of garlic
1 yellow bell pepper (chopped into small chunks)
Olive oil (or any cooking oil or vegan butter)
Big pinch kala namak (black salt for eggy taste)
Pink or black pepper
1/4 tsp turmeric for colour
1 to 2 tbsp Italian herbs or pizza seasoning
1 block of firm tofu
1 tbsp red sauce, ketchup or pizza sauce (optional, can add water too)
Few basil leaves
Mozzarella
Directions:
Sauté the onion and garlic in the olive oil, till soft and fragrant.
Add the spices and sauté further.
Add the tomato and bell pepper and cook until soft.
Crumble the tofu and add it to the pan and mix it well with all the other ingredients.
Once the tofu is thoroughly cooked, add the black salt, chopped fresh basil leaves, and pizza sauce, and give it a final mix.
Top with more herbs and mozzarella
Recipe: Naimita Jagasia
Banana and cinnamon French toast
It's never a bad time to dig into some French toast – perfect for Sunday brunch, cheat day breakfast-for-dinner, and the perfect snack to accompany your rom-com binge.
Ingredients:
2 large bananas (ripe)
1/4 cup flour (any flour works well)
1 tbsp flax seed meal
1/2 cup milk of choice
2 tsp cinnamon
2 tbsp syrup (maple or agave) (optional)
1/4 tsp kala namak (black salt) (this helps make up for the flavour of eggs, can be substituted with plain salt)
Bread
For healthy icing:
4 tbsp cashews (soaked)
3 tbsp milk of choice
2-3 tbsp of sweetener of choice or dates
Directions:
Mash the bananas until creamy, then whisk all the other ingredients together, or blend everything in a blender. Once you have your batter ready, pour it into a plate or wide bowl.
Dip your bread into the batter. Dip both sides and gently lift it with a spatula so it doesn't tear, and place it on a hot non-stick pan that has been oiled or buttered.
Cook on each side for one to two minutes or until it's brown and crispy.
Take off pan and sprinkle with cinnamon and sugar mixture, which is made using two tablespoons of brown or coconut sugar and half a teaspoon of cinnamon powder.
For the icing, blend all the ingredients together and top your French toast with it.
Recipe: Naimita Jagasia
Gluten-free peanut butter brownies
Not eating eggs does not mean no sinful dessert binges. Here's proof:
Ingredients:
1/2 cup oat or jowar flour
1/4 cup rice flour
1/4 cup cocoa powder
1 tsp baking powder
1/3 cup melted vegan dark chocolate
1 flax egg (recipe mentioned under substitutes for eggs )
1/2 cup soy or almond milk
1/2 cup sugar of your choice (jaggery, coconut or cane)
1/3 cup oil
1 tsp vanilla extract
Peanut butter to swirl on top
2 tbsp peanuts (chopped)
Directions: 
Combine the melted chocolate, flax egg, vanilla, oil, plant milk and sugar and whisk well.
Combine the dry ingredients together in a separate bowl and mix well.
Add the dry ingredients to the wet and mix until just combined, do not over mix. Add some peanuts if you like.
Pour your mixture into a pre-lined and greased brownie tin.
Drizzle peanut butter on top and swirl it around using a toothpick or knife.
Bake at 160 degrees for 20 to 25 minutes or until the toothpick comes out clean after a poke test.
Recipe: Naimita Jagasia
WATCH NOW: How to make Ranveer Singh's favourite porridge