Representative image: A still from Heartbreak High
When Gen Z became Generation Dread
What parents can do to help their kids navigate an unprecedented mental health crisis
Around 9,000 years ago, a teenager died and was buried in a cave in Central Greece. Archaeologists christened her Avgi, and reconstructed her face to show us what she may have looked like. Angry, really angry. Not unlike the Gen Z we know today.
Orthodontics professor Manolis Papagrikorakis, who was a part of the team responsible for the reconstruction, told Reuters, "It's not possible for her not to be angry during such an era." Avgi (meaning 'dawn' in Greek) was alive in a period of change in human history. When we were transitioning from hunter-gatherer to agrarian societies—the dawn of civilisation, as her name suggests. She was anaemic, and possibly had scurvy.
Although scurvy is not the most pressing problem for Gen Z, we are also living through rapidly changing times. The skyrocketing cost of living, a looming recession, a housing crisis, job insecurity, deteriorating climate conditions… not to mention a pandemic that refuses to die down. It explains why a 2021 global study found that 56% of young people think humanity is doomed. They might as well call us Generation Dread.
Understanding Gen Z dread
For most of their lives, Gen Z has been riddled with the pressure to be perfect no matter the environment they're in, according to Dr Mehezabin Dordi, a clinical psychologist at Sir H.N. Reliance Foundation Hospital in Mumbai, which has resulted in an unprecedented mental health crisis. "The pressure is mind-blowing, they've internalised that you have to go beyond even the extraordinary to be special."
While Divyanshi Bareja, a 23-year-old finance professional from Bengaluru, Preesha Singh, a 20-year-old from Mumbai and Ruhi, a 23-year-old textile designer from Panipat, have never met before, they unanimously confessed to feeling anxious about becoming successful because everyone else seems to be excelling.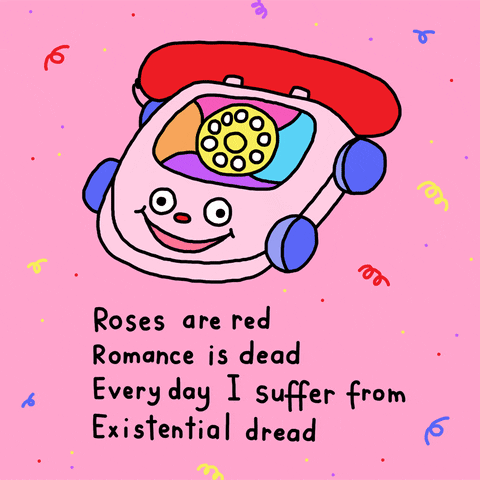 This generation is unique, for we have had as many opportunities as the knockoff Gucci bags in Sarojini Nagar, but that has only left us confused between the real deal and the fakes. We're always expected to innovate and create the next big thing, but Sakshi, a 21-year-old fashion styling student in London, says she finds it "impossible to have any original thoughts because everything has already been done. How can we ever bring anything new to the table, let alone make our own tables?" Although a continent separates them, Srushti, a 20-year-old in her third year of college all the way in Mumbai, also feels similarly.
This constant pressure to perform in a world seemingly crippled by crisis after crisis is causing Gen Z dread. Especially in the aftermath of COVID-19, according to Margaret Dacosta, course director at St.Paul's Institute of Communication Education in Mumbai. "Out of a class of 30 students, three have confessed to having suicidal tendencies. And the rest also struggle with anxiety or some other mental health issue," she says.
COVID-19 could not have come at a worse time for Gen Z. We were raring to go out into the world when this pahaad of a roadblock hit us. We've spent the last two years having little social interaction beyond the Zoom boxes on our screens. Our feelings have been bottled up as if they were sourdough left to ferment. And unless you know sourdough needs to be kept alive by feeding it, you've unwittingly left it to rot in its own home.
This festering has created a rather virulent strain of Gen Z dread that has been manifesting universally, proved even further by this WHO-conducted study, which found a 25% increase in anxiety and depression worldwide that has disproportionately hit young people.
As per Dr Milan Balakrishnan, a psychiatrist at Masina Hospital, Mumbai, Gen Z's loneliness increased manifold because they lost multiple people around them to COVID-19 at an important juncture in their lives, exacerbated by gross uncertainty about their own circumstances. Rupsha Goel*, a 21-year-old PR professional, admits to being plagued with separation anxiety, which made it difficult for her to move out of her parent's home when she had to start working in a different state.
"The social and emotional world of young children has been left bereft by COVID-19. Collaboration has taken a backseat and interpersonal skills couldn't be worse," adds counsellor Yasmeen Khan.
Unfortunately, this dread has manifested in children as young as 11, according to child psychologist, educator and school counsellor Dr Renu Goyal. "I was teaching a moral science and life skills lecture to the 6th grade when one of the students got up and asked me, 'there is no honesty left in the world, so why are we being taught this?' I was dumbfounded."
In the absence of communities they could talk to and connect with, Gen Z progressively found themselves attached to online platforms like gaming and social media, which gave them a hollow sense of togetherness. According to all the experts we spoke to, Gen Z is susceptible to behavioural addictions unique to their generation simply because none of these problems have ever been faced by the generations before them. And they are not just limited to school- and college-going children.
The eldest Gen Zers who began working right around the pandemic are showing "a concerning deficit in their interpersonal skills and dedication to work, which was not the case pre-COVID", says HR professional Roly Srivastava. "As soon as they encounter a problem, they just give up and move on to the next thing," she adds. HR consultant and director Mitasha Singh describes this behaviour as similar to swiping on dating apps, except your career is not your Hinge profile now, is it?
According to Mitasha, this debate on bringing our whole selves to work and being authentic had reached a peak right before the pandemic struck "and now Gen Z has slowly resigned itself to going back to numbing their emotions, and living in a state of perennial cognitive exhaustion." (Quiet quitting, anyone? Here's how you can avoid it.)
Dr Dordi says that though COVID-19 dumped a bucket of kerosene on this fire of Gen Z dread, the undercurrents have always been there. Work lives, family time, social experiences and global events are hyperconnected to us via social media. Like the far-reaching tentacles of fungi, we don't even know anymore where we, as individuals, begin.
Dordi hypothesises that this generation may feel that "the only way to disconnect is to have a complete breakdown." But living from breakdown to breakdown is unsustainable. We need older generations to empathise, offer emotional support and guidance. If you're a parent of a Gen Z child or an adult who is in a position to help them, here are some expert-recommended ways to combat the dread.
Helping Gen Z cope with their existential crisis
Set up regular catch-ups with your kids to share recent struggles and triumphs
Preesha works as a film production coordinator, a precarious job that doesn't pay well. But she feels uncomfortable talking to her parents about her mental health because she believes they won't understand her situation or if they do, they'll just tell her to pursue a career that is safe and secure.
"Unless you understand who your kids are and what they stand for, you will never understand when they're in trouble and they need you," says Dr Balakrishnan. Scheduling regular catch-ups — free of judgement and aggression — with your kids will help create a safe space to foster that connection.
When a parent or older adult acknowledges that they're struggling, it helps young adults and children understand that difficulties are common, and solvable. That asking for help is an act of self-care. To that end, Dr Balakrishnan suggests talking about the biological aspects of how the brain works when they're young. "If they know that this is how a brain should work, they will also know when they're struggling. They will have the right tools to describe their emotional state."
Don't make comparative statements about their experiences and yours
Hamza Chitalwalla, a 23-year-old podcaster, is grateful for his parents who have left him free to make his own decisions regarding his career. "They're willing to give me a chance and let me discover my own shortcomings."
For Gen Z to trust your judgement, it's important for you to show them that you trust theirs as well. As much as you think telling them how you walked a mile to school every day is inspiring, Dr Dordi says it's always a bad idea to draw comparisons with yourself. "They're at a stage where they're facing problems unique to their circumstances, so statements like these make them feel guilty and create unnecessary pressure."
Help them appreciate their choices and set realistic expectations
Rupsha Goel* had bagged a plum job at a PR firm during the pandemic, but her parents weren't happy with her "peanut of a salary".
Parents need to realise that this generation is living in a vastly different world — salaries that could have converted into a down payment on a one-bedroom apartment 20 years ago are barely enough to cover the rent of that same one-bedroom today. It's easy to see why Gen Z dread has reached pandemic levels.
Khan says you can help your children make an informed choice, but have to accept their decision. "Teach them to persevere and understand that they've made a choice. And they're the ones who'll benefit from or bear the consequences of it."
Discuss current events with them — both negative and positive
Dr Goyal strongly recommends balancing negative news with positive news, especially with younger kids, to counter Gen Z dread. "We can't control the information our children consume but we can make sure we're giving them a holistic picture of the world and not just one aspect of it," she says.
You can make it a point to discuss current events with them every day. Ask them how they feel about certain issues. Try to understand their thought process. Show them stories of people overcoming challenges so they know you can get up, even if you fall down.
Explain that rejection isn't a personal attack, but a part of life
As Srivastava pointed out earlier, with Gen Z, one of the biggest problems is that they don't see things through, preferring to abandon them when encountering the slightest hurdle. According to Dacosta, this is because of a fear of failure and rejection, so they'd rather not do something than fail at it. "The ability to get hit by something, fall down, get up, dust your pants off and say, 'what's next?' is what will take them through life," she says.
Help them accept that facing rejection is an important part of life and not a question mark on their capabilities. Being able to take positive criticism is as important as having talent, which can actually improve if you view the criticism constructively.
You know how they say, parents will always treat their children as kids, no matter how old they get? Well, Gen Z needs you — now even more than ever.
*Name changed upon contributor's request