Representative image: A still from Hum Saath Saath Hai
Setting boundaries when you're locked in with your big fat desi family
A mental health therapist on creating safe spaces within the home
April Fool's was cancelled this year. The ongoing outbreak is staring deep into our souls reminding us, "The joke's on you, humans." We'd also like to cancel all soap operas on TV. There's enough drama simmering in our living rooms to bring home all the Filmfare awards.
For some, it unfolded like the tearjerker reunion scene from K3G. Children reunited with their parents to live under the same roof after years. The sappy sentiment is soon replaced by squabbles over space constraints, wet towels on the bed, food preferences, and arm-wrestling matches to conquer the TV remote.
The fights aren't limited to parents and their progeny. Couples are dodging an array of troubles too. It can be infuriating to watch your partner take his fourth power nap after breakfast, while you scramble to prepare lunch. The solution? Setting boundaries.
During our ongoing Tweak Wellness Festival on Instagram, mental health therapist Rhea Kishnani gifted us a timely care package: "This is the time to set clear boundaries. It sounds generic, but we need to actually create safe distance while living in cramped spaces with our loved ones. It's the only way to survive this time together peacefully," she says.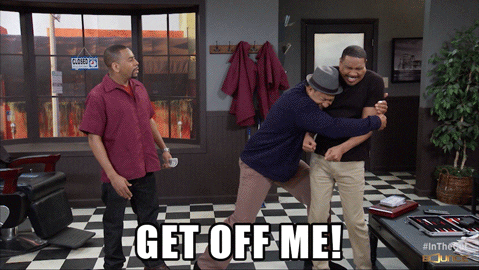 Add compassion to your communication:
You've probably never spent this much extended time together, it's very likely that even your closest family members aren't aware of some of your quirks. Inform the people you're living with about your routine and habits so you can avoid getting in each other's way.
More so in cramped spaces, you need to exercise compassion in your daily communication because everybody has reached the last leg of their patience.
Use this time to get to know each other better.
Respect their boundaries:
If you want to survive this lockdown without a criminal record, ensure there's a two-way flow of communication at home. You cannot simply inform people about your needs and disappear into your room for days.
Setting boundaries is a transactional process. For starters, you may be an atheist, but if your mom wants to do her daily puja, don't impose your ways on her.
Practice being assertive without being aggressive:
Your mom may walk into your room without knocking and give you an ultimatum to fold the laundry. Your husband may throw a tantrum about not getting his tea sharp at 8am.
Your instant reaction may be to scream, bang the door or leave the house. Since the latter is only going to get you jailed, you need to control your impulses and find a way to let them know how you're feeling without it coming across as an attack.
Take a moment (or a few hours) to see how you're feeling. Then find a safe time to express your feelings, maybe at the dinner table or the next day when you've validated the emotions. You could even plan how you're going to structure the conversation so you can remain assertive without becoming aggressive.
Check in with yourself:
Being patient, calm and accommodating is an essential part of the lockdown keynote. However, it's important to recognise when your feelings and actions are being taken for granted. Don't let anybody cross the imaginary boundary that you've struggled hard to create.
While you've been busy creating boundaries, ensure that you're breaking your own mental blocks. Check in with yourself on a daily basis, especially now. Ask yourself, "How are you feeling?", "Are you angry or anxious or hurt?". Maintain a diary.
Dedicate time to self-reflection, and if you feel comfortable, talk to your parents or partner. You can also reach out to professionals. It's crucial, now more than ever, to take of yourself.
Maintain a routine:
Making daily routines is like putting a puzzle together. Treat every day like a new puzzle. Wake up and create a routine, and ask others to do it too. This will let everyone know about the individual Skype call times and deadlines of the day. This also gives everyone their own space in the house.
Setting boundaries is not limited to human interaction in closed spaces. You must set boundaries between your work and home too. Designate a space for work, even if it is a simple small desk. Put on your work clothes and feel active. You have more time to play dress up than ever.
Healthy boundaries in our rooms and in our houses will see all of us sail through this tough time and emerge stronger, hopefully, with evolved skills in assertion.