Photo: Mayank Mudnaney
Vaginismus could be the reason you're finding sex painful
"Your vagina seizes up and you can't get anything in. Not a tampon, not a finger, not a penis"
The show Sex Education really lives up to its name. It was probably the first time that we saw an open conversation about vaginismus. High schooler Lily, played by Tanya Reynolds, can't understand why her vagina doesn't cooperate with her. Her hormones are raging, she wants to do the deed, but as she says in the show, "it's like my vagina has lockjaw".
Vaginismus is one of the most common female sexual dysfunctions. With vaginismus, your pelvic floor muscles spasm and contract uncontrollably during penetration.
Or as Reynolds explains it in an interview, "It's where your vagina is a couple of steps ahead of your brain, and your brain thinks you want sex, and your vagina is like 'no, you don't', and your vagina seizes up and you can't get anything in. Not a tampon, not a finger, not a penis."
Intercourse aside, even inserting tampons/menstrual cups or getting a routine gynaecological exam becomes an agonising experience when you have this sexual dysfunction. It's like your vagina has shut shop, in a way, and it feels like only the poses of Moses can open up a path through the treacherous sea of vaginismus.
"Most of the time, the symptoms are pushed aside or just accepted in a 'this is just how it is' manner," says Dr Rukhsana Hashim, OBGYN. "Because there is so little discussion over what sex should be like and feel like, women assume that the discomfort and pain is just part of being sexually active."
A study conducted by Monash Health in Australia in 2019 found that 57% of female participants came into the Sexual Medicine and Treatment clinic because of painful sex. Of that group, 60% of them were dealing with vaginismus. In the UK, it is believed that 1 in 500 women have experienced vaginismus at some point in their lives.
With few coming forward to seek help, Hashim says that the statistics in India regarding those who deal with such sexual dysfunctions are skewed and unlikely to be definitive in any way. "But it's a lot more common than people think, women just aren't aware that what they're experiencing isn't normal."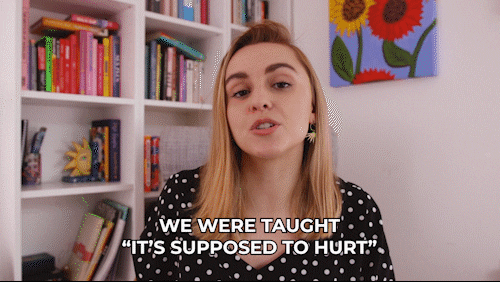 Reynolds herself didn't know what vaginismus was before playing the role of Lily. "And then I read the script and I realised that I had it once myself, and then I learned that so many women suffer with it for a really long time."
What causes vaginismus? 
The exact cause of vaginismus isn't known, explains Hashim, but it's believed to be largely a psychologically-driven condition. Which makes talking about it all the more important. 
"Think of vaginismus as fear of penetration. It may be conscious and/or subconscious," says Dr Vaishnavi Khandelwal, psychologist and trauma specialist.
She explains that there are different types of vaginismus and everyone can experience it differently.
The psychology of vaginismus and impact on relationships
Saba K was "terrified about the possible pain" during her first time having penetrative sex. The suhaag raat had been built up for months leading up to her wedding. "I grew up in a traditional house like most Indians. We didn't have much sex education in school. Whatever little I knew was from my friends and TV shows. I don't think the words 'sex', 'vagina' or even 'period' were spoken out loud in my house without someone's blood pressure rising," she says.
Though she fell madly in love with her husband pretty quickly, their wedding night was far from romantic. The pain was intense, she says, nothing about her first time was enjoyable. "He could feel it too, neither of us enjoyed it."
Every time, they'd try to have sex, Saba would be uncomfortable, even when she was aroused. There was pain, tightness, burning and stinging. She wanted to switch to using a menstrual cup instead of sanitary pads but couldn't manage that either.
"In a lot of vaginismus cases, there's a disconnect between our brain and body," says Hashim. Khandelwal adds that the sex stigma that we grow up with can linger in the back of our minds. "The shame is ingrained in us from a young age, so even when you actively think, 'yes I want to have sex', your childhood conditioning is running your body and doesn't allow it."
Bad past experiences with sex, childhood abuse and sexual trauma can cause symptoms of vaginismus to develop later on in life as well. "A person could have had a very painful experience treating a vaginal infection or urinary tract infection. Pain is then just associated with that part of your body, so anything going near it triggers a stress response in your body," says Hashim.
It took almost a year of working together with a sexologist for Saba and her husband Prashant to have pain-free sex. "When you're excited to get intimate with your wife, and then see how uncomfortable she is, it's disappointing and feels like rejection," he says. "I had to set my ego aside. Reading about vaginismus and talking to the sexologist, I realised it wasn't her fault, or mine even, and I had to be supportive."
The sexologist recommended intimacy exercises for them to do together, along with vaginal dilators/trainers for Saba to use over time.
Vaginismus is difficult to diagnose, so the doctor will first rule out possible infections and other conditions that could present with similar symptoms.
Hashim suggests a multi-level approach to overcoming vaginismus. The steps involved would be advised by a doctor on a case-to-case basis but the most common are:
Talk therapy
Unpacking, learning and unlearning what we know about sex and intimacy with a trained psychologist. "With such little conversation about sex, the place to start is just talking about sex. Our fears, apprehensions, the shame you have grown up with," says Khandelwal.
In a recent talk with Tweak India readers, Pallavi Barnwal, intimacy coach and founder of Get Intimacy, suggested creating a group of friends with whom you are open and comfortable to share experiences.
Pelvic floor exercises
According to Dr Ashok Koparday, "Treatment of painful sex requires sensitivity and experience on the part of the healthcare professional."
A study published in the Indian Journal Of Psychiatry found that kegel exercises, targeting the pelvic floor muscles, could also help control the pubococcygeus muscle which surrounds the entrance to the vagina.
You know when you really have to go to the bathroom but are squeezing hard to hold it in? Those are the muscles you want to engage during Kegels. Contract the muscles, hold them for 5-10 seconds and relax. Take a break for 3-5 seconds and repeat. Strengthening your pelvic floor gives you more control over it.
Vaginal dilators/trainers
Known as vaginal trainers or dilators, these are tube-like devices of varying thickness which are inserted into the vagina. You start with the smallest size and then slowly ascend the ladder. This is a technique prescribed. by doctors and best done under their supervision. "It slowly familiarises the body with the physical and mental experience of penetration," says Hashim.
The use of vaginal dilators over time can relax and strengthen the muscles and also reduce the anxiety around penetration during sex.
Exercises you can do by yourself and with your partner
Explore your body
Barnwal says that getting clients familiar with their anatomy is one of the first things she does. That could be spending a few moments touching various parts of your body, truly feeling the sensations, getting comfortable with it so that when another person is doing it, your body reacts with ease.
She adds, "A lot of people with vaginas have never looked down there and it's important to know what structures there are [in the pelvic floor]. And where they are, so you can gain better control and coordination of them because the underlying undoing of vaginismus is going to come down to the coordination of those muscles so that you can relax them when appropriate."
Enjoy non-penetrative sex
There's more to sex than penetration and ways to have sex without having sex, as we traditionally see it.
To start, diamonds aren't a girl's best friend, your clitoris is. If you haven't yet met, let us introduce you. It's the tiny lump of flesh above the urethral and vaginal opening. This is the power button to female pleasure and a great place to start whether you want to try mutual masturbation or self-pleasure.
You can write each other bits of erotica. Give each other massages before getting more heated. Explore each other's bodies, try oral stimulation and oral sex if you're comfortable. And if you do want to try penetration, make sure there's plenty of lube.
Familiarisation exercises
The most common exercise that Khandelwal encourages her clients to do with their partners is just touching. Though, it's not as simple as it seems, especially for people who have experienced trauma and abuse.
"I ask them to verbally ask to be touched, or ask their partner if they can touch them on ABC part of their body," she adds. Such an exercise also encourages open dialogue on wants and desires in your relationship when it comes to intimacy. Laying the groundwork for being able to ask for what you want.
This process slowly makes you used to your partner's touch. It familiarises you with their movements patterns, the closeness and proximity to each other while being nude. "The more comfortable you get, mentally and physically, the less likely your body is to tense up when it comes time to penetration."
A note of caution: This story includes personal experiences and inputs from trained professionals, and is for educational purposes. If you are in discomfort, please contact your healthcare provider to find a treatment plan that works best for you and your needs. 
Featured photo credits – Styling: Divya Gursahani, Makeup: Riddhima Sharma, Hair: Krisann Figueiredo, Model: Archana Nair/ Inega. Dress, Kanelle.