Representative photo: Unsplash
"I'm the only friend in my group who's not married or having kids"
What happens when a modern Indian woman knows what she wants and isn't willing to lower her standards
"I wanted to be married by 27-28. I turn 34 this year, and I've been the only single friend in my circle for a few years. My friends are married, married with kids, divorced and remarried, and divorced. Their labels don't bother me. But I've changed. Transitioned from being the dreamy-eyed teenager who wanted an extravagant bachelorette and an intimate wedding, to an independent woman, investing in myself.
This transition is a work in progress. And without supportive friends and a strong sense of self, you can drown in envy and negativity.
At 25, I was still studying when my best friend got married. We were still very close but I was no longer comfortable just landing up at her house in the middle of the night to vent. With each relationship milestone, people's priorities and responsibilities change. No one's to be blamed.
The next few years sped by, close friends, classmates and colleagues married and became parents. I hopped from shaadi to baby shower, simultaneously jumping from one toxic relationship to another. I was inching closer to 28, the age I thought I'd be married at.
Being the only single friend in your group at that age can often make you slightly envious. My need for companionship resulted in faulty patterns. During low moments, I'd text my toxic ex or mindlessly swipe right on dating apps because I was craving attention. It never ended well.
I wasn't comfortable being single for longer than six-seven months. I was always dating someone, regardless of whether we were on the same page or not. I guess it came from my lack of self-awareness.
As I was getting closer to 30, all my friends were in the married club, and I still didn't have any permanent plus one to attend parties with. But after coming out of an emotionally toxic relationship that had shaken me completely, I was finally opening my eyes to what I really needed, wanted in my partner. I learnt to put my foot down at home, at work and in my relationships. There were certain lines I wouldn't cross and a few compromises I'd never make.
My parents wanted me to survey the arranged marriage market; they believe marriage is the solution to every problem in the world, including acne and acidity. Their heightened sense of paranoia is becoming increasingly difficult to deal with, and this constant rift is alienating them from me. I've met a few men, but it was a harrowing process. The system didn't click with me. And that's when the realisation dawned. I didn't want a big, fat Indian wedding. I wanted companionship, and I wasn't going to lower my standards. I guess I've reached a sort of inner peace.
When someone is stuck in such a social dynamic where you see everybody has moved a step ahead in life, it can backfire on one's self-worth. There are two options: either you give in to bitterness and think, "Mera koi nahin hai." Or look at it as an opportunity to learn.
My friends never singled me out because of my single status. Nobody said, "Tu bhi kar le shaadi." We are all so much more than the relationship tags associated with us.
Sure, my social life has changed due to my friends' milestones. Like when they plan holidays keeping their kids in mind. My idea of vacationing is different, but there are no harsh feelings if I'm not involved in the plans.
The conversations have evolved too. Earlier we discussed the same things, happy hours, fights with parents, crushes, driving tests. Now, it's about buying apartments, which school to send kids to, parenting hacks and dealing with in-laws.
But these factors don't make me feel inadequate — I consider this a crash course for my future.
Being the only single friend can be liberating
My friends aren't available at random hours to catch up, but this has made me open myself up to new friendships with people at work, and those I meet on my travels — I'm more comfortable in my own company. If I want to hang out by myself, it doesn't feel like punishment.
Being single at 34 gives me an advantage over many of my married friends. Before lockdown, I spent a month travelling across Himachal Pradesh, met so many people, and nobody was concerned about my relationship status. During lockdown, I escaped to Goa. My married friends wish they could just take off like that.
Being single has also encouraged me take control of my finances. In an Indian setup, it's easy to go from your parents managing things, to doing it in conjunction with your partner. I manage my own finances, and am mindful about building a solid future. This is the kind of independence that leaves room for companionship, without any dependency.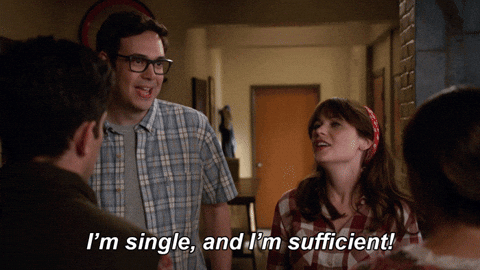 While other singles feel left out in their social circles, my relationship status or lack thereof is making it difficult to have a normal conversation with my parents and deal with the growing tension on most days. But one thing is clear: I am not willing to sacrifice my identity and values to fulfil their beti ki shaadi wala dream."
(Sudeshna Chakraborty is a 33-year-old Mumbai-based advertising professional)
– As told to Arundhati Chatterjee