Photo: Sony Entertainment Television
6 of the best business tips we learnt from Shark Tank India
It's time to think like a Shark
Life in lockdown was like a crossover episode of Survivor and Big Boss. You're locked in with limited resources, the drama quotient is high as stressors are off the charts. Every day, there was a new fight breaking out – "Mera aloo bhujia kaise khatam kiya tumne?", "vaccination slots open at 4 PM, how could you log in at 4:05!", "jhaadu kaun karega, tera baap?" 
But we also have a newfound appreciation for reality TV. At a time when we needed escapism the most, our guilty pleasure watchlists came through. "We live vicariously through the experiences of the reality TV stars – from the safety of our own homes. We don't actually have to risk our heart or our reputation," says Dr Carole Lieberman, MD, media psychiatrist and reality TV consultant. 
There are different kinds of reality shows depending on what you're looking for – hunts for love, survival, family drama. But there's one that's captured the attention of the Indian audience like never before, the entrepreneurial reality show, Shark Tank India, serving as perhaps the only kind of pornography that's family-friendly – success porn.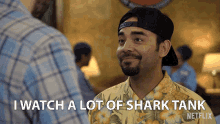 "A lot of people view entrepreneurship as a skill that you have to be born with, and so, is unattainable to them," says Berna Aksu, business professor at Saint Mary's College. You may or may not dream of being a big business owner yourself, but watching shows like Shark Tank India takes us on a risk-free entrepreneurial journey. Leaving us with the "started from the bottom, now we're here" feeling of success, even though it's someone else's. 
For those unfamiliar with the format, the contestants are real entrepreneurs from a variety of backgrounds, all pitching their ideas to a panel of equity investors or 'Sharks'. 
Our 'judges' of Shark Tank India are successful entrepreneurs and big business owners – Aman Gupta, co-founder and CMO of boAt, Ashneer Grover, founder and MD of BharatPe, Vineeta Singh, CEO and co-founder of SUGAR Cosmetics, Anupam Mittal, founder and CEO of People Group and Shaadi.com, Namita Thapar, executive director at Emcure Pharmaceuticals, Peyush Bansal, co-founder and CEO of Lenskart.com, and Ghazal Alagh, co-founder of Mamaearth. 
There are no get rich quick schemes or luck at play. Just real people's ideas, work and creative inventions that earn them success. And sometimes, a side of biting truth from the judges.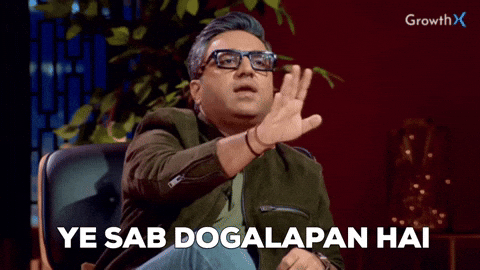 "This appeals to fans who have an idea or two about how to become rich, which they're sure would work if only they could find the right listener," says Paul Levinson, communications and media studies professor, Fordham University.
Shark Tank India had all the dramatic music, underdog celebratory moments  – jugaadu Kamlesh for the win – and combative face-offs to make for good masala TV. And while some of the feedback and comments from the Sharks unleashed a meme fest on social media, reality shows like this can also teach us lessons about entrepreneurship.
When a relative's phone call is handed over to you#SharkTankIndia #SharkTankIndiaOnSonyTV #namitathapar pic.twitter.com/k7crDMysjI

— Aditya Pandey (@Adityapanti) January 19, 2022
The best business lessons from Shark Tank India
Learn to pivot and try a different approach
These words of wisdom didn't come from a Shark, but a contestant. Krishnan Sundararajan (episode 12) spoke about assessing the situation, pivoting and adapting. This could mean changing the mode in which you are offering your services from offline to online. Changing the format in which you want to tell a story from the written word to video.
This can mean you have to revise your business model, packaging or marketing strategy multiple times. It's not about jumping on trends, because those keep changing. Instead, identify the best way to get your idea to a larger audience/consumer base. Especially if you're struggling and looking to boost your business.
Recognise when you need someone else's help and expertise to grow
This has been advised by the Sharks multiple times to contestants through this first season of the show.
Being the sole owner and co-founder of a company is a matter of pride and prestige. But not only can you not do it all, you also don't know it all. Recognise when you need someone else's expertise because that could be just the thing holding you back, causing you to stagnate. 
That's the advice Mittal and Grover had for the founder of Auli in episode 5. Bringing in a co-founder or a marketing director, a specialist of some kind, can mean you're forced to hand over some stake or ownership. But in the larger scheme of things, it's what will help your company grow, gain more profit and increase the company's valuation.
Be ambitious but realistic
"Sapne hamesha aasmaan mein hone chahiye, lekin kadam hona chahiye zameen par," said Mittal in episode 11. Dream big, but stay grounded and realistic, to put it simply.
He advises a realistic approach to business expansion. Your eye is on the prize of building a Rs 10 crore company. But you need to first build a strong foundation.
Growth happens in phases. Taking it step by step gives you the time to take in people's responses and adapt accordingly. Go with what's working, change what isn't and then move on to what comes next. Especially when you're starting off with a small amount of money to build your company.
For example, if you have ₹5,000 to spend, you spend most of it, say ₹4,000, to make products, put them out into the market and expect it to turn into an ₹50,000-worth company or have massive profit. It's not sustainable – start slow, start small.
The best idea may lie in the least expected space
There were some oddball ideas and people that came onto the show that gave viewers some unforgettable moments. But one that stood out has to be Nuutjob, an aptly named intimate hygiene brand for men. It's not just the name that tickled people but also the fact that it was started by two sisters, Ananya and Anushree Maloo.
The Maloos identified a problem in their daily life. The bathroom floor would be covered in white powder every time a male in the family would use the loo. They started asking questions, before venturing into a discussion about male hygiene and the associated problems, before coming up with a solution.
Perhaps you'd think this isn't something that's even really a problem. Maybe you'd question how two women have a business focusing on intimate hygiene, which is still considered a hush-hush topic, that too of the opposite sex. But they picked up on a problem that's given little attention, and found their market.
Just because you can do it, doesn't mean you should
In episode 3, engineer Rubal Chib shared with us this saying that's popular in the field of IoT (Internet of Things) technology. It gives us a lot to think about, especially in the start-up space where every week we hear of new up-and-coming companies and small businesses, many of which fizzle out pretty fast.
When we have a good idea, we also need to think about whether it is something we can really sell.
Does the company have growth potential and scalability to meet consumer demands? Is the demand for such a product temporary or something that's constant? Am I making something that's in high demand at a cheaper price, doing something completely unique and disrupting the marketing, or will it turn into a trendy gimmick?
These are things we need to think about if we want to sustain our business. A nice idea may just be that, not necessarily something we should be putting our hard-earned money behind to turn into a business.
Don't restrict yourself to just one thing
Right in the first episode of Shark Tank India, we were introduced to the creator who made detachable sleeves. You could pop them onto any outfit to give it some zhuzh, and remove them when you needed to sober up your look. The concept was unique. But the advice the Sharks gave the contestant was not to limit a unique or interesting concept to just one method of execution.
A novel idea, such as multifunctional or detachable fashion and accessories, can translate into many physical ways. You could have created a technology that stores all your various passwords safely in one place with a unique ID you can use to log in to whatever platform you want. But what else could the core technology be applied to? By providing more products or services, you're increasing your possible revenue streams.
It's the same reason you'll be hearing more and more about the need to upskill and reskill. You could be an incredible writer, but in an evolving world that's moving into different modes of storytelling, polishing your skills and learning those new techniques gives you more to offer as an employee. Making you the MVP.