Representative photo: Mayank Mudnaney
How the world fell in love with Wordle
Five letters, six tries and one word to unite us all
My extended family Whatsapp group chat has been off the hook recently. The good mornings and motivational quotes have been replaced by pictures of green, yellow and grey tiles. "How did you get it on the third try? All my guesses were wrong today" exclaimed a relative. "You have to analyse it a bit and plan," answered an uncle. The internet has fallen in love. This time, it isn't a picture of Kunal Kapoor's muscular thighs, videos of people turning themselves into potatoes on Zoom calls or Korean shows that have people captivated. But Wordle, an online word game, of all things.
The rules are easy to follow. There's a secret five letter word of the day that you have to guess. The game tells you which letters in the word you have guessed are right (highlighted in green), right but in the wrong place (highlighted in yellow) and completely wrong (highlighted in grey). By a process of elimination, complete randomness or whatever mental gymnastics you want to do, you have six tries to guess the correct word. If not, the secret word is revealed and the game ends. There's only one game a day, and a new word to guess every day. 
Hearing it explained by my sister, it all sounded so basic. So completely random that I couldn't help but wonder why people are so into it. The first time I played Wordle, I felt agitated. "There's no hints or direction. It could be any five-letter word in the world." 
My anxiety went into overdrive and as I clocked out my six tries with nothing even close to the right answer it was all very… anti-climactic. The game was over, the word was revealed and the world didn't end. I'd be back on Wordle tomorrow and start fresh.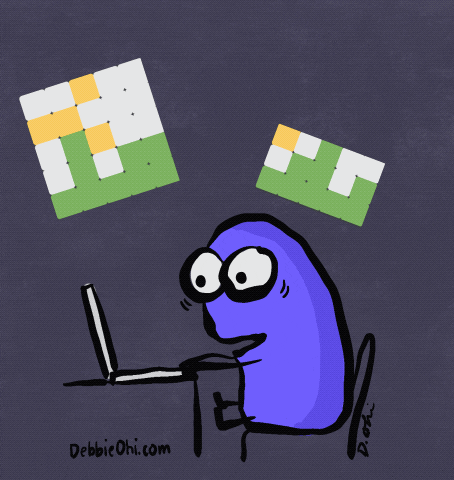 It was the first time in probably eight years that my sister and I had bonded over a game like this. The last time was a farming game called Hay Day, where we became 'neighbours' while staying in different cities and helped each other out with orders, tasks and daily challenges. That is until my pig farm let out a loud snorting notification in the middle of my literary theory class and I quickly deleted the game out of sheer embarrassment. 
We live together now, but are on completely different schedules. My day is spent hunched over my laptop writing while wearing noise cancellation headphones, doing video calls and phone interviews. When I'm up, she's asleep or at the gym, on set, shooting, or attending events in a different city. When the night owl in her activates, the sleepy sloth in me eyes my warm bed. We've gone days without seeing each other, our communication stunted at 'hi' and 'bye' or 'get garbage bags'. But now a day doesn't pass without an exchange of grids. 
The New York Times called its origin a 'love story'. A guessing game that was created by software engineer Josh Wardle for his partner, Palak Shah, who loves word games. They'd play it together; he shared it with his family and friends. Soon the 90 people who obsessed over it turned into hundreds and thousands of conversations and bonding experiences around the world. 
For people like Bhanu*, it's become an ice breaker in communication channels that have thickened with awkwardness and uncertainty. When he came out to his parents during the pandemic, his relationship with his father took a hit. "It's like he didn't know how to talk to me anymore. Or what to talk about." Wordle has become a way for father and son to reconnect, even for those brief moments that they collectively rack their brains over the possible word of the day.
Sonali uses Wordle as a daily check-in with her mother across state boundaries. "I feel horrible not being in touch as much as I'd like, but I'm myself so overwhelmed by work and life that sometimes I feel like I can barely catch my breath," she says. Her day now ends with her nighttime skincare routine and exchanging Wordle scores and tips with her mum, whom she taught the game to over a video call. "Little daily chats like this have kept both our spirits up. Video calls themselves can get exhausting, what do you talk about after a certain point?"
For couples like Pracheta Mazumdar and her partner Dhruv Bhagwat, the game serves as a break they take together in their busy workday. "We live in the same house but operate on different schedules. When you're working from home, there are no fixed breaks or specific work hours." Now, they make it a point to sit together for lunch, to eat and play Wordle. It's part of their routine to hang out for a bit, do the Wordle puzzle individually on their phones, competing to see who gets the word first before breaking off into separate corners of the house for the rest of their workday. 
Saisha* echoes a similar sentiment about bonding with her partner using the game, saying, "Earlier we'd come home from work and talk about our days, coworkers' antics, office drama. There were parts of our lives we would let each other into. We had fodder for conversations and we'd unwind together like that. Now we're constantly in each other's space, we know exactly what the other person is doing at all times." With the constant exposure to each other, they often felt like there was nothing outside themselves and their bubble to create any kind of excitement. They've added Wordle to their rotation of bonding exercises. The refreshing and unpredictable nature of the game provides a new conversation and fun task to tackle together every morning over breakfast. 

In an interview with Slate, Wardle explained the creation of the game, saying, "My partner was going through some tough times. She just wanted something she could sit down and mindlessly do." And the rest of the world said HARD RELATE. 
One word that can sum up what we're all feeling right about now – tired. We're overwhelmed by a lot of our experiences, those both in and out of our control. That's probably why a "mindless" game such as Wordle has caught our fancy. It's like taking a step back to the basics. A clean, simple website template, no high funda graphics, advertisements overtaking your screen and pop-ups asking if you want to share your location for… um, 'analytics'.
For Mitali Shah, it's "like a tiny escape hatch." Even if the rest of the day is a total mess, "for those 10-15 mins that it takes per day, you are only focusing on guessing the word. Either you guess the word in six chances or you don't. So it's not something you are thinking about for a long time." Starting the day with small wins may just give you the daily boost you need. Our brains are wired to thrive on rewards. Harvard business professor Teresa Amabile, PhD and academic researcher Steven J Kramer note in their work that we should take pride in our accomplishments. Even celebrating the small ones boosts our overall confidence and motivates us to reach bigger goals.
There's a sense of achievement I feel when I manage to guess the Wordle game of the day. Contrary to what I initially thought, the game eases my anxious brain. You start off with multiple possibilities and my brain takes off like PT Usha. With each elimination, comes some ease. And whether I get the word or not, I know there is a clear end in sight. There's no need to think or overthink. 
And for someone who hates and fears socialising, Wordle serves as a "deeply social experience" from the safety of home, according to Matt Baldwin, PhD, assistant professor of psychology. 
He adds, "We do not feel that the game asks too much of our time or attention. And because it is a shared experience, playing Wordle connects us with others."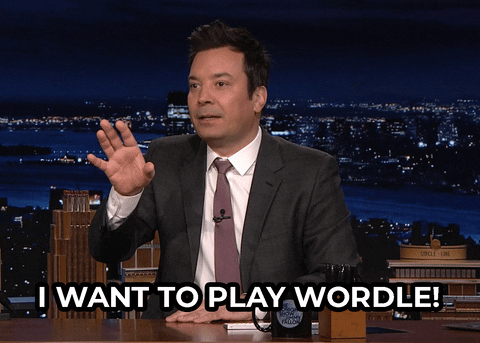 When life gets so complicated, we crave simplicity and it's for that that Wordle has won hearts. There's no agenda. No one is trying to sell you anything, there's no secret sponsorship or conspiracy in play. As Wardle himself observed, "I think people kind of appreciate that there's this thing online that's just fun."  
For a sceptic like myself, it's hard to accept that something with pure intentions like this can exist. But after two years of hardships, loss, stress and extreme polarisation on pretty much every issue, I think that if people can come together in such a way to guess one word that is a universal mystery to us all and bask in that glee and excitement, as Baldwin says, maybe there is some hope after all.
And I'm sorry, but I have to do it.
Wordle 240 4/6
⬛🟨⬛⬛⬛
🟩⬛🟨⬛⬛
🟩⬛⬛⬛⬛
🟩🟩🟩🟩🟩
*Name changed upon contributors request for anonymity