Representative photo: Pexels
How to be less grumpy, the totally scientific way
Fake it till you make it means chocolate cake for breakfast
While others lamented over every extension to the lockdown, I sniggered to myself like a reclusive Grinch sitting on the sidelines and living her best life. My social circle has accepted my asocial ways. They know better than to waste time convincing me to tag along to a bar crawl. I'd rather be lying in my kaftan, scrolling through Buzzfeed quizzes to know what ice cream topping I am according to my class 10 mark sheet. Little did I know I would one day be conducting my own social experiment to figure out how to be less grumpy.
For us, the grouchy members of the Grinch ilk, social distancing was a dream come true. We're not fans of crowds, loud noises, people touching us or people in general. We roll our eyes at your Good Vibes Only t-shirt and will fake smoking a cigarette if it means being able to leave the room.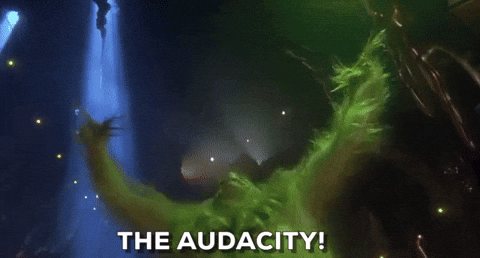 But as they say, you don't know what you have until it's gone. Solitude was bliss until it wasn't. There was only so much I could talk to Prachi the pressure cooker about, without questioning my sanity. Especially since she still burned my dal after all our negotiations.
Isolation had started to affect my mood. I had become even more on-edge, unfiltered in my responses and sour in my stance on things. At this rate, I was going to lose friends faster than hair by the end of monsoon.
A decision had been made. I was to renounce my Grinch life and force myself to be a joyful ball of optimism.
How to be less grumpy: The five ways in which I tried to un-Grinch myself
Turning that frown upside down
'Fake it till you make it' was my new motto. I contemplated trying outside-in living, following the wise words of Unbreakable Kimmy Schmidt's Jacqueline Voorhes. But I didn't think there were enough joy poses for me to try and my frown would not stay upside down without my jaw locking.
I'm pretty sure my sister made a worried call to my parents because I flashed a smile every time I saw her.
I spent the day smiling and greeting people I passed by. The building's security guard, my neighbour, the lady eye-balling me from the back of the grocery store line; they all got a gentle nod, smile and "Hi, how are you?"
And what did going out of my comfort zone to initiate human interaction get me? Quizzical looks and grunts of acknowledgement.
It was only when I grumbled to a friend later about the lack of politeness did she point out that it didn't matter if I was smiling or grimacing. No one would have been able to tell because I had a face mask on. I was just that weird lady walking around asking people how they are.
Mortified, I took a more comfortable page from Kimmy Schmidt's playbook of joy and soothed myself by jumping up and down. I'm not really here! I'm not really here!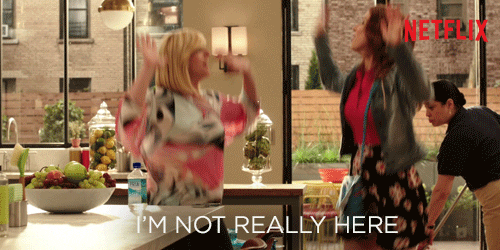 LOL-ing, quite literally
An easier starting point would have been treading shallower waters of familial faces. So I did. Forcing all my groans inward, I unmuted the family Whatsapp group chat – the one with aunts, uncles, second cousins and their spouses.
Every other day, my father and his siblings organised family Zoom calls for online antakshari and exercise classes. The latest addition to the roster was laughter yoga exercises. "Please share the link!" I wrote, much to the surprise of everyone in the group.
Having a laugh has shown benefits in stress relief, as it releases endorphins, lowers blood pressure and soothes anxiety and depression. After reading through the studies, I was ready to chuckle myself into a good mood. In this case, laughing with people and not at them.
The call began, we all cued up and synced the laughter exercise video to follow along. I bent over, touching my toes and flailing my arms, then straightened up and forced out a peal of guttural laughter that turned into a cough. I came close to dislodging a tonsil.
It was hard to keep a straight face through this exercise, even though the point is to laugh. There we were, all making manic eye contact while trying to laugh away our worries.
Laughter therapy did spark a feeling of momentary joviality. Though that could also just be from my lightheadedness.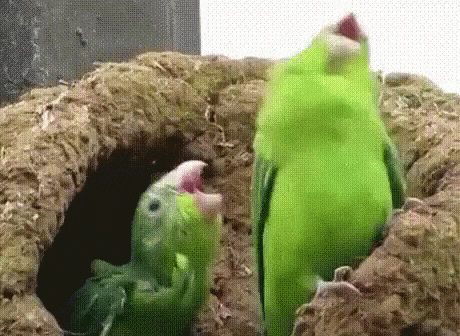 A different kind of emotional eating
Once I levelled out from the endorphin high, I was back to square one and no more joyful than on that rainy day the top of my umbrella broke and flew off.
Maybe the solution to my grumpy disposition lay in my refrigerator? Could this finally be the excuse I needed to eat something smothered in chocolate for breakfast, lunch and dinner?
Looking into the connection between our gut and our many moods, I tweaked my day's diet to make the happiest meals I could.
"The science of happiness has figured out that some foods are made up of compounds that have an effect on our mood. Even more interesting is the fact that going without certain foods can have the opposite effect, putting us at a higher risk for depression," says Dr Prerna Kohli, a clinical psychologist and founder of MindTribe.in.
Granola and curd for breakfast, egg curry for lunch, chocolate and banana smoothie for a snack and pan-seared chicken breasts and stir fried greens for dinner. I planned the day to get in all the prebiotics, probiotics, fibre and amino acids, to synthesise serotonin and trigger dopamine, that I could.
I managed to get through most of it, though I did overcook the chicken and burn the broccoli.
So I turned to trusted chocolate. And no Mama, I'm not eating junk. The doctor said that cocoa, the core ingredient of chocolate, gives you an instant boost in mood and concentration, improves blood flow to your brain and also helps increase dopamine levels. Science is telling me to tear into the second bar of Dairy Milk Silk.
Sweating away the sullenness
The last time I tried to work out was when I tried to follow Katrina Kaif's exercise routine. I cried myself to sleep those few nights and swore off squats for the sake of my lungs, maa kasam. 
Now here I was. Just a girl, standing in front of a stationary cycle, begging it to stop wobbling every time she peddled. I created my own version of a spin class by turning on all the lights, playing some ear bleeding-techno on repeat and burning loban to balance my chakras and namaslay *gags*. 
Being a non-smoker for over two months meant I was able to get through 15 minutes without heaving for a change. There are many studies that have tracked how exercise can help you beat stress and make you happier. The increase in endorphins, dopamine and adrenaline as the blood pumps through your body gives you a special kind of euphoria.
I stopped once the sweat started burning my eyes. While I couldn't feel my body from my navel downwards, there was a weird sensation of elation. Maybe it was dehydration, or perhaps I got one step closer to becoming one of the weirdos that say they enjoy working out.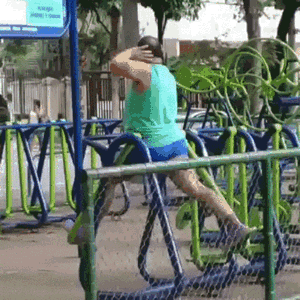 Speaking in tongues
'Did you know that learning a second language brings joy?' Reading that headline, I was ready. I must have still been borderline delirious from the previous day's workout but I downloaded everyone's favourite, Duolingo. I wasn't going to go the Joey way with French and opted for Spanish.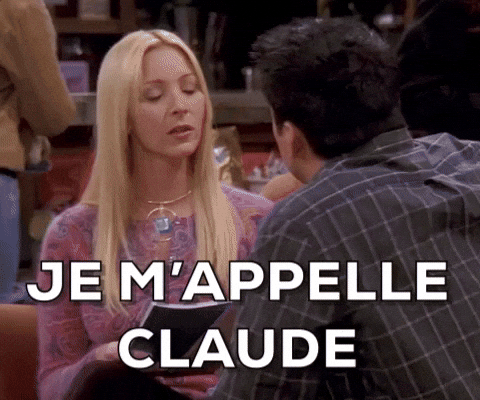 After 20 minutes of their 'Insane' daily lesson, my brain felt like scrambled eggs.
What, if anything, did I retain from this?, I asked myself. My eyes hurt from the prolonged screen time and all I could see was that little green bird dancing around saying "I believe in you!"
Considering we're now a generation of media multitaskers, this had been the longest time I'd had unbroken eye contact with a single screen.
The next morning as I was getting ready to go downstairs for groceries, I asked my sister if she wanted anything. "Just some apples," she said. Almost like a reflex, with a smile on my face, I exclaimed, "manzanas!"
I'd be lying if I said that this Grinch didn't feel joy.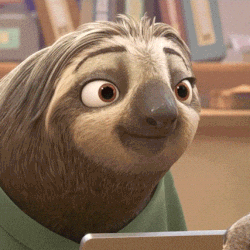 It's been a week since I embarked on my journey to joyfulness. I carried through with the activities that spark joy as much as I could and threw in some cat cuddles to replace missed laughter therapy. While I've realised the follies of my grumpy disposition, on my own mood and that of those around me, there's no real changing who I am.
But it would be dishonest to completely disregard the moments of happiness I got after an errorless Spanish lesson and happy meal.
I've made a 15-20 minute cycle session part of my daily routine. It gives me a rush of happy hormones that are cutting through the WFH fatigue that the lockdown induced.
My mildly-eureka moment came when a repeated "Hi, how are you?" finally broke the ice with my neighbour after living side-by-side for the last 4 years. If nothing else we keep each other updated on local Covid-19 cases and knocks on the door when either of us runs out of cat food.
I realised my grumpiness has cut me off from a lot of people and activities that I'm actually finding beneficial in today's circumstances.
Perhaps I'll open the curtains and let some sunshine in every once in a while, and smile when I'm at it — but I draw the line at singing along to your Zoom musical, trying intermittent fasting with you or joining your social bubble.
After all, soy una Grinch.