Representative image: Wake Up Sid/ Youtube
Your unconditional love and support might actually be enabling bad behaviour
Break the cycle
I was going through a bad break-up and wanted to mope, whine and grumble through my days. Anyone not agreeing with my pity party was asked to leave. I even ended an old friendship because she decided to stop being an enabler. I called her a bad friend for not haan mein haan milao-ing. I only realised this in retrospect, when speaking to a therapist helped me understand  maybe I was the toxic person in that situation.
The difficulty in recognising enablement – whether you're the receiver or perpetrator of it – is because it's a natural human urge to protect the ones we love from the harsh words of others, even from reality.
"Empowerment is healthy, enablement creates a mental mess. Not only in you, but the person you're enabling and in the relationship," says Dr Caroline Leaf, neuroscientist, mental health and mind expert, and author. 
There's a phenomenon I've been noticing among my generation (myself included). Being our true selves for the whole world to see, there's an expectation for others to accept us as we are.
But does that apply to behaviour that's causing harm to others and even themselves?
What exactly is enabling?
"Enabling comes from a place of love and compassion. It's spoken about a lot in the context of people battling various addictions, but there's enabling in all kinds of relationships with selfish behaviours and misbehaviour," says therapist Krisna Punia.
Leaf described enabling as the belief that "someone else will always fix, solve or make consequences go away." When you stop being an enabler and instead, become an encouraging friend, it empowers people to move forward and grow.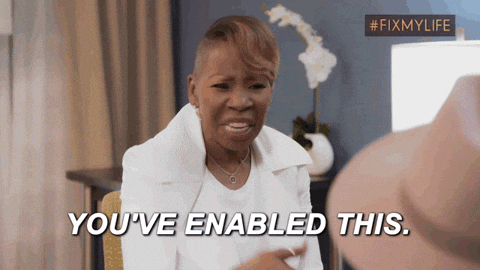 It's all fine for a while. You're the agreeable ear when they need to vent, excusing their misbehaviour. With an empathetic hand, you walk with them through this difficult situation, making some progress… until you suddenly find yourself stuck and frustrated.
It's a very fine line that's easy to miss. Spotting the difference between enabling and encouraging takes a keen eye and some introspection.
How to recognise your enabling behaviour
In Cleaning Up Your Mental Mess, Leaf discusses a science-backed process called NeuroCycle that can help us dust off and take control of our thoughts and actions.
To go through this process to stop being an enabler, we need to tune into our emotional and physical signs or symptoms when we think about this situation.
Gather awareness: Mentally picture the situation, your relationship with this person, your actions and behaviours to find out your motivation. "Enablement doesn't lead to feelings of satisfaction, that's a major warning signal. It'll lead to bitterness, frustration, even depression. Tune into that memory and see if you can remember the shift from compassion to enablement," says Leaf.
Focus on your emotional and physical responses. Scan your body – are you feeling tension? Is anxiety building up and making your heart flutter? Do you feel annoyed and resentful of this person? "Tuning into these fight or flight signals will help you recognise whether you're enabling or empowering."
Reflecting on our actions: I know it can be painful to hold a mirror up and ask yourself some hard questions. "Put your thoughts and the signals you're experiencing on trial" to find out why we're doing what we're doing to separate the helpful from the harmful, says Leaf.
She shares questions to guide us – Are you keeping someone from facing the consequences of their own behaviour or pointing them in the direction of facing the consequences and therefore self-regulating? The latter is empowerment, the former is enablement. 
Writing it all down: Thinking can often lead to overthinking — what starts as introspection can easily turn into an unhelpful thought spiral. There's power in writing things down. It can help you better recognise and process your emotions. Leaf suggests creating what she calls a Metacog map to better chart out and recognise our triggers and patterns of behaviour.
Re-check: Now it's time to analyse. Going over what you've written again can help pinpoint the moment you dipped from encouraging into enabling. Do you feel resentment towards the person that you're helping because they don't seem to appreciate it or haven't used your help to improve their situation? When was it that they stopped growing and settled comfortably in their reliance on you being the excuse-maker, yes man and protector?
Why are we scared to stop being an enabler?
"Apprehension because you care, but also because you're scared of losing this relationship," says Punia. "They fear 'abandoning' this person. Then there is a struggle to recreate a healthy relationship."
Sometimes it also speaks to our own selfishness. Being needed makes us feel better about ourselves. We don't want to feel like the bad guys. But there's a difference between supporting someone through a tough situation, and wanting to rescue them.
Stop being an enabler by learning how to support
The final step in Leaf's NeuroCycle helps us stop being an enabler, and become supportive and encouraging by finding a healthy way to help.
Seek professional help and guidance in such situations. Cutting this person off is easier said than done, especially for parent-children relationships. 
Accountability
Stop making excuses for them and justifying their behaviour to others. Let them face the consequences of their actions and hold them accountable for how they respond, especially if they've agreed to improve.
"Let them set the goals and hold them accountable with firm kindness. Knowing that someone is watching makes it more likely they'll follow through," says Punia.
Celebrate the small wins
You can advise them to start with what Stephen Guise calls mini-goals that are "too small to fail" in one of our favourite self-help books. As a daily practice, these offer the reward and encouragement to do even more.
If you see this person making an effort and reaching their goals, celebrate that win with them. "Express yourself openly, tell them you're proud and excited to see what comes next. This kind of positive reinforcement is very encouraging," says Punia.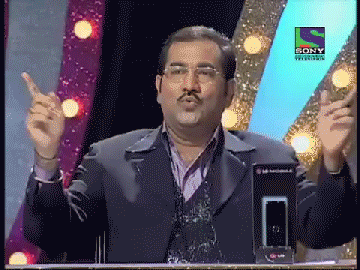 Bring some boundaries into your relationship
I know boundaries in any South Asian household is a concept as foreign as throwing away delivery dabbas.
It's an unpopular choice because of how resistant people can be, but doing it with some kindness can make a big difference.
Being assertive, not aggressive: Think of boundaries as something that strengthen and nurture a healthy relationship rather than building a wall. And to create these boundaries, you need to be assertive.
That's not the same thing as aggressively denouncing the person and telling them why you need space. It'll feel more like a punishment and they aren't likely to respond well. A technique we can use to do this is by using 'I' statements.
Instead of saying, "you constantly bog me down with all your life problems without giving me any space to share my own" change it to remove the accusations. "I feel sad when I can't share my own experiences with you because I feel I don't have a voice in this relationship. I need you to listen to me."
Creating lines in the sand takes time and patience, especially when the other person comes in like a giant wave to wash them away every time.
Sometimes you should explain your 'no': 
If you've been struggling to set boundaries, then Unf*ck Your Boundaries by Faith G Harper is a book that can help you understand when and where a boundary violation occurred — many of which we may not even realise impacted us on a deep level until much later.
Even having a conversation about wanting space and setting boundaries leaves people confused, even offended. Telling them what you really want, instead of what is being requested, opens up a channel of communication between you two and facilitates better understanding in the long run.
If people understand where you're coming from, they're more likely to respect your boundaries in the future instead of passing judgement.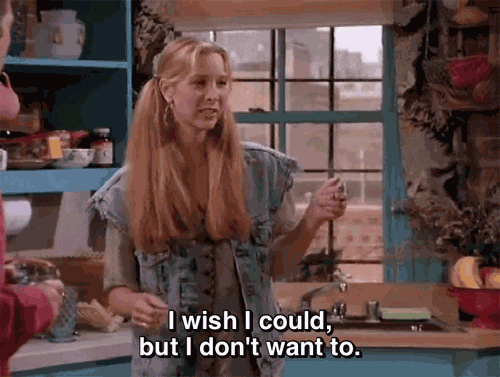 Practice detachment: Sometimes, the person might bait you with certain phrases that they know will elicit a certain reaction. Detaching is a way to take back some control in the situation, by controlling how you respond to maintain your boundaries.
You have a challenge ahead of you, but your decision to stop enabling and stepping back is a positive one for everyone involved.
Leaf says, "If we're truly honest with ourselves and we really calm the mental mess down, we kind of know what we can do, what our limits are, what we should be doing."