The 'New Year-New Me' reading list to push you out of your comfort zone
Bookmark this beginner's guide to reading a new genre
For the first 29 years of my life, I refused to make New Year's resolutions. I never signed up for lifestyle upheavals or set any unrealistic goals. This fear of change trickled down to reading too. Book after book, I'd pick up thrillers in fiction, and in non-fiction, I stuck to the Beatles and cricket. But in the 30th year, the New Year, New Me bug stung, and if I'm being honest, it wasn't the worst change. I promised to walk 8,000 steps daily. As of today, I have registered 8,244 steps every day this year. I never thought I'd ever leave Mumbai, but I'm now warming up to Kolkata winters.
My reading list took the hint too — it's begun buzzing with contemporary fiction from Sally Rooney, realistic romance novels, political non-fiction and a bunch of other popular titles.
TL;DR: I'm exploring new genres of literature, and would like you to consider doing so too.
To those who aren't comfortable with change, spare a moment to decode why genre-hopping is the least fearful and the most exciting New Year resolution to exist. Reading a new genre doesn't eat into your diet plan, won't cost you a month's rent and gives you more ammunition to unleash at any social gathering. Sure, you may need to step out of your comfort zone, but not too far. And the best part? You can make multiple attempts to keep up with the resolution and feel inspired to actually try new things.
Dear fellow readers, if you're wondering, 'Where do I begin?' to shed your hate for love stories or find a memoir more interesting than your own life, we've put together a simple guide to reading a new genre. The handpicked selection includes everything from intoxicating periodic tables and relatable graphic novels to a coffee-table book on our favourite sit-com.
Stop guessing already, and read on.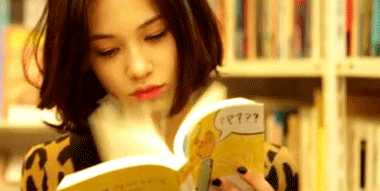 11 books to help you start reading a new genre
If you want to dip a toe into thrillers: 
The Maidens by Alex Michaelides
Sure, there's always The Silence of the Lambs by Thomas Harris that you can start your journey into the macabre with. But 30 years later, the serial killer on the run trope could feel a tad outdated. Instead, we'd recommend you chase Alex Michaelides's intellectual and dapper killer, Edward Fosca, with Maidens. 
Set in a dark, gothic world of academics, you'll enter a secret cult of women OD-ing on Greek mythology. When one by one, the 'maidens' disappear in a ritualistic fashion, the plot darkens. At the centre of it all, Mariana Andros, a group therapist, moonlights as an investigator to crack this Greek tragedy that you won't leave unfinished, we promise.
For the ones who never ask for (self) help:
100 Demon Dialogues by Lucy Bellwood
A lot of us steer clear of therapy and self-help reading because, well, talking to friends is cheaper. Respecting our low threshold for monks who sell their Ferraris, we found the ultimate self-help book that caters to the darkness inside our brain cells. 
Cartoonist Lucy Bellwood navigates horrors of life like workaholism, imposter syndrome and FOMO with her series of unconventional comic strips. They are outrageous and silly, but most of all, highly relatable. 
Bellwood is the critic and life coach we need and deserve in life, without a side of boring sermons.
For the ones who don't understand poetry
A Poem A Day by Gulzar
Reading poetry is not everyone's idea of leisure reading, we get it. But there's no better book than this to invite the poetry bug.
Legendary writer Gulzar handpicks 365 verses from across the country (34 languages) and translates them for our reading pleasure only. From humour and romance to Partition and banes of adulting, there's no emotion he leaves untouched.
It's one of the most potent tributes to Indian poets, anchored by one of the greatest writers alive. We bet you'll find one that speaks directly to you.
For the coffee table missing a centrepiece:
Best Wishes, Warmest Regards: The Story of Schitt's Creek by Daniel Levy
Coffee-table books are tricky. Why would you spend your hard-earned money on a voluminous book that is more of a centrepiece than your bed-time reading material, right?
We won't fight that argument, but present to you an option that you'll read and re-read, and your guests will want to borrow. Bring a piece of Schitt's Creek to your living room with this 300-page collectible.
Here's the closest you can get to the show now that the show has taken its curtain call.
From David's wardrobe of sweaters to the selection of Moira's outfits, breakdown of scripts and character profiles, and much more, this is your chance to be an extended part of the Rose family.
For the brave hearts who laugh at spirits
It by Stephen King
You bet it's the usual suspect, but we dare you to dive into Scare-ville under the tutelage of the King of horror and his 35-year-old creep fest, It.
In the fictional town of Derry, in the late '50s, a group of seven teenagers are bullied by Henry Bowers and his gang. But little do they know that all of them, the bullies and the victims, are being tormented by 'It' aka Pennywise the Dancing Clown, especially on Halloween.
When a series of murders takes place, the kids decide to stand up to the menace. Are they prepared for the horror that's in store for them? King's most popular horror novel also packs in lessons in leadership, friendship and standing up to bullies in life, as well as clowns.
For the adult who is tired of adulting:
The Sun Is Also A Star by Nicola Yoon
As grown-ups, there are two things we should never tire of: teen dramas and YA novels. They pack in more life hacks than we credit them for.
In the same vein, rewind the wheel of time a little with Nicola Yoon's heartwarming YA novel, The Sun Is Also A Star. 
Natasha is a control freak, who believes only in logic and facts. Daniel is living his life, one society-approved decision at a time. There's no room for dreams and imagination in their lives. Until they meet each other in New York City, 12 hours before Natasha's family is being deported to Jamaica. 
And they challenge their own belief systems to write a love story filled with uncertainty, limitless hope and one life-changing decision. It's all the ingredients adulthood is made of anyway. Don't skip this. 
For the traveller who hasn't travelled in a while:
The Art of Travel by Alain de Botton
If you're in Paris, you'll stroll down Mont-Martre and imagine Hemmingway on the stairs. Or Emily if you're binge-watching the recent guilty pleasure on Netflix. Closer home, Bengal demands a trip to Tagore's Shantiniketan, and Mumbai is all about the stars and their not-so-humble abodes.
It's true people make places, and in De Botton's travelogue, we are joined by a host of fellow travellers. Vincent Van Gogh in the Netherlands, William Wordsworth in the UK, Charles Baudelaire in France and more share their thoughts on travelling. 
De Botton's collection of essays from his travels around the world, in a way, is the easiest form of time-travel and celeb spotting. 
We'd double recommend this to you if you're a fan of Midnight in Paris and its magic realism.
For the realists who can't escape
Good Omens by Terry Pratchett and Neil Gaiman
No complex fictional world like Mordor to navigate, or a seven-part Hogwart's journey to embark on, pretty much grounded in real world, Good Omens is the perfect launch pad to fly into fantastical tales.
Pratchett and Gaiman fuse religion and history in the whackiest way possible in their joint literary venture. Inspired by Biblical events and characters, the novel follows Aziraphale, an angel, and Crowley the demon, who elaborately plan to sabotage the End Times so that they don't need to quit their lives on Earth.
It's funny and dark, and it would be ominous to skip this Omen.
For the ones allergic to 'cartoons'
Can't We Talk About Something More Pleasant? by Roz Chast
In case you've been parenting your parents in the last couple of years of Pandemic, you are probably aware of how incorrigible they can be sometimes.
New Yorker cartoonist Roz Chast sketches a hilarious memoir on the dilemmas of helping your mummy-papa through old age that will certainly strike a chord with most of us. Each chapter screams, "You're not alone", as Chast's parents George and Elizabeth, challenge her flailing patience.
Chast's funny yet heart-felt memoir will remind you that graphic novels aren't confined to superheroes and their shenanigans. They can heal you when you least expect them.
For the ones who can't stand sappy romances:
Just Kids by Patti Smith
It's a double whammy that gives you all-access pass to the world of memoirs, autobiographies as well as love stories.
Rock star Patti Smith's account of her relationship with photographer Robert Mapplethorpe is a love story for all ages. Smith writes about a chance encounter that brings together two young artists striving to create better and chase a dream that binds them for decades.
In a world that was rapidly changing and falling apart in the '60s in New York City, Smith and Mapplethorpe promised to take care of each other. Just Kids reminds us how a simple promise can make all the difference to our lives. A far cry from sappy romances, this is an ode to the countercultural movement through the lens of love and loyalty.
For the love of man machines
The Heart Goes Last by Margaret Atwood
Being alien to sci-fi with no penchant for science is a recipe of a dystopian disaster to begin with. So we found a science fiction with a heart to start your journey into the future, where aam janta is up against machines they can't really control.
In Margaret Atwood's fast-paced novel, protagonists Stan and Charmaine are hit by a global economic collapse. They live in their car in a bid to survive, until a post-modern, prospering township offers them a better future. Without second thoughts, they jump in, and find themselves stuck in an irrational loop. The city is centred around Positron Prison, where Stan, Charmaine and others who signed up are expected to work as support staff every alternate month. Of course, there's a Big Brother-like figure, err… machine that watches them, manipulates them, and makes their life hell. 
Can they escape this dark yet bright future? More importantly, can they get the control to their lives back?
Atwood explores themes such as paranoia, isolation, human communication with a heavy dose of dystopia in this tale of man versus science.