Representative photo: Still from 'Four More Shots Please!'
Living on your own? Bookmark this shopping list
Because mama's not around to come to the rescue
It can be liberating to live life on your own terms, without papa's curfew and mama's glares when you order McDonalds instead of eating the paneer bhurji she made for dinner. Moving out of our parents' house into our first apartment feels like the first step into the adult world. It's great fun picking out decor that expresses your aesthetic and choosing knick-knacks to sprawl across shelves and countertops as you try to match the pages of Architectural Digest.
But a large part of this perfect mental image is also shattered when you realise you've left behind the protective chaya of your parent's home and walked into the reality of ghar ka kharcha and running a household by yourself.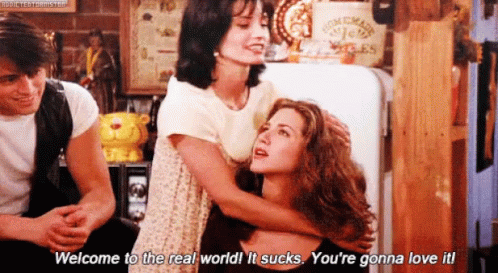 Dad handled all the bills and mama did all the shopping. The fridge never ran out of milk or eggs, the laundry somehow found itself clean and folded, and someone else slapped on the rubber gloves and got out the plunger whenever the toilet staged a protest. You've never had to think about home products for people living alone before, because there were more experienced adults taking charge.
Before you start nervous sweating about possible late-night knocks on your front door and how to properly clean the mould collecting on your living room carpet, take a gander through our collection of home products for people living alone.
We covered some essentials and other items, the need of which probably wouldn't occur to you until you're stuck in that particular crisis. Some are nifty gadgets for everyday use, others are investment pieces that'll serve you well for a long time.
Our home products for people living alone will keep you safe, well-fed and free from back pain. Because mom's no longer around in the house to scold you about slouching over your laptop.
Our favourite home products for people living alone for the first time
A jar opener
When you're stuck, you're stuck. Being by yourself means there's nobody to help you strongarm a jar of Nutella open at 2 AM.
You could always try the trick of sticking it in-between an open door and its hinge. From experience, we can say that it can do some damage to the door frame as well, if the jar is really jammed. Getting a jar opener is just so much easier.
Especially because this one is suited for different size lids you may need to pop open – from jam jar to a super tight Coke bottle.
Video doorbell
Growing up in a packed household to then moving out and living on your own can be scary. We'd recommend adding a video doorbell to your shopping list of home products for people living alone for the first time.
It's pricy, but a worthy investment that will give both you and your parents some peace of mind.
Place this smart device at your door and every time someone rings the bell, you'll get a visual on the panel placed inside your home. There's also an in-built intercom function.
Wine bottle stopper
Some people are built like champs, with the ability to get through a bottle of wine after a long day and still be functional the next morning.
Sometimes you just want a glass or two, and without the help of a roommate to finish off the bottle, you feel bad about having to empty the bottle into the sink.
A cork wine bottle stopper will serve you well. These by Neerja come with a bit of a decor element too, made of ceramic and hand-painted.
An instant pot
A multitasking cooking appliance is great for kitchen noobs, those low on time and/or in a constant battle with the pressure cooker.
It's super convenient and does the job of a steamer, pressure cooker and rice cooker – you can keep food warm, steam fresh veggies and slow cook with a timer without fear of ending up with charred logs where your potatoes once sat.
This will be particularly helpful when you enter a long-distance relationship with your mother's home cooking.
Cuddly body pillow
There's a certain feeling of independence that comes with living on your own. But it can also bring a bit of loneliness, especially for people during the lockdown.
Now, these are technically pregnancy pillows meant to make sleeping more comfortable for pregnant women. But we say, go for it. Use it as a cuddle buddy to lull you into a peaceful slumber.
They also have added benefits because they relieve pressure points and help you maintain spinal alignment while asleep.
Pet feeder
You may have adopted a little kitty to keep you company. Or you took advantage of being distanced from your dad's allergies and became a pet parent.
Now that we're slowly getting back to interacting with the outside world, you'll also need to ensure that your fuzzy friend back home is well fed and hydrated.
You can fill up these feeders with food and/or water while you're away from the house for your four-legged babies. You won't need to worry about skipping meal time anymore. As the main bowl depletes, food/water is automatically dispensed to refill it.
Electric robot vacuum
Speaking of being a pet parent, your furry child is either going to hate this robotic vacuum cleaner and make it their number one enemy or fall in love, follow it around the house and even try to ride it.
What Batman is to Gotham, this little robot is to our super dusty and muggy cities. The saviour we didn't know we needed. The device's smart technology charts out your home's landscape and its sensors can detect the super dusty spaces and work double time in those areas.
So whether you're someone who goes in and out of the house a lot, is lazy or too tired at the end of the day, then this little helper is a worthy investment.
Segregated laundry basket
Welcome to adulthood where a large part of your life is about just doing laundry.
Raise your hands if you've managed to turn your white clothes into various shades of other colours by forgetting to separate them from the dark ones. We've been guilty of this on more than one occasion.
Sure you could dump the entire load into the machine and set it off. But for the sake of your whites, we recommend this laundry basket. This way you can remember to separate the colours from the whites from the get-go instead of having to sift through them later, or simply forgetting to do so. And when it's not in use just fold it up and put it away.
A reminder memo board
As much as we may complain about mum constantly nagging us, she's also been our human reminder app. Upcoming doctor's appointments, a cousin's wedding, assignment due dates.
For forgetful Fatimas, this little whiteboard will be a blessing. It's magnetic, so you can stick up your bills, notices, reminder notes, anything you need to keep track of.
You can also write down reminders for yourself – to buy more washing powder, pay the aforementioned bill and pick up biodegradable garbage bags the next time you're headed out to the store.
USB desk fan
This may seem a bit random, but solo renting also means solo electricity bills to pay at the end of the month. If you're lucky, then you can keep the AC running all day, but for the rest of us, this little fan will come in handy.
We say 'little' but it packs a punch in functionality. It powers up through a USB cable that you can connect to your laptop or using an adapter plug into the wall. It's convenient, light, powerful and will keep you from sweating through your next video meeting.
You can adjust the head to where you want it to face, and perhaps our favourite part is that it's completely silent when it's on. That's some serious Japanese tech at play.
Folding table
A shopping list of home products for people living alone would be incomplete without a folding table. Especially if you're low on space.
This sleek writing table can be moved around the house according to your needs and then folded up and kept out of sight.
Open it up in front of the TV for mealtime. When it's not in use, you could actually use it as a shelf to keep your books on or some nifty decor items for a splash of colour. Prop up your laptop and use it to work.
There's only so long you can work from your bed before your lower back screams for help.
Clip-on key ring
What's worse than losing your house keys? Knowing exactly where they are kept inside the house while you're stuck outside because you forgot to take them with you. You picked up your car key thinking it was your house keys and walked straight out the front door.
This item is super practical. You can hook on all keys – home, office, car, locker, cupboard – onto one ring and then clip it onto the inside of your handbag, backpack, jacket, basically anywhere on your person.
First aid kit
You may have gotten used to someone or the other in the house always having a bandaid when you need it. But when you're living alone, no home is complete without a first aid kid.
This one from Apollo includes all the necessities – pain relief gel, crepe bandage, scissors, gauze and more. Even if you never need it, or use it, it's always good to have this in the house especially for those late-night inebriated knife accidents when you get a sudden urge to cook.