10 fitness apps for every kind of lazy human
Because the only way we'll exercise is if our trainer lives with us…
Every fitness unenthusiast knows that bookmarking sweaty videos for the mythical day you start working out is easier than powering through 300 squats. We burn more calories eye-rolling than we do walking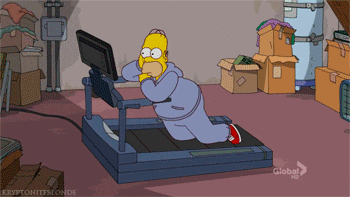 But being stuck at home 24/7, away from our torturers (read: trainers), and baking banana bread like it's made of money, we all need a little shakeup. Cue, fitness apps.
You can't cancel on them at the last minute. They're cheaper than a gym membership. You don't have to worry about being embarrassed if you can't keep up. And you can programme them to nag you more often than your parents do.
If this subtle guilt trip has worked, it's time for a health trip — tear yourself away from Netflix, get out the mat that's been gathering dust, and put that fitness app to good use before it asks for yet another update. (Pro tip: Read our beginner's guide to working out, if you'd like to procrastinate some more.)
From Coach Urmi Kothari's picks, to popular crowd favourites, here are the fitness apps that will work for every kind of sloth.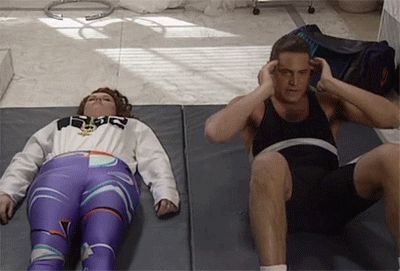 The fitness apps that will take you off the sofa, and into a squat
If like us, you've been watching Urmi Kothari work out via Instagram and trying to keep up, or just marvelling at that muscle tone and wondering how she does it all, now you can find out.
Her just-launched Kinetic Living app will equip you with all the tools you need – from exercise routines designed keeping in mind your level of expertise and recipes that will boost your energy levels, to podcasts and expert recommendations. The app is the ideal starter kit for a fitness noob. Kineticliving.in. Free with in-app purchases
Ladies, this one's for you. Unlike other fitness apps, this is a period tracker, that takes into consideration the menstrual phase you are in before suggesting an array of dietary options, and tailor-made fitness routines to best suit your body.
It also has pregnancy and post-pregnancy modes that help you track your baby's development along with your own health. The other features include expert advice in the form of articles, and the option of engaging in discussions on different topics. Flo.health. Free with in-app purchases
Cure Fit
A specialist in 'at home' workouts, this free-to-use app contains a range of workouts designed at different intensity levels. The Cure Fit app includes a Eat.Fit, Care.Fit, Cult.Fit and Fitness at Home section, with the latter, a perfect starting point.
Whether you're a noodle-armed novice or a weight-lifting wizard, you can pick from targeted regimes (Weight Loss, Get Lean, Beginners and more) and even break it down according to your concerns (Arms, Chest and Back to Abs, Butt and Thigh).
They're also offering free to-watch-masterclasses with the likes of Nora Fatehi (dancing) and Vijender Singh (boxing).
If you're a Type A micro-manager, you can schedule your session day and time in advance. Just make sure that's not the end of your rendezvous with the app. With the number of people we know using this app, it's definitely a cult favourite. Cure.fit. Free
If the idea of lifting weights and fiddling around with fitness equipment makes you run faster than your Fitbit can count, this 'equipment-free' app is for you.
Start with their warm-up and stretching routines before you move on to their expert-designed workouts for your abs, chest, legs, arms and butt as well as full body workouts.
It also records your training progress (or lack thereof) automatically, so you'll always be updated. If you're the competitive type, you can use its share-on-social media feature to show off your progress and inspire your couch-buddy friends. Free, with in-app purchases
For the ones who can run 5kms without breaking into a sweat, or have mastered the art of the two minute-long plank, one, we salute you.
The Fit! App is for your rare ability to enjoy working out. Featuring a range of workout programmes, follow-along videos, progress tracking and recipe features, it will satisfy your increasing-need to prove your fitness levels. The instructors, like Adam Frater (and his abs) will tempt you to tune in at least — the rest is up to you. Joinfitapp.com. Currently only available for Apple iPad and iPhones. Rs 6,000 for a year-long subscription
Nike Training Club is a crown favourite, and offers a range or workout options that are meticulously designed by Nike Master Trainers. The workouts range from using full-fledged gym equipment to training using just your body weight.
Unlike most fitness apps and websites, it offers you a personal plan, and helps you schedule your regime and track of your progress.
You can choose from a library of over 190 workouts that last for anywhere between 15 to 45 minutes. Nike.com. Free, with in-app purchases
Believed to be the largest online fitness community for women, SWEAT is a personal training app that features expert personal trainers including Australian trainer, author and entrepreneur Kayla Itsines. You can choose from their wide selection of at-home workouts from high-intensity plyometric training to lower intensity, low-impact workouts "to build a baseline fitness."
The workout programmes are available in eight languages, and also offer post pregnancy fitness regimes for new mothers. Kaylaitsines.com. Free trial with in-app purchases
Map My Run/ Training Peaks
Both these apps are from the My Fitness Pal family —  Map My Run uses built in GPS technology to provide runners, cyclists and walkers the ability to map, record and track their workouts (running, cycling, walking, gym workouts, cross training, yoga, and more). It's aimed at both beginners and experts.
Training Peaks follows a goal-oriented approach and is aimed at serious athletes who are already in shape, and allows you to log runs, bicycle rides or swims, follow your daily stats so you can focus on power, speed, distance and more. Myfitnesspal.com. Free, with in-app purchases


Sworkit
"Fitness made simple" is their mantra — and if you're looking for an easy breezy start to your regimen, opt for this app that allows you to pick your goals (Weight Loss, Muscle Gain, Improved Flexibility, Increased Endurance, Weight Maintenance < Simply Tone ) and find the workout that best fits your desired goal. And you don't need any gym equipment.
You can choose your workout time (between one-90 minutes) and from their range of 400 workouts and 800 exercises — to those who get 'bored easily" —  you have no excuses left. Sworkit.com. Free trial with in-app purchases
Aaptiv
The audio fitness focuses only on classes for all those workouts that just don't make sense for video. Expert-led classes incentivise you to keep going while their playlists push you to pump harder.
They have a bank of over 2,500 workouts in a variety of categories including running, elliptical, race training, rowing, strength training, stretching, yoga and more.
And, bad wifi is no longer a reason to skip workouts — you can download their classes and sweat it out, offline.
Aaptiv.com. Free trial with in-app purchases
*Most of the apps are free to use, with limited access to content, premium accounts and subscriptions will give you access to wider content