Representative photo: Karolina Grabowska/Pexels
I tried 7 beginner workouts in one week, and this is how my body changed
Bye-bye to burpees and hello to standing crunches
The most intense workout I've had in the past year has been carrying suitcases and boxes while moving houses. There was, of course, that one time I was challenged to work out like Katrina Kaif for 5 days. Every time someone mentions her name or I hear Sheila Ki Jaawani playing from my neighbour's home, it gives me flashbacks of crying on the floor in a pool of sweat and contemplating my life choices. There are plenty of beginner workouts bookmarked in my tabs. Sometimes I watch them like a hobby, lying on my side with a packet of wafers, making sure I don't get crumbs on the keyboard.
It's like watching Animal Planet or a tennis match, golf if you really want to punish yourself. Their fluid moves, smiling faces, lack of perspiration and skill at pulling off the whole routine without wheezing are amazing to watch.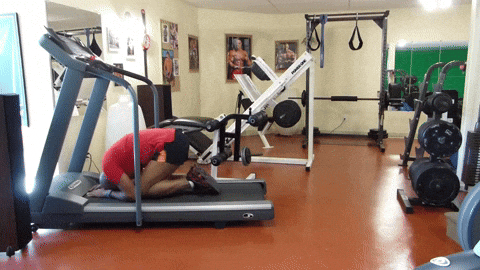 Have they ever managed to motivate me to try it out myself? Maybe a few times, but my overall enthusiasm dwindles pretty fast.
I've realised that most beginner workouts are a sham, undoable and just intimidating. I've tried a few and come away dismayed. Not in them, but in myself for not being able to struggle through. Why can't I finish a burpee? Why are my arms buckling under me when I'm trying to do mountain climbers? I can't even manage a set of squats without collapsing.
I tend to get frustrated and then give up, but this time around, I spent some time sifting through options online to find actual workouts that beginners can do instead of falling for clickbait titles and video aesthetics (I'm a sucker for a pretty backdrop).
I unsaved all the previously hoarded workout videos that I never did. Replacing them with low intensity and low impact routines that are easy on the joints. Focusing on things my body could actually accomplish to build up the strength and stability needed for the more hectic workouts.
I've spent the last seven days trying different low-impact routines from online beginner workouts. So prepare yourself for some talk of sweating, standing crunches and my teary-eyed reunion with burpees.
All the trainers in these videos insist that the journey is about progress, not perfection. Don't force yourself to keep up with their pace, the number of sets or the intensity of the move. It's great if you can manage all three, but the point is to get through the entire routine with the right posture and build from there. This is a marathon, not a sprint.
Day 1
As a beginner workout, The Body Coach TV was the perfect place to start for me. They say this routine is good for anyone who is "either brand new to exercise, coming back from injury or with a sedentary lifestyle." Yes to all three.
I know I said earlier not to get distracted by video aesthetics but halfway through the starting march, I got distracted by the houseplants.
You have 30 seconds for each exercise, followed by 30 seconds of rest. When I first found this video, I questioned whether it would even really count as a workout. But that was before I tried it. By the time you reach mid-way, I promise you'll have worked up a good sweat. He shows each exercise from different angles so you can self-check your posture.
In my excitement at finishing the routine, I did strain myself right at the end while doing the sumo squat with the added shoulder squeeze. I didn't squat as deep as he did either, I don't think my knees are quite ready for that yet.
Day 2
I never really understood people calling men Daddy or Zaddy online in memes and stuff. That is until I watched Daniel Bartlett. And I mean this in the best, most positive way possible.
I need him to be not just my fitness coach but my life coach. These routines are part beginner workouts and part motivational speeches. I want him to tell me that everything is going to be OK and that I've done my best after eating a large pizza by myself.
His was the kind of motivation I needed on day 2 after I woke up sore from yesterday's workout. I should remind you that the last time I exercised was a year ago. And before that, it had probably been a few years. What I love about this video is they use real people on their fitness journeys doing the exercises. You get low-impact and higher intensity versions of each exercise too. I stuck with the low.
I'll be honest and say that I didn't finish the entire video. My mistake was trying to keep up with their pace. I also did end up accidentally knocking my cat over while enthusiastically doing the backward lunges. I have long limbs and they're hard to control most of the time.
I had to pause for a solid 20 minutes in between and then start again from the beginning. This time I focused on how I was doing the exercise instead of Daddy Dan.
Day 3
Ah, burpees. My old nemesis. I thought the low impact version of it in this beginner workout would somehow be easier to do, and I wasn't wholly wrong. I did manage to do about three without hating my life, but that's about it. I don't know what it is, the position or transitions, it just gets the best of me. But one day, I will conquer you.
It's not Joanna Soh's fault either. She's really made this a video you can easily follow. Right when I was considering speeding up my movement Joanna Soh said, "You know your own body, if you want more challenge then bring the speed up slightly." And learning from yesterday's mistakes, I didn't try to match her pace but get the exercise done right however many times that I could.
I did today's routine a little later at night. I thought, what's the harm? I'll be tired and probably sleep better after it. But I ended up having too much energy for that time of day. Maybe the early morning workout people are on to something?
For someone who struggles with insomnia, it was confusing. Most people will tell you that there isn't any real correlation between the two, but I'm just speaking experientially.
I'd add that there isn't enough space in my Mumbai apartment to properly do the exercise that requires you to shuffle side to side. It was also hard not to pretend like I was in a mosh pit. *Sigh* I miss live shows and also being 18 years old when these things excited me.
Day 4
I know it was too early to really see any changes in my body itself, but for a change, I wasn't exhausted after a workout the day before. So feeling good about how the week had been going, I decided to take on something a bit more challenging.
I quickly realised that I do not have the coordination required for this workout routine. I had to slow it way down. It took me closer to 45 minutes to get through this workout which is actually about 30 minutes long (including cooldown). I did appreciate that they show you the exercise coming up next for you to physically (and mentally) prepare.
The kicking moves helped me release pent-up aggression from years of bottling up emotions. Use this moment to let out a deep belly shriek and picture your enemies. I know some of you are going to be like, 'oh, it's not good to have enemies, don't need to be hateful and aggressive, meh meh meh'.
Firstly, ma'am, I'm a pessimist. Secondly, a Virgo with serious grudge-holding tendencies. You're telling me there's not one person in this world who you'd like to kick just a little bit? I say, better out through a kick than kept in.
Personal rant aside, I do think I bit off a little more than I could chew this early into my exploration of beginner workouts. Every part of my body ached, but I chalk that up to my lack of stability and coordination which made me fall over a lot.
Day 5
I wasn't going to be an overachiever today. I had become a bit bored of doing more or less the same exercises over the past few days in different combinations and wanted to change things up and try something new. And a lot more fun.
I picked one of Sabah Kadri's dance workouts to do on Day 5 and had a total blast while perspiring away. What's better than '90s Shah Rukh Khan songs to dance along with? This workout didn't even feel like exercise, more like I was at a sangeet.
I'm pretty sure my sister thinks I'm having a life crisis blasting SRK songs and dancing vigorously in the middle of a workday.
Some of the movements were a bit too fast for me to do without pulling a muscle or popping my shoulder from its socket. But it was a price I was willing to pay to groove to these tunes. If you're looking for something a little more slow-paced, or even different kinds of songs, Kadri's got a whole bunch of playlists for you to pick and choose from.
I didn't expect it to be such a good workout, but boy, you feel your heart thumping. Did I sing along with each song? Do I know the lyrics by heart? Yes, and yes.
Day 6
I was talking to a friend about my hunt for realistic beginner workouts and she sent me this video by Holly Honjo. This woman is a champ. It looked easy enough to do but as I was two moves into circuit three of mat exercises, I pulled a back muscle and had to lay down to stretch for the next couple of minutes.
I would also like to issue a public apology. Burpees, I was wrong. The inchworm exercise can burn in hell.
I think this day was my best workout. I was slow, sweaty and swearing, but I finished it with the feeling of overcoming a challenge. I wasn't able to hold the kneeling side plank for the whole 20 seconds because of a childhood knee injury that still aches, but if one week ago, you had showed me this video and asked me to do it, I would have probably laughed.
Day 7
I wanted to end the week with a bang. Not to any of my joints but as a fun challenge to myself. I can't remember the last time I was motivated enough to work out on consecutive days, forget seven days in a row. I remembered the boom of walking workout videos when lockdown had just happened.
Compared to the other workouts this week, this one is a long one — almost an hour of walking with some low impact exercises combined. I won't lie and say that once you start it gets easier. My eyes frequently darted at the progression bar on top of the screen to see how much longer I had left.
Growwithjo AKA Johanna's smile kind of keeps you calm through most of it. I was definitely way offbeat for most of the routine. There were moments of frustration, like the move where you do a kind of backwards lunge and then move the extended leg side to side – I couldn't get it right, kept losing balance and my posture was definitely off because I could feel it in my lower back and knee. But I've learnt in these last few weeks that it's better to skip a move than do it wrong and injure yourself. When I couldn't do the required number of repetitions or felt an ache in the wrong spot, I'd just go back to marching.
You really do feel this workout when it's over. I was overjoyed that I'd completed it but only had my cat to celebrate with.
Final verdict on my week of beginner workouts
I have never been this motivated to exercise. This is coming from a complete sloth who would rather keep a box of biscuits permanently on her bed (no jokes) than walk over to the kitchen every time.
I think the biggest mistake we make when we start on our fitness journeys is picking videos that are a bit too ambitious for your current fitness level. A few days in, you're either injured, tired or start to hate exercising. We become disillusioned looking at other people's fitness transformations online in before and after pictures, wondering why we're still struggling to get there.
Everyone's body is built differently – what I found very challenging to do was a routine that you could probably breeze through without a sweat.
My biggest takeaway from this process of trying beginner workouts has been to find my own speed. Just because the person on the screen isn't stopping doesn't mean I can't pause the video. It's very easy to get disappointed when you aren't able to finish a video, but if you make that one video your challenge and work at it little by little, what was once on your list of beginner workouts will feel like a rest day.
I enjoyed trying out different low-impact exercises but being realistic, I probably will scale back to working out four times a week. The beginner workouts I'll be going back to the most are Sabah Kadri's fun dance routines and the options on Body Project's YouTube channel. When Dan says "You've got this!" you will want to yell back "Hell yes, I do."
A note of caution: If you suffer from health conditions and/or are recovering from an injury, please consult a fitness trainer and your healthcare provider to create a routine that suits your body and its needs.