Representative photo: Unsplash
6 style tips for busty women that will make you want to go shopping with your girlfriends immediately
Embracing your cleavage 101
Boobs and fashion are like oil and water. If you really shake things up, they will mix for a good minute but as nature intended, your shirt buttons will develop those weird peepholes and your boobs will try to escape. Okay, this is more of a personal observation than a proven fact, but does it sound familiar?
When I was younger, having a heavy chest really bothered me. While all my friends were wearing halter tops and sundresses, I was forced to wear unflattering T-shirts with stifling bras. Like any 13 or 14 year old, I wanted to fit in. But my well-endowed chest always ensured I stood out. Learning to love your body is a process, and there's more back and forth than on an amusement park rollercoaster. What I learnt is that it starts with honouring your body, and crafting a personal style that works for it.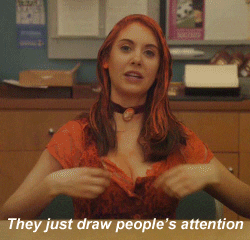 I'd love to wear one of those dainty Coachella bralettes that I see everywhere on social media, but if I did, I'd be left with an unflattering uni-boob. Dr Sonal Anand, a psychiatrist at Wockhardt Hospitals, says, "For women with large breasts, the feeling that people are always noticing and judging her as being different can have an impact. This is seen more in younger girls. They begin to question their own self-image and can have negative thoughts related to the way they perceive themselves."
While movies have glorified large breasts as more desirable, the fact is, they're not easy to style in a way that makes you feel comfortable, stylish and not magnetically attracting all eyeballs to your chest. We spoke to stylists for suggestions that could help you feel more at ease with your wardrobe. I can't help you with the back pain and shoulder grooves, but I can point your shopping cart in the right direction.
Style tips for busty women
Take a good look at your bra choices
We can talk about dressing a busty frame all we want, but when it comes to the execution, "the right bra can give you a smooth, effortless look," says stylist Shweta Puthran Mendon.
When you walk into Victoria's Secret or LaSenza or even your local lingerie shop and see about a hundred colourful, lacy bras stacked on shelves and piled on tables, how do you spot "the chosen one"? We usually get it so wrong that it feels like there is a prophecy in a crystal ball somewhere guarded by Death Eaters. A 2008 study found that a staggering 80% of women are wearing the wrong bra size. It seems that 70% of women are wearing bras that are too small and 10% are wearing bras that are too big.
A good bra is comfortable, supportive, never slumps, and sits on the bust just right so you never look like you have four boobs instead of the requisite two. When bra shopping, ensure that the band of the bra remains parallel to the ground. If the band rises, the bra may be too big. When shopping for underwire bras, the gore (the centrepiece joining the two cups) needs to perfectly sit at the centre of your chest. If it's lifting or floating off, the bra is the wrong size.
It may seem tedious and boring but once you've reached the end of the race (or should I say marathon) and you've identified and bought a bra that checks all the boxes, you'll be glad you did. Your T-shirts will fit better and your chest won't be playing peek-a-boob with your shirt buttons.
Tweak recommends:
Highlight your waist
The struggles of the potato-sack syndrome are too real to be ignored. A lot of the time, a dress or a top that fits perfectly over the bust hangs loosely over the rest of the body. So, what do you do? You grab a belt and start cinching.
Davé reminds us that cinching the waist will accentuate our breasts, but also create a silhouette that's more flattering
Outfits with a cinched waistline or an empire waistline give the impression that your waist is your smallest point. They also make your hips and your bust look more proportionate. Try peplum tops, a summer dress with a broad belt, a flowy skirt that skims over your waist paired with a tucked-in top or even a cropped jacket that hits right at your waist.
These are all styles that were practically made for busty women.
Tweak recommends:
Statement necklaces are the diversion you're looking for
Wearing big necklaces to balance your generous breasts may seem counterintuitive at first but haven't you heard the phrase- when in doubt, accessorise? Okay, I heard it first from my building's kitty party aunties, but it fits. How does it work? According to costume stylist Karni Shah, when you place a small object next to a considerably larger object, the latter is highlighted. But when you put two large objects next to each other, "they making everything seem proportionate to one another."
The thing to remember here is that the necklace should be chunky, not long. Its mission is to make everything look proportionate. To do that, it must sit right below the collarbone.
Tweak Recommends:
Identify silhouettes that lengthen your torso
Mendon suggests wearing blazers with a top or a blouse that has a deep neckline. Or dresses with an empire waist or a belt. Even well-fitted high-waisted pants with a slightly tucked T-shirt or top will do the trick. All these outfits give the illusion of a lengthened torso balancing out the bust in comparison to the rest of the body.
Blazers, A-line dresses, vertical stripes and high-waisted pants are your allies in this fight. Silhouettes that lengthen instead of widen can have a significant impact on the way you look. These will make you feel taller which will add layers of confidence too. Shah says, "Look for clean lines that will make your torso look longer, and the measurement of your bust won't look so wide." The only tricky part is training your eye to identify which print or pattern lengthens and which widens.
Another way to elongate your frame is by focusing on your necklines. Turtlenecks, for instance, can leave you looking like your boobs start practically from your neck. You want to bring all the V-necks and sweetheart necklines to the front of your closet. They highlight your chest and elongate your frame.
Shah says, "V-necks are your safest bet. You can also try sweetheart, scoop and cowl necklines. They show off your cleavage (how much depends on how deep your neckline is) and accentuate your chest."
Tweak Recommends:
Embrace the cleavage
I am a full supporter of the if-you've-got-it-flaunt-it school of thought. I believe that showing some cleavage is every well-endowed girl's birthright. I used to be so afraid of "looking busty" that I would wear minimising bras with the band so tight that taking a deep breath felt like I was drinking shards of glass. But I was wrong. What's there to be scared of?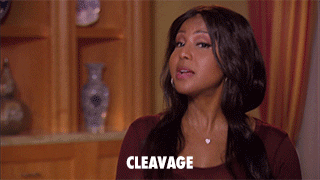 So whether you agree with my let-the-girls-have-fun philosophy or not, it's important that we learn how to embrace our chests without being scared, embarrassed or ashamed of them. The rest is about ensuring they look proportionate. According to Shah, that's what all it all boils down to.