Representative photo: Still from 'Dear Zindagi'
Help, I'm overthinking my way to analysis paralysis
"I'm thinking about not overthinking. Then overthinking that too"
My cat and I have more things in common than I'd like to admit. We both prefer to be left alone to sleep all day, and react violently upon spotting a lizard in the house. Despite my aversion, I can't help but be jealous of the short-horned lizard. Forget invisibility cloaks, Hulk-like strength and magical lassos. The stubby little thing has a real-life superpower I desperately desire. This desert native of the US squirts blood from its eyes at its predators. What I wouldn't give to be able to do the same to my enemies…
Forget enemies, anyone that annoys me or tries to talk to me. A man creepily staring at me on the train *sploosh*. Noisy neighbour blasting Jugnu on repeat at 3 AM. 'Knock, knock, hey can you keep it down. No?' *sploosh* Relatives at the family wedding asking me why I'm not married yet, yeah, you get a splash too. 
But alas, the universe is yet to grant me this boon. I do have a special power though — thinking my way to a state of analysis-paralysis. If overthinking were a sport, I'd be Sachin Tendulkar. 
I give everything a second thought. Think them through. The greatest minds of our race were great thinkers, right? But overthinking dips deeply into negative thoughts which research shows can aggravate stress and lead to anxiety and depression.
In reality, every thought spiral makes me sink deeper and deeper into a state of anxiety. In my effort to stop overthinking, I end up spending time thinking about not overthinking. Then overthinking that. The cycle is vicious. 
Left to my own devices in lockdown, this awful habit of overthinking reached new heights. A splash of social anxiety made this cocktail practically indigestible. Even the scarce interaction with others was spent more thinking about the things I should and should not say. If something did or did not happen during daily office Zoom calls, I'd toss and turn at night, stay up thinking about what I should have said, should have done. 
"Did I upset my coworker when I commented on their work? I'm going to have to deal with that now. I shouldn't have said anything at all. Why can't I just hold my tongue, I'm so dumb. What if I can't follow through with what I committed to my boss. Will they think less of me? Will I get fired? How will I pay rent?" 
When you take colouring outside the lines a little too literally and a little too far, that's what psychologist Palomi Tomar, Mind Care clinic, likens to the process of overthinking. "You start with a simple picture and each line you scribble down is a related thought. Then you start to move further and further away from the task/problem at hand, until you realise you're not even on the same page anymore. It serves no purpose, is counterproductive and creates more problems instead of solving any."
Our brains are a word machine and "thoughts are glasses, the lens through which we see the world," says therapist Emma McAdam, Therapy in a Nutshell. "But if you're going to buy into a thought, believe it, we need to make that a conscious choice. Cognitive fusion is buying into every thought that passes through your mind. It's when you think something, you don't even notice it or pay attention to it, you just believe it." Overthinking is a bad habit that can be broken by actively working towards it. 
McAdam adds that we need to recognise our thoughts and separate ourselves from them, instead of letting these random subconscious notions dictate our mood, our happiness and mental health. This, she says, can be done by cognitive defusion. "The antidote to this is to learn to notice our thoughts without buying into them. You learn to look at them instead of looking through our thoughts."  
It's not about breaking up with your brain but adding a third party to the mix by working on self-awareness. I embarked on a journey of creating healthy boundaries with the negative thought patterns I tend to fall back on. Here are some of the practices that helped.
6 mental exercises that'll help you stop overthinking
Have a Q&A session with yourself
Martial arts superstar Bruce Lee called the mind a "fertile garden". He was all about keeping it free from the weeds of negativity. There's a quote that's attributed to him talking about the power of visualisation and ridding oneself of negative thoughts. "I have a system of ridding my mind of negative thoughts. I visualise myself writing them down on a piece of paper. Then I imagine myself crumpling up the paper, lighting it on fire, and burning it to a crisp."
Tomar suggests being more literal by creating lists to help you process your emotions better. When you find yourself stuck in a conundrum of overthinking, mapping out your thoughts and feelings can simulate the cathartic feelings you get while journaling.
"First write down what the problem/point is you're struggling with. Your list will include all the bad/negative questions you're asking yourself."
For example, I'm stuck thinking about a conversation I had with a friend where I felt one of her comments was quite underhanded. I'm overthinking all the possible reasons why my friend now possibly hates me.
Listing out the questions, I write: What did she mean when she said I have no time for her? Is she upset with me? Is it because I said something bad to her five years ago?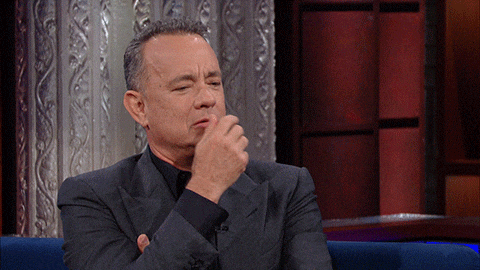 "Getting all those negative thoughts out of your head and onto paper in itself will make you feel better. Now go back to the beginning of the list and try answering the questions yourself. Think back to the conversation for reference, what you know about the person and the relationship you have with them. This will give you some perspective," says Tomar.
Maybe it really was just a joke she made. If not, then I can find more time in the week to catch up with friends over a call. She's my friend, a straightforward person who would tell me directly if she was upset with me. And if it was about what I said five years ago, then we wouldn't be as close or really even friends anymore.
Overthinking is often a spiral of unanswered questions upon questions. Tomar says that by giving them an answer you're, in a way, placing a full stop on the sentence instead of carrying it forward.
Name the negativity
Some people like to call them intrusive thoughts, others call them negative thought patterns. You can call it whatever you want, as long as you identify it.
"It could also be helpful by giving the thought an actual name, like Billy Bob. So you can then say, hey, there's Billy Bob popping up in my thoughts today."
I'm going to go with Satan. The more I do that, McAdam says that I'll start identifying Satan as a negative character coming to me and saying "you're never going to succeed" or "this project is never going to work, it'll fail." I can then identify Satan as my negative thought pattern trying to bully me and tell me what to think.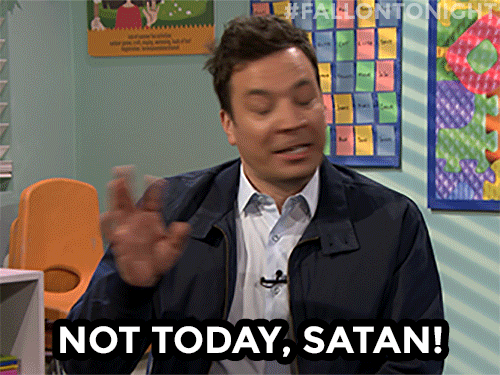 McAdam says, "When we give our thoughts a name, we're saying 'I am Emma, and this is a thought. Essentially separating ourselves from our thoughts." This is what creates cognitive defusion.
Just because I think my project isn't going to work out, doesn't make it a part of reality. It's not a thought that's productive or helpful, so I'm going to go back to doing my work right now and try to focus on that.
Release the power of the thought by taking action
It's the unknown possibilities of our overthinking that hold such great power over us. The uncertainty of it all means that it could happen or could be true. There's only one way to find out.
"We often overthink out of fear. That we will make the wrong choice and the possible repercussion of it. We fear the consequences, the embarrassment and failure. Then our imagination runs wild with the thoughts," says Tomar.
One exercise by which you break the thought cycle by taking action. When you know the answer, there's nothing to be left wondering about. My sister and I spent 11 days trying to decide what washing machine to should buy – top load or front load. Listed out all the possible pros and cons, wondered if we should just rent one instead, then added up all the monthly rental costs plus electricity charges to run it. What if we spend all that money and end up with a bad one? What if it costs too much to run every day? Does it need to be Samsung?
There's never an end to the questions you can possibly ask. And a lot of time and mental energy would have been saved if I had taken action on day 3 itself and made a trip to the electrical store.
Think your friend hates you? Ask her why she's upset. Wondering if your boss thinks you're inefficient? Set up a talk about your work performance and get feedback.
Change how you view decision making with the help of  positive affirmations
Deciding to take action is one step in the right direction. It's what comes afterwards, though, that can really rattle your brain. But we need to ease the decision-making process as much as possible, including the aftermath. 
Sometimes we need reminders. "I made a choice and the outcome isn't wholly in my control. I will take it as a learning experience." We spend a lot of time thinking about the woulda, coulda, shoulda in retrospect. But we can't predict the future at the time of making the decision.
As Tomar says, "We need to allow ourselves to make the mistakes and learn from them."
Sing it away with silly voices
This has to be my favourite cognitive defusion technique to disconnect from negative thoughts.
"You take the thought that seems really strong, like, 'I can't go to that party if I feel anxious', then you start to use weird voices to say that thought out loud," McAdams says.
Whatever is stressing you out, say it out loud. Say it with your worst British accent. Sing it in the style of a ghazal, do your best Lata Mangeshkar imitation. It starts to feel more and more foreign. The more you do it, the further you disconnect your mind from that thought.
"The same thing happens if you say a word over and over again. At some point, it turns into a weird jumble of sounds. That's a cognitive defusion technique."
Semantic satiation makes the word/term lose its meaning and the power that it holds over us. With this technique, you end up turning it into just another meaningless sound.
"It's just a word/sentence. Your brain is a word machine and everything it makes up, some of it's true, some isn't. It's just a thought and when we separate ourselves from it, we create choices for ourselves," adds McAdam.
Set aside 'worry time' and put a limit
I went back to an old Hussain tried and tested – thinking time. Where we wake up an hour earlier than we need to, we lie in bed and contemplate all of our life choices.
Having early morning thinking time is a way of life I'd given up on since the start of the pandemic. Now I roll out of bed 15 minutes before I need to start being productive. Just enough time to get a morning shot of caffeine and wash my face before logging on for work.
I understand the urge to overthink. It's like an itch you really want to scratch, especially after four people have told you not to do it.
Psychologist Ankita Gandhi says, "Set a 'worry time for yourself'. That, during this to this time, I'm not going to worry. From 3 to 4, I'm allowed to worry."
Start by doing it daily, then every second day, then extend the worry time segments to every 4-5 days, followed by once a week and so on.
It's important to put a cap on how long you're going to let yourself overthink. Tomar says that initially, you may need to give yourself time to adjust. So say, I have the next 1-2 hours to think and overthink my choices, the possibilities. Then I have to stop and make my decision. Your designated thinking time will have to correlate to the severity and kind of decision you face – big or small. Giving you enough time to plan, talk to others, involve them in the process if need be, then it's time for action.
A note of caution: This article is for educational purposes and includes personal experiences and inputs from experts. If you're struggling with your mental health, please consult your healthcare provider. iCALL has put together a crowdsourced list of mental health professionals across the country, you can find it here.